Sir Anthony Arthur Duncan Montague Browne (8 May 1923 – 1 April 2013) was a British diplomat who was private secretary to Sir Winston Churchill for the last ten years of the latter's life.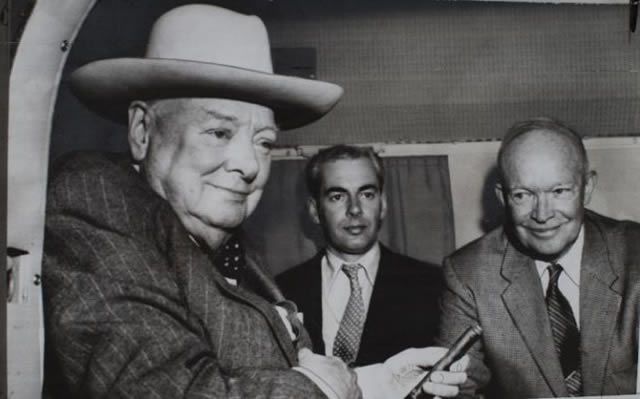 Anthony Montague-Browne with Winston Churchill and Dwight Eisenhower in a helicopter on the White House lawn in 1959
Montague Browne (who bore a "double-barrelled surname") was the son of Andrew Duncan Montague Browne (1878-1969), a British army colonel, by his marriage to Violet Evelyn Downes/Garrard (1883-1969). The boy was educated in Switzerland, at Stowe School and Magdalen College, Oxford. During the Second World War he served in the Royal Air Force, being awarded the Distinguished Flying Cross for service with 211 Squadron RAF over Japanese-occupied Burma. At the end of May 1945 he was promoted flight lieutenant. Montague Browne entered the Foreign Office in 1946 and served at the British Embassy in Paris (1949–52). He was then chosen to be Private Secretary for Foreign Affairs to the Prime Minister, Winston Churchill. When Churchill retired in 1955, Montague Browne briefly returned to the Foreign Office but in the same year was seconded to continue as Churchill's private secretary. He stayed with Churchill for the rest of Churchill's life.
At first, Churchill was doubtful of him, observing, "I dare say we will get on very well together." As well as his duties as a chief of staff, Montague Browne lunched and dined with Churchill and provided an opponent for his favourite card game, rubicon (six pack bezique). He also accompanied him on his trips abroad. After Churchill's death Montague Browne was seconded to the Royal Household (1965–67) and then worked for companies in the City of London. He was also a trustee of the Winston Churchill Memorial Trust in the UK. While working for Churchill, Montague Browne had an affair with Jane Gillian Portal (born 1929), one of Churchill's personal secretaries from 1949 until her marriage to Gavin Welby on April 4, 1955. In 2016, DNA tests showed he was the biological father of her son, Justin Welby, the Archbishop of Canterbury, who was born on 6 January 1956.
Montague Browne and Portal were 15th cousins twice removed by James I of Scotland and his wife Lady Jane Beaufort. They were also 14th cousins by James II of Scotland and his wife Marie van Egmont-Gelre. Justin Welby, by his mother, is a 7th great grandson of Charles II and his mistress Louise Renée de Penancoët de Kérouaille, Duchess of Portsmouth who were the parents of Charles Lennox, I Duke of Richmond. Montague Browne was appointed OBE in the Queen's Birthday Honours of 1955 after Churchill's retirement, CBE in 1965 after Churchill's death, and knighted KCMG in 2000 "for long and distinguished public service".