John Wayne Day? Not in California, lawmakers say

Critics complained that actor uttered racist remarks. Division largely along party lines.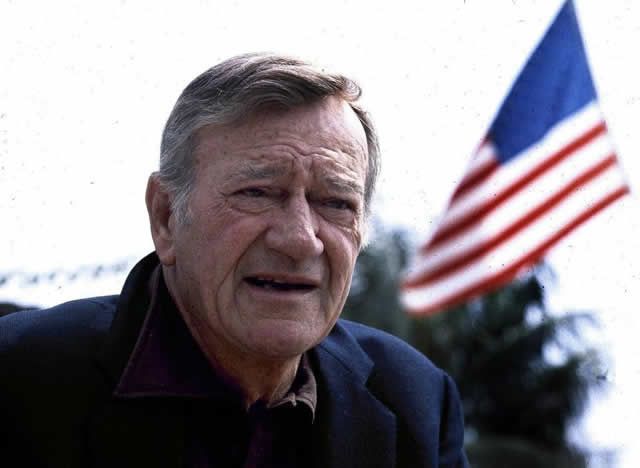 This 1978 file photo shows actor John Wayne wearing a brown plaid coat he wore in 1945's "Flame of Barbary Coast." Last year, Texas proclaimed May 26, Wayne's birthday, as "John Wayne Day" but on Thursday, the California Assembly refused to do the same
SACRAMENTO - The California Assembly refused Thursday to honor actor John Wayne after a sharp debate in which he was accused of being a racist.
Assembly Concurrent Resolution 137, which would have declared May 26 – his birthday – as "John Wayne Day," garnered just 35 votes, six short of the required majority, while 20 members voted against the measure and 25 members refused to vote.
The division was largely along partisan lines, although several Democrats joined minority Republicans in voting for the Wayne resolution, which was offered by Assemblyman Matthew Harper, R-Huntington Beach, and had been approved unanimously by the Assembly Rules Committee three days earlier.
While Harper and other Republicans extolled Wayne, who died in 1979 and whose name graces Orange County's Airport, several Latino and black members recited Wayne's words they said disparaged both blacks and Native Americans.
Assemblywoman Lorena Gonzalez, D-San Diego, also complained that in Wayne's Western movies, "there was a lot of slaughtering of Native Americans..." and that he personally sanctioned white occupation of Indian lands.
Republicans said Wayne was highly supportive of soldiers, had personally done much to help Vietnamese refugees settle in Orange County after the Vietnam War ended and was a benefactor of cancer research and the Orange County sheriff's air unit.
"Everyone of us is imperfect," Irvine Republican Don Wagner told his colleagues, citing the shortcomings of other revered figures such as Franklin Roosevelt and Earl Warren.
One Democrat, Riverside's Jose Medina, spoke for the resolution, citing Wayne's support for the treaty that ceded the Panama Canal to Panama.
"I'm surprised at the controversy, to be honest," Harper said as the debate closed. His measure received 31 votes on the initial roll call and when the final vote was taken later, it rose to 35. As the final vote was tallied, Harper complained, "the orthodoxy of political correctness has prevailed."
This story originally appeared on SacBee.com.