The only British survivor of Nazi death camp who endured horrors with stiff upper lip

Harold Osmond Le Druillenec weighed just six stone when he was liberated from Bergen-Belsen in April 1945 but tens of thousands were not so lucky.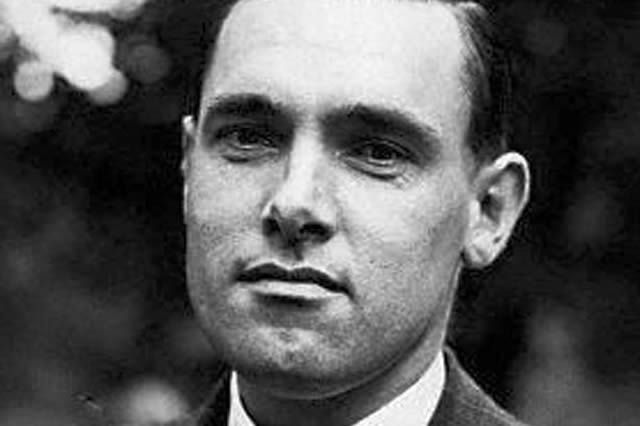 Day after interminable day, Harold Osmond Le Druillenec repeated the same routine.
Choosing the smallest – and therefore lightest – body from the pile of dead before him, he would drag it to the burial pits before returning to do the same again and again.
Close to starvation and all the while being shot at "like rabbits" by guards, it was only luck that he, too, was not one of the victims of the Nazi 's Bergen-Belsen concentration camp.
Weighing only six stone, less than half his original weight, 33-year-old former teacher Harold was fading fast when he was liberated in April 1945.
Tens of thousands of others were not so lucky. Harold – the only British survivor of Belsen – saw the horrors of cannibalism and even crucifixion while incarcerated in three separate camps.
But despite the cruelty, he endured the unimaginable with stoicism and a very British stiff upper lip.
He recalled: "Jungle law reigned among the prisoners; at night you killed or were killed; by day cannibalism was rampant. It was here I heard the expression 'There is only one way out of here – through the chimney'."
The chimney meant the crematorium where dead were burned.
The gruesome details of daily life in the camp have been revealed in records released this week. They include details of British citizens who applied for compensation as victims of Nazi persecution.
Harold's case – number FO 950/1100 – is one of the first batch of over 900 records released and stored at The National Archives in West London.
The letters were received in 1964 after the Gov­­ernment ­introduced a £1million compensation scheme funded by West Germany.
However, its terms were narrowly drawn and only a quarter of those who applied actually received any money.
After much deliberation by the Foreign Office, Harold was awarded £680, the equivalent of £12,728 today.
But no sum could ever compensate for the sights Harold saw.
Behind the barbed wired fences of the German camp more than 70,000 people died between 1941 and 1945.
Among the litany of horrors, perhaps the most disturbing of all is the utter desperation which forced some ­prisoners to eat the dead. After the war Harold said: "I found pits being dug by so-called free foreign workers.
"I cannot very well explain my ­feelings when I first saw one of those pits, which already contained many dead, and had to throw my particular corpse on top of those others.
"During the dragging process I noticed on many occasions a very strange wound at the back of the thigh of many of the dead.
"First I dismissed it as a gunshot wound at close quarters but after seeing a few more I asked a friend and he told me many prisoners were cutting chunks out of these bodies to eat.
"On my next visit to the mortuary I actually saw a prisoner whip out a knife, cut a portion out of the leg of a dead body and put it quickly into his mouth, naturally frightened of being seen in the act of doing so.
"I leave it to your imagination to realise to what state the prisoners were reduced for men to chance eating bits of flesh taken out of black corpses."
His misfortune was living in the only part of the British Isles ­occupied by the Nazis – the Channel Islands.
The Jersey school teacher was sent to the camps on June 5, 1944, for owning a wireless, refusing to teach his pupils German and helping his sister Louisa harbour an escaped Russian PoW. She was later killed in the gas chambers of Ravensbruck.
After arriving at Belsen on April 5 1945, Harold was taken to Block 13 alongside around 450 other prisoners, just weeks after the death of 15 year-old diarist Anne Frank in the camp.
He was soon dragging bodies to the burial pits: "In those five days or so I spent on this burial work neither a spot of food nor a drop of water passed my lips," he recounted. It wasn't long before the camp was liberated but Harold was near death.
In his letter to the compensation board he wrote: "The liberation came not a moment too soon for I had reached the stage of being a ­'musel­­man' which meant death within hours." Muselman was the term captives used to refer to those suffering from a combination of starvation and ­exhaustion and resigned to dying.
Of another camp, Wilhelmshaven, where he was earlier incarcerated, Harold wrote: "This was a tough camp with torture and punishment the rule day and night.
"Means of putting inmates to death included beating, drowning, ­crucifixion, hanging in various stances, etc."
Harold's ability to put the nightmare experience into words meant that after the war he would give damning evidence against his captors.
During his testimony he gave this vivid outline of life inside the camp:
"A night in those huts was something maybe a man like Dante might describe but I simply cannot put into words. I would like to try to make everyone realise what absolute starvation, no water at all for some six days, lack of sleep and to be covered in lice is like.
"Add to this the foul stench and vileness of the place, the scenes which apparently ­horrified the whole world, which we saw by the whole of daylight day by day, the blows on the head, the hideous work, and guards shooting at us as if we were rabbits from all directions.
"If you can picture all this then maybe you will get a remote inkling of what life was like in Belsen." After his release Harold spent five months in hospital and six months convalescing. Poignantly, in the records, he ended his claim: ­"Unfortunately all my friends who survived Belsen are now dead. All in all I am in good shape but must needs lead a quiet life."
And that is precisely what he did. He began teaching again and became headmaster of St John's School in Jersey.
He was awarded the MBE, the French Medaille de la ­Resistance and was re­­­­united with the Russian he and his sister had helped. He died in 1985, aged 73.