Remembering an 'old school' superstar, Glenn Ford, at 100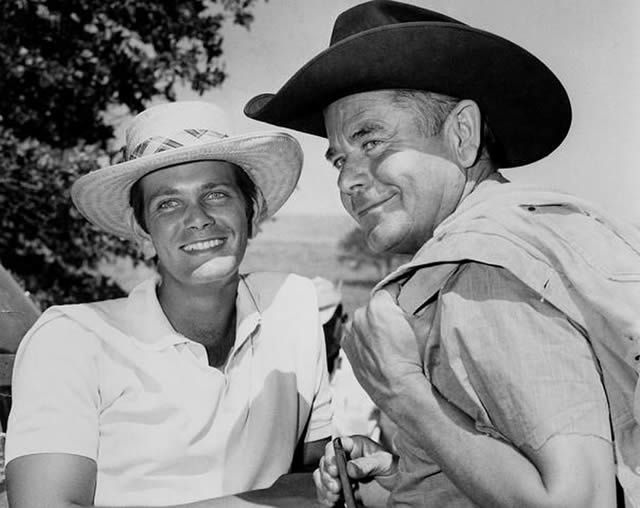 Glenn Ford, right, and son Peter on the set of "Heaven with a Gun" at Old Tucson, Arizona, in 1968. Ford Sr. would have been 100 today
It's no coincidence that the Turner Classic Movies network will be airing a couple of Glenn Ford movies today.
"That would have been my dad's 100th birthday," noted Ford's only child, Peter, from his home in Bigfork, Montana.
Ford died in 2006 at age 90, and is remembered for almost 100 film roles in classics such as "Gilda," "Blackboard Jungle" and "The Courtship of Eddie's Father."
Oddly enough, the first biography of Ford was published only in 2011. Peter wrote "Glenn Ford: A Life," a biography filled with stories of the actor's life and career. (It was published by the University of Wisconsin Press.)
Also known for many classic westerns such as "The Fastest Gun Alive," "3:10 to Yuma," and "Cimarron," Ford was a natural cowboy.
"He could draw and shoot in three-tenths of a second," said Peter, who remembers as a kid pretending to be Broderick Crawford, Ford's villain co-star from "The Fastest Gun Alive."
"He would put a holster on me and we'd practice drawing down on each other. He was also a gun collector and used the same gun in most of his movies."
Actor Paul Petersen co-starred with Ford in the 1967 western "A Time for Killing" and remembers Ford's weapons skill.
"What I most recall is how soft-spoken he was ... how observant ... how professional," said Petersen. "It was that same easy manner when they passed out the weapons and checked out the actors who would handle them."
And Ford knew his horses, too, according to Petersen.
"On the first day on location we had to pick our horses, and I ended up with a goofy pinto that didn't like cameras and lights and crewmen," Petersen said. "This was outside Kanab, Utah. I was riding around getting to know my movie horse when Glenn ambled over to a horse trailer nearby, and when the tailgate dropped, out backed this magnificent quarterhorse."
Within minutes, Petersen said, Ford had the horse saddled, and mounted with ease like a genuine cowboy.
"He had that horse moving around like a dancer, backing up, tracing sideways, and ever alert. Glenn Ford was no rookie."
Nor was Ford a rookie when it came to romance off the screen. He was involved with many of his leading ladies, according to Peter, including Angie Dickinson.
"We worked on the western 'The Last Challenge' (1967) and hooked up again and dated in the '80s for a while," Dickinson said from her home in Los Angeles. "Westerns were still popular but on their way out."
She recalls preparing for a riding scene with Ford in a horse and buggy.
"He was in charge of the horses and I was sitting beside him," said Dickinson. "He looked at me and said, 'You're sitting too tall!' I was sitting up straight but he was pulled forward to manage the horses. So I had to slouch a bit."
Later, as a couple, Dickinson found Ford rather quiet.
"He was a stay-at-home guy, and when we were together he just didn't talk a lot, which made it difficult to keep the relationship going. I'm a very talkative person. But on screen he was charismatic and sexy, and a terrific actor with a quiet power that the screen just loves."
It was Ford's professionalism that inspired director Richard Donner to recruit Ford, in his early 60s at the time, for the role of Jonathan Kent in the 1978 blockbuster, "Superman."
"As a kid, he was one of my favorite actors, just awe-inspiring," said Donner from his Los Angeles office. "I had directed several episodes of his TV series 'Cade's County' in the '70s and got to know him a little. When 'Superman' came along I thought he'd be perfect for the role of Pa Kent. I called him personally and he thought about it a minute and said, 'Sight unseen, for you I'll do it.' So he jumped on board and loved it."
In the final scene at the Kent farm, the young Clark Kent character comes running to Ford slumped on the ground from a heart attack, seen from afar. While some big stars would demand a stand-in for a wide shot like that, Ford did not.
"That was Glenn lying on the dirt," said Donner. "He was just an extraordinarily professional guy, disciplined, and the personification of old-school actors from an earlier era."
If Ford were alive and healthy today at 100, would he still be acting?
"I'm sure he would," said Peter Ford. "He loved to act and he especially liked to be paid for doing it."
Nick Thomas has written features, columns, and interviews for more than 600 magazines and newspapers. Read more at tinseltowntalks.com.