Producer of Z Cars for BBC Television who later became the driving force behind Channel 4's Film on Four movie output.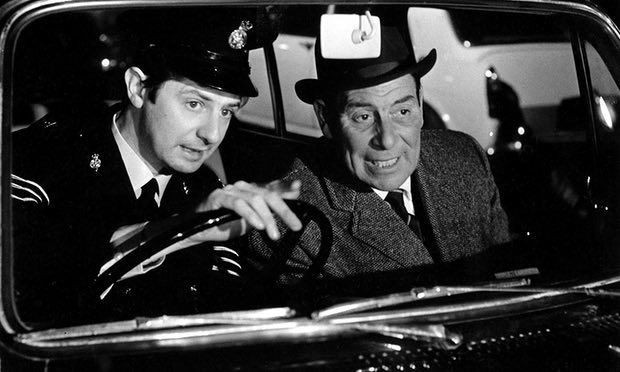 James Ellis, left, and John Slater in Z Cars. For three years, David Rose supervised every detail of the series
When Channel 4 was launched in 1982, its brief was to be distinctive and innovative. As a senior commissioning editor and then head of drama until 1990, David Rose, who has died aged 92, took up that challenge for the movies produced under the banner of Film on Four, with many successes including Neil Jordan's Angel (1982) and Mona Lisa (1986), David Leland's Wish You Were Here (1987) and Mike Leigh's High Hopes (1988).
Two decades earlier, Rose had been breaking new ground at BBC Television, as the first official producer of its police series Z Cars, and he went on to invigorate regional drama for the corporation. Among the writers whose talents he nurtured were Alan Plater, David Rudkin and Alan Bleasdale – and David Hare was astonished and delighted by his boldness.
The idea of Z Cars came from the writer Troy Kennedy Martin, who during a brief illness in 1961 had idly eavesdropped on police messages using his newly acquired VHF radio. The concept was eagerly taken up by the assistant head of drama responsible for the documentary strain, Elwyn Jones, who sought the cooperation (quickly withdrawn) of Lancashire police, and incidentally learned the code names for the cars with which they policed the urban sprawl north of Liverpool.
Kennedy Martin and a fellow writer, Allan Prior, were sent there to live among the local populace. John McGrath, director of the first episode, on 2 January 1962, was responsible for the inspired casting — James Ellis, Brian Blessed, Jeremy Kemp, Joseph Brady, Stratford Johns, Frank Windsor and, as wife of one of the coppers, Dorothy White. The black eye her husband had given her was an early indication that this was to be a warts-and-all picture of policemen rather than the cosy Dixon of Dock Green image. It was also revolutionary in the pace and range of the action, despite a sparing use of film inserts. Within a month it was attracting an audience of 15 million.
The sheer pressure of rehearsing, recording and editing the equivalent of a brisk little movie every week, however, was formidable. No one director or pair of writers could do it. If continuity and style were to be preserved, there had to be someone to supervise every detail of the series, which eventually ran for 16 years as well as spawning various spin-offs. This was where Rose came in for the first three years, his task not eased by the need to transmit the show live from the BBC studios in London, 200 miles from the actual location. He then launched Softly Softly (1966-67), relocating Johns and Windsor to a police regional crime squad.
Another series set in the north of England, The First Lady (1968-69), with Thora Hird as a crusading local councillor, had scripts by Plater. Again it had to be recorded in London. Though Wales, Scotland and Northern Ireland might be allowed to shoot a few plays, in other respects drama was centralised, and Rose was not alone in questioning this policy. After a spell in charge of television training (1969-71), he was the logical choice to fill the newly created post of head of regional television drama (1971-81).
He based himself in Birmingham but cast his net widely. Results started to come at once. Second City Firsts (1973-78) was a rather intimidating title for an anthology of short plays from all quarters, including a striking debut, Early to Bed (1975) by Bleasdale, who would go on to write The Boys from the Blackstuff. The latter series had as its starting point The Black Stuff (1980), produced by Rose as a Play for Today. Also in that slot came Rudkin's magical masterwork Penda's Fen (1974), not only set in the Malvern hills but recorded with lightweight cameras at the precise locations.
Plater's six Trinity Tales (1975) were swapped by latter-day pilgrims not on the road to Canterbury but aboard a bus taking them from Hull to the Rugby League final in Wembley. Philip Martin's Gangsters (1976-78) depicted Birmingham at the mercy of multiracial villains.
Born in Swanage, Dorset, David was the son of Alvan Rose, a jeweller, and his wife, Gladys (nee Hill). On leaving Kingswood school, Bath, in 1942, he volunteered for the RAF, and by the late stages of the second world war was a flight engineer in Bomber Command. He flew on 35 operations, one of them to Königsberg (now the Russian city of Kaliningrad), at the very limit of a Lancaster's range. Another time, he and all the crew of his plane narrowly missed being blown to bits when two engines failed on take-off and they crashed into a ditch. The usual bomb-load at this time was one huge explosive blockbuster embedded among scores of little incendiaries. The big bomb would certainly have detonated, Rose believed, but by error one too few of them had been delivered to the squadron, and their plane carried incendiaries only.
On demobilisation he studed at the Guildhall School of Music and Drama, London. He worked in repertory from 1952, and this was followed by stage management experience in a couple of ballet companies before he joined the BBC in 1954. He won recognition in 1958 as producer of Medico, a vivid TV drama-documentary about a ship steaming for port with an injured man aboard and the efforts to get the medical officer to his aid. It was written by a former BBC war correspondent, Robert Barr, who went on to contribute to the writing of Z Cars.
By the time Rose started with Channel 4, he had been won over to the idea of making all he could on film, both in short and feature formats. In the absence of government support for the British film industry, Film on Four support, in return for a shorter delay between cinema release and TV transmission, proved of vital help.
Rose was awarded the gold medal of the Royal Television Society in 1988, and continued to be involved with films after his departure from Channel 4 two years later.
In 1952 he married Valerie Edwards, with whom he had three sons, Simon, Paul and Matthew, and three daughters, Charlotte, Mandy and Jemima. After Valerie's death in 1966 he married Sarah Reid. They had a daughter, Tamsin, and he adopted Sarah's children, Nicholas and Venetia. The marriage came to an end in 1980, and they divorced in 1988. In 2001 he married Karin Bamborough.
Jemima died in 1991. He is survived by Karin, his other children, six granddaughters, three grandsons, and a great-granddaughter.
Philip Purser
Jeremy Isaacs writes: David Rose, in charge of fiction, was good for Channel 4, for film-lovers, for British film. We had no studios: everything was made for us on location, on film. Some lively figures in film urged me to make movies to be seen in the cinema, before being shown on TV. I said we'd try.
David was perfectly happy with that, and got to work. But the first proposal he put to me, as chief executive, was for a daily soap opera: Phil Redmond's Brookside, made in Liverpool. It eventually ran for 21 years, until 2003.
His main thrust was Film on Four. With £6m to spend a year, he commissioned 20 feature-length films at £300,000 a piece, and film-makers were to supplement that if they could. David, backed by Karin Bamborough, Walter Donohue and, later, Peter Ansorge chose every one.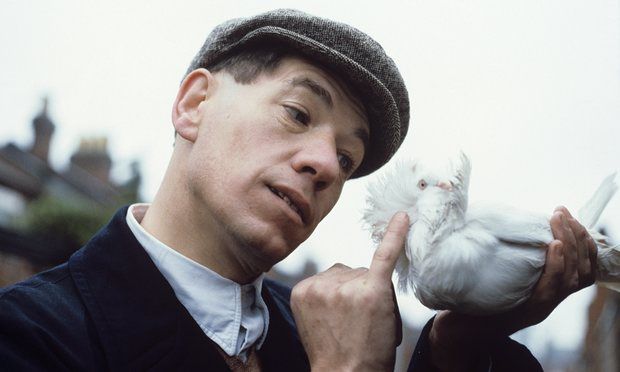 Ian McKellen in David Cook's Walter, directed by Stephen Frears, one of the first fruits of David Rose's work at Channel 4
On our first night on air, we screened David Cook's Walter, directed by Stephen Frears. Ian McKellen, as the young man with learning difficulties who kept pigeons, sticks in the memory still.
As we went on, we made fewer films at higher budgets. Hanif Kureishi's My Beautiful Laundrette (1985), directed by Stephen Frears, cost £650,000 and was worth every penny. Bill Douglas, author of the trilogy My Childhood, My Ain Folk, My Way Home, realised a lifetime's ambition in filming the Tolpuddle martyrs in Comrades (1986). That cost £2m.
David cast his net wide: he was for realism, but did not rule out fantasy. He preferred the present, but allowed the past. He wanted films that said something to us, with an edge, or from an unexpected perspective. He worked with mainstream directors, and also with Peter Greenaway and Terence Davies.
Like Channel 4 itself, he rejected insularity. Of 150 films for Film on Four, 20 were from abroad. We helped along Theo Angelopoulos and Andrei Tarkovsky. Wim Wenders' Paris, Texas (1984), in which we had a major stake, won the Palme d'Or at Cannes. In 1987 David deservedly collected for us the first Roberto Rossellini award for services to European cinema.
David was quiet, persistent, totally without vanity, confident in his judgment, eclectic in his range. He never stopped. On his 90th birthday he showed a film he'd made that year. In front of a fixed camera, he danced.
David Edward Rose, television producer and executive, born 22 November 1924; died 26 January 2017