Portrait of Generalfeldmarschall Hermann Goering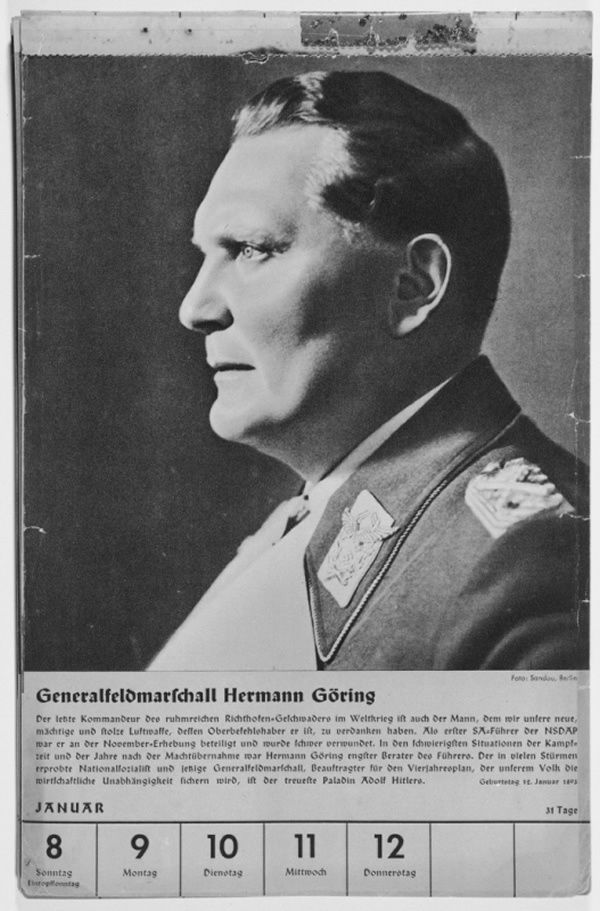 Record Type: Photograph
Photograph #: 45231
Caption: Portrait of Generalfeldmarschall Hermann Goering.
One of a collection of portraits included in a 1939 calendar of Nazi officials.
Biography: Hermann Goering (1893-1946), Commander-in-Chief of the Luftwaffe, President of the Reichstag, Reich Marshal, and initially Hitler's chosen successor. Goering first gained recognition as a World War I fighter ace. He joined the NSDAP in 1922. In 1923 he was wounded in the Beer Hall Putsch and forced to flee Germany for four years, during which time he developed a morphine addiction. He became a valuable asset to Hitler, using his connections in the army and business to gain support for the NSDAP. Upon Hitler's appointment to the Chancellorship, Goering was rewarded with high positions, including Commander-in-Chief of the Prussian Police and Gestapo, and Commissioner for Aviation. Goering set up the first concentration camps and organized the Gestapo with Heinrich Himmler and Reinhard Heydrich. In 1935 he was appointed Commander-in-Chief of the Air Force and Plenipotentiary of the Four Year Plan in 1936. It was Goering who instructed Heydrich to prepare a "General Solution" to the Jewish problem after Kristallnacht in November 1938. In June 1940 he was named Reich Marshal, a specially created position, reflecting the high esteem in which he was held by Hitler. After using the Air Force with great effectiveness in Poland and France, Goering confidently sent German air power into the Battle of Britain only to fail because of strategic errors. Hitler never forgave Goering for the defeat and began to lose faith in the Air Force. Throughout the war, Goering was increasingly under attack from Martin Bormann, Joseph Goebbels, Albert Speer, and Heinrich Himmler. In the last weeks of the war Hitler dismissed Goering from all his posts after he fled to Bavaria. Goering was subseqently captured by the Allies and put on trial before the International Military Tribunal in Nuremberg, where he emerged as the dominant figure among the accused Nazis, sometimes successfully defending himself against the prosecution. Nevertheless, he was found guilty of conspiracy to wage war, crimes against peace, crimes against humanity, and war crimes, for which he was sentenced to death. On October 15, 1946, just two hours before his execution, he committed suicide by swallowing a cyanide capsule that he had managed to smuggle into prison.
[Sources: Wistrich, Robert. "Who's Who in Nazi Germany." MacMillan, 1982; Zentner, Christian. "Encyclopedia of the Third Reich." MacMillan, 1991.]

Date: 1939
Locale: Germany
Photo Designation: NAZI OFFICIALS/PERSONALITIES OF THE THIRD REICH -- Gauleiter Calendar Portraits
Keyword: CALENDARS, CLOSE-UPS, GOERING, HERMANN, NAZI OFFICIALS
Photo Source: United States Holocaust Memorial Museum
Copyright: United States Holocaust Memorial Museum
Provenance: Geoffrey Giles
Photo Credit: United States Holocaust Memorial Museum, courtesy of Geoffrey Giles