Portrait of Reichsleiter Alfred Rosenberg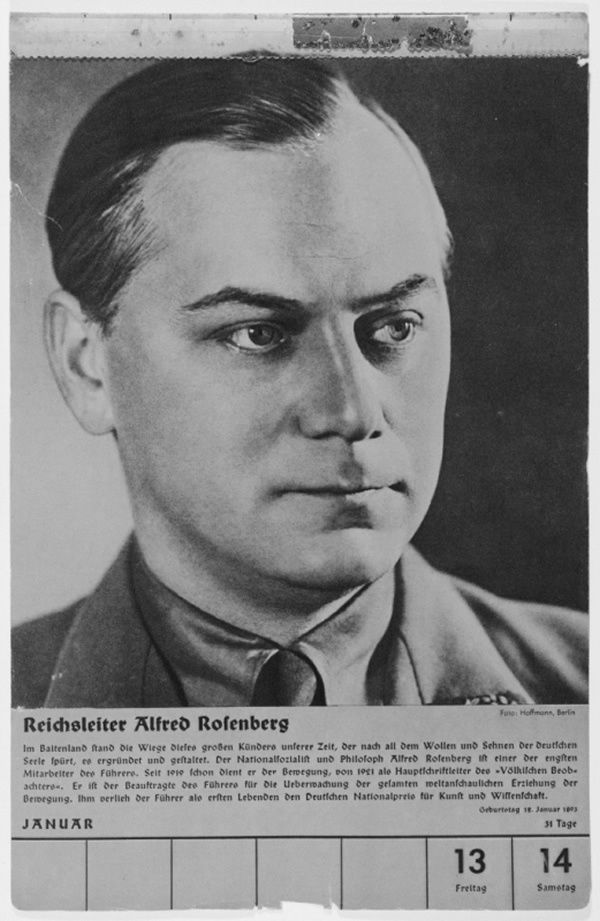 Record Type: Photograph
Photograph #: 45232
Caption: Portrait of Reichsleiter Alfred Rosenberg.
One of a collection of portraits included in a 1939 calendar of Nazi officials.
Biography: Alfred Rosenberg (1893-1946) Nazi racial theorist who became head of the Nazi party's Foreign Affairs Department during the Third Reich. Born in Tallinn, Estonia, Rosenberg was the son of an Estonian mother and Lithuanian father, both of whom were of German extraction. He studied engineering in Riga and architecture in Moscow before fleeing to the West after the Bolshevik Revolution. In 1918 he settled in Munich, where he became active both in White Russian émigré circles and in an ultra-nationalist German society. Rosenberg joined the NSDAP in 1919 and met Hitler soon after. Hitler was impressed by Rosenberg's breadth of knowledge and attracted to his virulently anti-Semitic, anti-Bolshevik and anti-Masonic worldview. In 1923 Rosenberg became editor of the NSDAP newspaper, the "Voelkische Beobachter," and in November of that year played an active role in the failed Beer Hall Putsch. During the next few years he established himself as the leading theoretician of Nazi racism. His ideas received their fullest expression in his "Myth of the Twentieth Century" (1930), which posited that the whole of world history is the history of races, that the Germnas are the master-race of Aryans, and that Judaism and Christianity are the mortal enemies of the true German spirit. Rosenberg's arrogance and zealous, pedantic style alienated many of his fellow Nazi leaders, especially Joseph Goebbels. As a result, he was repeatedly passed over for major posts such as Foreign Minister. From 1933 to 1945 he served as head of the inconsequential NSDAP Foreign Affairs Department. In 1939 Rosenberg established in Frankfurt his Institute for the Investigation of the Jewish Question, whose mission was the looting of European Jewish cultural treasures. A special unit called the Einsatzstab Reichsleiter Rosenberg (Rosenberg Task Force) was set up in the fall of 1940 to confiscate such material and transport it to Germany. In July 1941, following the German invasion of the Soviet Union, Rosenberg was appointed Minister of the Occupied Eastern Territories. Though he came to question the wisdom of the Germanization policy pursued by the Nazi leadership in the Eastern Territories, he faithfully carried out his duties, including the extermination of Jews and the deportation of Soviet civilians to the Reich for forced labor. After the war Rosenberg was tried before the International Military Tribunal at Nuremberg. Following his conviction he was hanged in Nuremberg on October 16, 1946.
[Source: Wistrich, Robert. "Who's Who in Nazi Germany." MacMillan, 1982; Zentner, Christian. "Encyclopedia of the Third Reich." MacMillan, 1991.]

Date: 1939
Locale: Germany
Photo Designation: NAZI OFFICIALS/PERSONALITIES OF THE THIRD REICH -- Gauleiter Calendar Portraits
Keyword: CALENDARS, CLOSE-UPS, NAZI OFFICIALS, ROSENBERG, ALFRED
Photo Source: United States Holocaust Memorial Museum
Copyright: United States Holocaust Memorial Museum
Provenance: Geoffrey Giles
Photo Credit: United States Holocaust Memorial Museum, courtesy of Geoffrey Giles