Tony-winning stage, screen actor Brian Dennehy dies at 81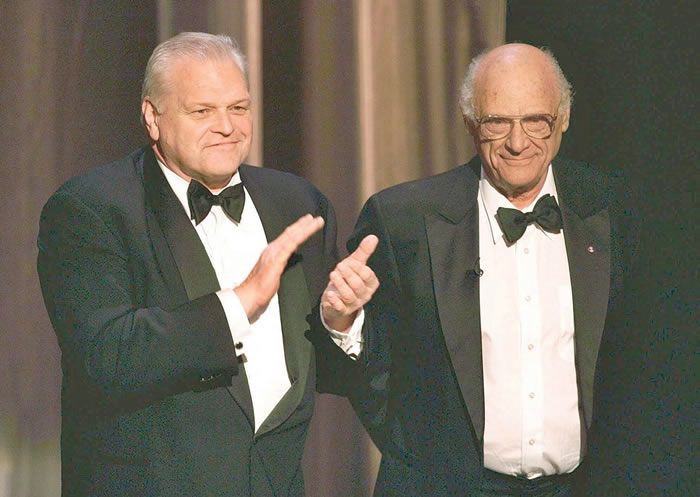 Actor Brian Dennehy, left, with playwright, Arthur Miller, at the 1999 Tony Awards in New York. THE ASSOCIATED PRESS
Brian Dennehy, the burly actor who started in films as a macho heavy and later in his career won plaudits for his stage work in plays by William Shakespeare, Anton Chekhov, Eugene O'Neill and Arthur Miller, has died. He was 81.
Dennehy died Wednesday night of natural causes in New Haven, Conn., according to Kate Cafaro of ICM Partners, the actor's representatives.
Known for his broad frame, booming voice and ability to play good guys and bad guys with equal aplomb, Dennehy won two Tony Awards, a Golden Globe, a Laurence Olivier Award and was nominated for six Emmys. He was inducted into the American Theater Hall of Fame in 2010.
In 1990 he played the role of Hickey in Eugene O'Neill's "The Iceman Cometh," a play he reprised at Chicago's Goodman Theatre with Nathan Lane in 2012 and in Brooklyn in 2015.
In 1998, Dennehy appeared on Broadway in the classic role of Willy Loman, the worn-out hustler in Miller's "Death of a Salesman" and won the Tony for his performance.
He was awarded another Tony in 2003 for his role in O'Neill's "Long Day's Journey into Night," opposite Vanessa Redgrave, Phillip Seymour Hoffman and Robert Sean Leonard.
Dennehy was born July 9, 1938, in Bridgeport, Conn., the first of three sons. His venture into acting began when he was 14 in New York City and a student at a Brooklyn high school. He played football on a scholarship at Columbia University, and he served five years in the U.S. Marines.
The 6-foot-3-inch Dennehy went to Hollywood for his first movie, "Semi-Tough" starring Burt Reynolds and Kris Kristofferson.
Among his films: "Looking for Mr. Goodbar," "Foul Play," "Little Miss Marker," "Split Image," "Gorky Park," "Legal Eagles," "Miles from Home," "Return to Snowy River," "Presumed Innocent," "Romeo and Juliet," "Assault on Precinct 13," and "Tommy Boy."
He worked deep into his 70s. His last foray on Broadway was in "Love Letters" opposite Mia Farrow in 2014.
He is survived by his second wife, costume designer Jennifer Arnott and their two children, Cormac and Sarah. He also is survived by three daughters — Elizabeth, Kathleen and Deirdre — from a previous marriage to Judith Scheff.
Today's birthdays: Actress Hayley Mills is 74. Bassist Jim Scholten of Sawyer Brown is 68. Actor Rick Moranis is 67. Actor Eric Roberts is 64. Actress Jane Leeves is 59. Ventriloquist Jeff Dunham is 58. Talk show host Conan O'Brien is 57. Actor Eric McCormack is 57. Actor David Tennant is 49. Guitarist Mark Tremonti of Creed and of Alter Bridge is 46. Actress Melissa Joan Hart is 44. TV personality Kourtney Kardashian is 41. Actress America Ferrera is 36.