Mady Mesplé, 89, One of French Opera's Most Important Post-War Stars, has Died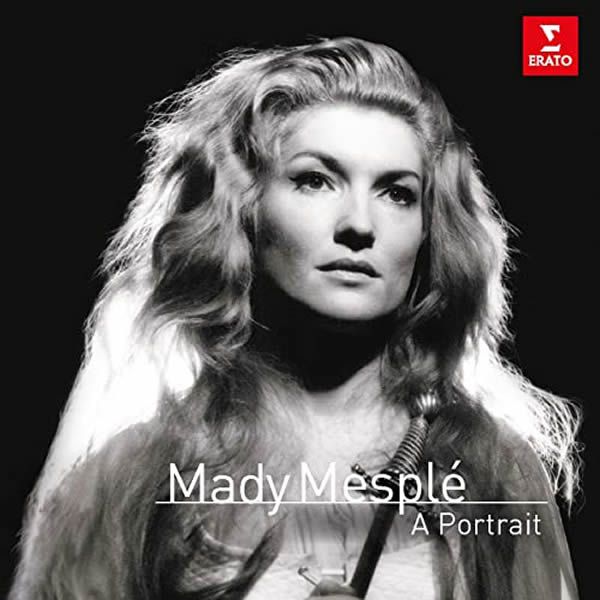 Toulouse, France, March 7, 1931—May 30, 2020
A LYRIC-COLORATURA SOPRANO whose charm, beauty and formidable technique made her one of French opera's most important stars, Mesplé studied at the conservatory in her native Toulouse before making her professional debut in 1953, at Théâtre Royal de Liège in Lakmé, the opera that was to remain most closely associated with Mesplé during her career. Mesplé was unsurpassed as Delibes's Brahmin priestess, which she sang more than 140 times: no other soprano of Mesplé's era commanded in equal measure the coruscating coloratura needed for Lakmé's Act II "Air de clochettes" and the otherworldly delicacy required for "Sous le ciel tout étoilé" in Act III. Lakmé was Mesplé's debut role at La Monnaie in Brussels (1954) and at the Opéra–Comique in Paris (1956). Mesplé made her debut at the Palais Garnier in 1958, as Soeur Constance in Dialogues des Carmélites by Poulenc, a composer whose music Mesplé served well for thirty years; her late-career concert performances of Poulenc's monologue La Dame de Monte Carlo in the 1980s were particularly memorable.
Mesplé's other French roles included Olympia in Les Contes d'Hoffmann, Philine in Mignon, Leïla in Les Pêcheurs de Perles, Juliette, Massenet's Manon, Ophélie, and Sophie in Werther. The list of Mesplé's non-French repertory roles encompassed Donizetti's Lucia, which provided Mesplé with her first prima donna triumph at the Paris Opéra, Oscar in Un Ballo in Maschera, the Queen of the Night, Amina, Norina, Rosina, Gilda, Zerbinetta and Sophie in Der Rosenkavalier. In 1963, Mesplé created the role of Kitty in Gian Carlo Menotti's Le Dernier Sauvage (The Last Savage) and in 1965 sang Hilde Mack in the French premiere of Henze's Elegy for Young Lovers. Whatever the language, the luminous elegance of Mesplé's singing was unfailing. Mesplé's diction was crystalline, her intonation faultless and her stratospheric flights of coloratura charged with insouciant daring.
Although Mesplé made successful guest appearances in Moscow, Milan and Buenos Aires, most of her career in staged opera was centered in Europe. Mesplé accepted relatively few offers in the United States. She made her Lyric Opera of Chicago in 1966, as the Queen of the Night, and she sang only four performances with the Met, as Gilda in a 1973 revival of Rigoletto. Most North American opera aficionados learned to appreciate Mesplé's artistry through her impressive recordings of mélodies, operas and operettes. Among the titles in the long list of Mesplé's recording-studio successes were Messager's Veronique (title role, 1968); Lakmé (title role, 1970); Lecocq's La Fille de Madame Angot (Clairette, 1972); Rossini's Guillaume Tell (Jemmy, 1972) and Barbiere di Siviglia (Rosina, 1974); Satie's Socrate (Phédon, 1972) and Geneviève de Brabant (title role, 1974); Planquette's Les Cloches de Corneville (Germaine, 1973); Auber's Manon Lescaut (title role, 1974) and Fra Diavolo (Zerline, 1983); Grétry's L'Amant Jaloux (Léonore, 1977) and Hahn's Ciboulette (title role, 1981). Mesplé was also ideally cast on disc as several Offenbach heroines, including Gabrielle in La Vie Parisienne (1975), Wanda in La Grande-Duchesse de Gérolstein (1976); Euridice in Orphée aux Enfers (1979), Catherine in Pomme d'Api (1982) and Ernestine in Monsieur Choufleuri (1982).
Mesplé retired from the opera stage in 1985 but continued to appear in concert and on French television until the early 1990s. She also taught in Paris, Lyon and Bordeaux. Mesplé was diagnosed with Parkinson's disease in the 1990s and published a book about her illness, La Voix du Corp, in 2010.