Andre Devigny 82 Escaped Gestapo Prison

The New York Times published 27/02/1999 by Richard Goldstein

Gen. Andre Devigny, a legendary figure in the French Resistance for his escape from the Gestapo chief Klaus Barbie's prison in German-occupied Lyons during World War II, has died at his home in Hauteville-sur-Fier, France. General Devigny, whose dash to freedom inspired the French director Robert Bresson's award-winning film ''A Man Escaped,'' was 82.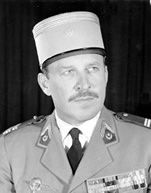 His family announced his death on Feb. 18, saying he was buried on Feb. 15.

On Aug. 20, 1943, General Devigny, then a French Army lieutenant, was taken before Mr. Barbie, who had been holding him prisoner for four months. Mr. Barbie told the prisoner he would be shot within days as a Resistance assassin.

Instead, Lieutenant Devigny escaped within days, in what apparently was the only breakout from the Gestapo's notorious Fort Montluc prison, which held 10,000 Jews and Resistance fighters during the war.

Thirteen years later, Mr. Bresson, who had once been held by the Germans as a prisoner of war, drew on General Devigny's memoirs to make ''A Man Escaped.'' Using amateur actors and sparse dialogue but memorable sound effects to heighten the tension -- the rattling of jailers' keys, the slamming of cell doors -- it won Mr. Bresson selection as best director at the 1957 Cannes Film Festival.

General Devigny was an adviser for the film, which was shot in part inside the prison cell where he had been held. In 1983 Mr. Barbie was put into the same prison after being returned to France from Bolivia. He was convicted of crimes against humanity four years later and was sentenced to life imprisonment, and died in 1991.

In May 1940, Lieutenant Devigny was commanding French troops fighting the Germans in Belgium. While behind enemy lines, he was mistakenly shot by French soldiers. Wounded in the legs and buttocks, he was taken to a military hospital in Bordeaux, then sent to recuperate at his home in the Savoie region, where he had grown up as one of seven children in a farm family.

Two years later, Lieutenant Devigny was recruited by an intelligence network of former French officers run from Geneva by Col. Georges Groussard, the former commander of the French military academy Saint-Cyr and a follower of de Gaulle.

On April 14, 1943, Lieutenant Devigny and a fellow Resistance man shot and killed an Italian counterespionage agent who was working for the Germans in Nice. But another German agent had infiltrated their unit. Three days later, Lieutenant Devigny was arrested by the Gestapo.

He was tortured over two weeks and kept handcuffed in his 10-foot-square cell at the supposedly escape-proof Fort Montluc. But he was undeterred. He had learned to remove his handcuffs with a safety pin. Using a soup spoon he had ground down to a point on the cell's concrete floor, he found that he could remove the vertical wooden slats at the bottom of his cell and squeeze through the opening.

At night, when the guards were not making their rounds, he would leave the cell and wander the halls, chatting with the other prisoners. Waiting for the right moment to attempt an escape, he fashioned a rope from his blanket and mattress cover and created a grappling hook from the frame of an old lantern he had found in the hallway.

On Aug. 24, 1943, he and another prisoner recently placed with him removed the cell's wooden slats, climbed through a skylight and made their way into a courtyard. Lieutenant Devigny threw a sentry to the ground, then stabbed him with his bayonet.

At 3 A.M., after a guard bicycling around the perimeter roadway had passed, he tied one end of his rope to the infirmary chimney and threw the attached grappling hook over the top of an outer wall. The two prisoners then swung themselves over a 15-foot gap and leapt to freedom.

Lieutenant Devigny eluded German search parties and dogs by hiding in mud flats along the Rhone and fled to Switzerland with the help of the Resistance.

He eventually joined a French commando unit in North Africa and took part in the Allied invasion of southern France in August 1944.

At war's end, de Gaulle presented him with the Cross of the Liberation, a coveted decoration. De Gaulle later appointed him a senior official in France's foreign-intelligence organization.

General Devigny retired from military service in 1971. He is survived by his wife, a son and three daughters.

He had considered entering politics. But he said in an interview with Reuters in 1997 that he rejected the idea ''when I realized the backstabbing was far worse than anything I'd ever encountered in secret warfare.''

Photo: In Robert Bresson's award-winning film ''A Man Escaped,'' the character based on Andre Devigny was played by Francois Leterrier, right.