Court Upholds Conviction Of Vichy Aide Who Has Fled
PARIS, Oct. 21— France's highest court today upheld the conviction of Maurice Papon, the 89-year-old former civil servant who announced Wednesday that he would live outside France rather than serve his 10-year jail sentence for sending hundreds of Jews to Nazi death camps.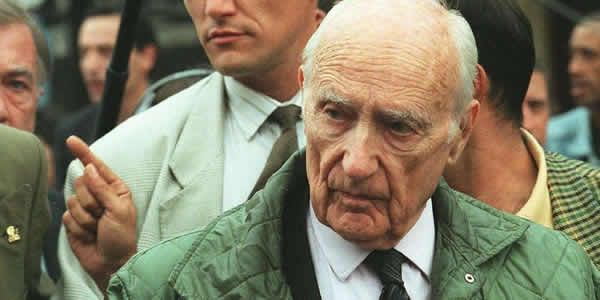 Inside the court, Holocaust survivors smiled, shouted bravo and wept.
French officials immediately issued an arrest warrant for Mr. Papon, who disappeared from his home near Paris more than a week ago but who has been issuing statements through his lawyers.
Mr. Papon was supposed to surrender Wednesday to begin serving his sentence before his appeal could be heard.
But instead the combative and articulate former Vichy government official said in a statement that he would ''go into exile'' rather than spend his last years in prison.
Mr. Papon, who has always maintained his innocence despite his signature on numerous deportation orders, said exile was an honorable choice that had been made by ''many noted men in history.''
The third highest ranking official in the Bordeaux area during the war, Mr. Papon became a Budget Minister in France's postwar Government. His trial, which began in 1997, was the longest and most expensive in France's modern history. It forced the country to confront a part of its past that many had tried to forget.
As the court made its ruling today, officials scrambled to explain Mr. Papon's escape. Despite his conviction, nothing was done to restrict his movements. He was even allowed to keep his passport.
The Justice Minister, Elisabeth Guigou, said Mr. Papon had benefited from a legal loophole in being released from jail during trial because of poor health. The release, she said, removed any legal basis for controlling his movements. She promised to submit legislation in January to close the loophole.
Speculation about where Mr. Papon had gone continued throughout the day. Swiss officials confirmed that he was in Martigny, in western Switzerland, last week.
Under French law, defendants who do not turn themselves in to begin serving their sentences automatically lose the right to appeal. This morning the prosecutor, Bruno Cotte, urged no exception for Mr. Papon.
''Maurice Papon, who has deliberately chosen not to turn himself in, using the press to create a sort of indecent and invidious aura of suspense, must now see the common law applied,'' Mr. Cotte argued.
The court broke with its usual protocol and allowed Mr. Papon's lawyers to make their arguments for a delay. But at 5 P.M. it rejected the arguments, ruling that Mr. Papon lost his right of appeal when he failed to report to prison. The ruling closes the door on any further appeals.
Mr. Papon's chief lawyer, Jean-Marc Varaut, said after the hearing that the court ruling justified Mr. Papon's decision to flee. He said he would try to take the case before the European Court of Human Rights to condemn the French courts. ''We have no other choice,'' he said.