Eichmann sidekick faces trial in France

The Guardian 27/08/1999 03.00 BST by Paul Webster in Paris

Alois Brunner, one of the Nazi Holocaust's most efficient murderers and Adolf Eichmann's private secretary, will face a trial for crimes against humanity in a French court next year in the climax to France's uneasy attempts to prosecute war criminals, it emerged yesterday.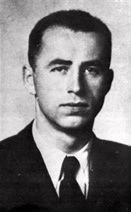 The trial will be the fourth in France for crimes against humanity, following those against Klaus Barbie, Paul Touvier and Maurice Papon. It is likely to be as painful in revealing the full extent of French complicity in the mass murder of Jews as the previous hearings.

Intense pressure is being brought on Syria to honour an international arrest warrant and expel Brunner, now 87, from his hideout in a Damascus suburb. Even if extradition fails, the trial would be held in his absence, offering a bitter victory to Serge Klarsfeld, the Nazi-hunting lawyer, whose father died of exhaustion in a concentration camp after being arrested by Brunner's SS team in 1943.

Thirteen years after Mr Klarsfeld started a private prosecution on behalf of murdered Jewish children, the Paris public prosecutor has demanded a trial based on an investigation by an examining magistrate, Hervé Stéphan.

He is expected to give the go-ahead in the next few days for an assize court jury hearing in the middle of next year after being told that Brunner was personally responsible for at least 130,000 deportations across Europe.

The two central charges are the dispatch of 250 Jewish children to Auschwitz on July 31 1944 and an episode on August 17 1944 when 51 hostages, including the plane maker Serge Dassault, were forced to accompany Brunner on the last deportation train from Paris to Germany. After cutting their way out of a cattle wagon, 27 escaped. Some of the others were gassed or died in medical experiments.

French officials have rejected reports that Brunner died in Damascus five years ago. Israeli sources have indicated that he still lives under the pseudonym of Georg Fisher and is easily recognisable because of wounds suffered in two letter-bomb at tempts on his life in which he lost an eye and several fingers.

France's attempts to bring Holocaust war criminals to justice began in 1987 when the Lyon Gestapo chief, Klaus Barbie, then 73, was jailed for life for his part in the deportation of 75,000 French and expatriate Jews between 1942 and 1944.

Evidence of collaboration by the Vichy regime, headed by Philippe Pétain, contributed to pressure for the trial of French officials, including the former Vichy police chief, René Bousquet, but he was assassinated in 1993. The following year, an anti-semitic militia chief, Paul Touvier, then 77, was jailed for life after being protected for nearly 50 years by Catholic church leaders.

Last year Maurice Papon, 88, who was in charge of Jewish affairs in wartime Bordeaux, was given a 10-year sentence but has appealed. Barbie and Touvier died in solitary confinement.

Trials of Frenchmen had been opposed by François Mitterrand, the late Socialist president and former Vichy official. But his successor, Jacques Chirac, has condemned Vichy as a criminal government and contributed to a greater readiness to hold public hearings.

Brunner was sentenced to death in his absence for war crimes in 1954 by a French court - the death penalty was abolished in 1981 - and would be unlikely to escape life imprisonment if he attended the assize court.

Brunner, born in Austria in 1912, joined the Austrian Nazi party in 1931 at 19. His anti-semitism was so extreme that he was quickly appointed Eichmann's private secretary.

As head of the Nazi Jewish affairs office in prewar Vienna, he organised persecution that forced thousands of Jews to flee to other European countries and the US. He completed the task when war broke out by sending 47,000 Austrian Jews to concentration camps. After organising mass round ups in Berlin, he deported all 43,000 Jews in Salonika, Greece, in two months.

In June 1943, he was sent to France, taking over the notorious Drancy concentration camp near Paris from its French administration. During 14 months in France he sent about 25,000 men, women and children to their deaths.