German bank linked to death camp

BBC News published 05/02/1999 at 06:51 GMT

The largest bank in Germany, Deutsche Bank, has admitted that it lent money to firms constructing the Auschwitz death camp during the Second World War.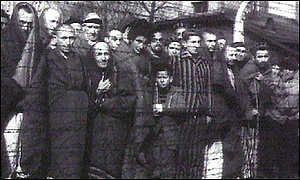 In light of the revelations, Deutsche has been swift to set up talks with the World Jewish Congress (WJC) aimed at discussing claims against the bank by victims of the Holocaust.

The talks were announced after the release of a report, compiled in 1946 by the US military on Deutsche Bank's activities during the war.

It said that the bank had helped support Adolf Hitler's Nazi regime and that many of its subsidiaries knowingly granted loans to the German companies that were using concentration camp victims as slaves.

Fears for merger

News of Deutsche Bank's Auschwitz connections cast a shadow over its $10.1bn plans to merge with the US financial institution Bankers Trust.

Correspondents said the revelation about links to Auschwitz and subsequent compensation claims could delay by a few months the approval of Deutsche Bank's acquisition of Bankers Trust.

The talks, which will take place on Monday, will include representatives of the German government, which is considering an umbrella plan to pay reparations to Holocaust victims on behalf of German industries and businesses, which could face a tide of class action suits filed in the US.

Some 1.5 million people, mostly Jews, were killed at Auschwitz during the Second World War.

Loans sanctioned from on high

The head of Deutsche Bank's historical institute, Manfred Pohl, said newly-disclosed documents showed the bank had links with firms that built the camp.

It also had credit links to one company that made incineration units and funded another whose subsidiary made the Zyklon B gas used in the camp.

Asked if it was clear whether Deutsche Bank officials had known that the money was being used to fund the concentration camp, Mr Pohl said bank officials in Katowice had been aware of these facts.

"It is clear that this was known as high up at the main office in Katowice. It is not certain whether it was known in Berlin," Mr Pohl told a news conference, adding that the loan would have had to have approval from Berlin to go ahead.

The WJC's Executive Director, Elan Steinberg, said the group hoped to make enough progress at the meeting so as to be able to give a favourable recommendation to New York City's comptroller, Alan Havesi, on the merger between Deutsche and Bankers Trust.

'Merger should be delayed'

Mr Hevesi kept up pressure on Deutsche Bank, saying that the merger should be delayed until Holocaust claims were settled.

"I continue to believe that federal and state officials should take no action on the proposed merger between Deutsche Bank and Bankers Trust until these issues are fully resolved," he said.

Mr Hevesi himself does not have the power to approve or reject the merger, but he heads a network of state and local officials whose threat last year to boycott Swiss banks helped bring about a $1.25bn settlement with Holocaust victims and their descendants.