Interpol issues warrant for French war criminal
A hunt for the war criminal Maurice Papon, 89, was concentrating on the Swiss borders yesterday. French authorities feared that the former Vichy official was being smuggled out of Europe by a network of influential people.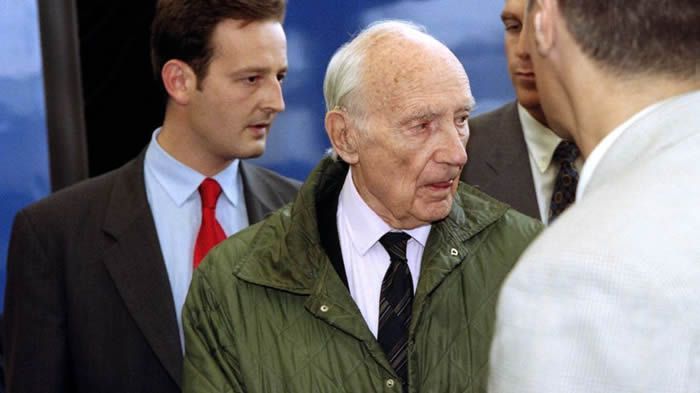 Papon, whose 1998 conviction for crimes against humanity by a Bordeaux court was confirmed yesterday, was seen in Switzerland as late as October 15, four days after leaving his family property near Paris with his granddaughter.
A high Swiss police official, Jean-René Fourniers, said that Papon "was certainly still in Switzerland". But despite this assurance French government officials said late yesterday that they had no idea where he might have gone.
Papon fled to escape a 10-year prison sentence for his role - as a senior official in France's wartime Vichy regime - in helping the Nazis to murder 1,650 Jews. Vichy's anti-semitic policies saw 75,000 Jews deported to death camps.
The court that convicted him in 1998 left him at liberty until the appeal ruling yesterday. Now his flight has set off a search for accomplices among the French police - a force which rounded up Jews during the war. President Jacques Chirac's entourage said Papon had benefitted from "culpable negligence at the very least".
Investigations into Papon's unhindered departure from France were focusing on a surprise decision to lift surveillance on his movements at his own request this month.
The special branch will also have to explain why it took no action after being told by an informer on October 15 that Papon, a post-war Gaullist cabinet minister, was in a hotel in the Swiss canton of Valais.
One of his friends, Hubert de Beaufort, has admitted that Papon was helped to flee by an influential network that appears to have organised the equivalent of the rat-run that helped Nazis like Adolf Eichmann and Klaus Barbie to flee Europe after the war.
In a letter to the newspaper Sud-Ouest, Papon himself said leaving France was a matter of honour and of finding a peaceful refuge to live out his last years: "In taking my freedom, I can from now on approach peace in eternity."
Papon spent much of the time in Spain between last year's hearing, on charges of complicity for crimes against humanity, and the appeal.
He may be trying to return there after Swiss authorities refused a residence permit and indicated that they would cooperate with French extradition moves. Spain was a refuge for French collaborators while Franco was in power up to 1975 and, despite extradition procedures, still has many fascist sympathisers who could help Papon in transit to refuge.
The French prime minister, Lionel Jospin, said Papon had run away "like he has fled for many years", and that he would be hunted down and made to serve his jail term.
Last night, Interpol issued an international arrest warrant to all member forces. Meanwhile, hopes of finding Papon seemed to depend on inquiries in the French police.
Because of what is now seen as a judicial misjudgment, Papon was not put under permanent surveillance, though he was usually accompanied by two special branch officers for his own protection. Other policemen were on permanent guard outside his property near Paris because of fears of an assassination like that of the Vichy former police chief, René Bousquet, in 1993.
But on October 5, Papon asked for this special branch protection to be removed and received the immediate agreement of the national police's director general, Didier Cultiaux. On October 11, Papon left the property and was not heard of again until he visited a Swiss lawyer in Geneva and took rooms at a hotel in the Swiss Valais at Martigny, where he signed in as Monsieur de la Roche-Foucauld.
"It is not clear whether Mr Cultiaux consulted the interior minister, Jean-Pierre Chevènement, before ending surveillance," a senior police spokesman said. "We were faced by a judicial vacuum as the assize court had ordered no restrictions, even on foreign travel."
Inquiries in Spain and Latin America began on October 13. Two days later the informer saw Papon in Switzerland. It took until October 20 - the day before he was due in court - to locate his hotel, but Papon had gone.
Serge Klarsfeld, one of the prosecution lawyers, said the affair left a bitter taste, but the key thing was yesterday's court confirmation of Papon's guilt.