Isaac Taylor Youth Center Dedicated in New Jerusalem Suburb
Jerusalem, Jul. 12 (JTA) – At ceremonies attended by a number of guests from Baltimore, by Mayor Mordecai Ish-Shalom of this city, and leaders of Histadrut, the Israel Federation of Labor, a new community center, named after an American philanthropist who contributed 200, 000 Israel pounds ($110, 000) toward its construction, was dedicated yesterday at the new Jerusalem suburb of Kiryat Hayovel. The center, named after Isaac Taylor, of Ellicott City, Md., a suburb of Baltimore, will serve the youth at Kiryat Hayovel, a new settlement for recent immigrants.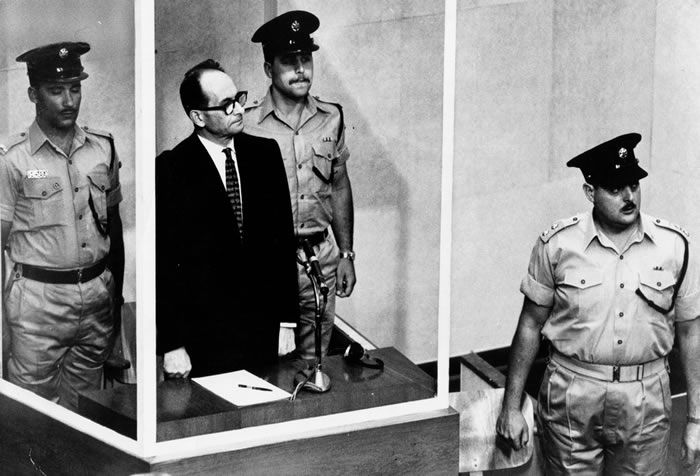 Mr. Taylor, who was present with his wife, officially represented Maryland's Governor J. Millard Tawes, who had formally designated "my good friend, Isaac Taylor," as his "personal courier" for the occasion. Mr. Taylor presented to Mayor Ish-Shalom flags of the United States and of Maryland given to him for this purpose by Governor Tawes.
Eichmann, unable to ignore his own deportation orders, said there "must have been" some special order from the central administration to General Globochnik.
EICHMANN KNEW 'FINAL DESTINATION' WAS DEATH IN MURDER CAMPS
In another series of step by step questions, with Eichmann resisting each step, Hausner forced Eichmann to admit that Chelm was a railroad station and not the ultimate destination of a transport of Jews ordered sent to Chelm by Eichmann. The Nazi admitted that the "final destination" of the transport "might have been" the murder camps of Sobibor and Maidanek, which were "in the vicinity" of Chelm.
At one stage, Hausner charged that Eichmann knew that all elderly people unable to work were sent direct to the murder camps. Eichmann exclaimed "I had no hand in the exterminations. I refuse to testify about things which I did not see. "
Hausner began, during the afternoon session, to lay traps for Eichmann on deportation orders he signed which sent German Jews to Minsk and Riga. Eichmann had claimed that it was only after the war that he learned that the local SS commander, "on his own authority, " had ordered the murder of all of the German deportees. Hausner then produced evidence that Eichmann had known that the Nazi commando units at Riga and Minsk were murdering Jews. Eichmann replied that he believed these were "local" Jews and not German Jews who would be accorded "better treatment, " he thought at that time.
'ONLY HITLER GAVE ORDERS; OTHERS INNOCENT'
The prosecutor pounded. "Do you mean that you believed Hitler's orders were not equally valid for all Jews?"
Eichmann replied that he believed there was a difference in actual practice. Then he added that, even if he knew all of the German Jews also were murdered, he could not have done anything about it, being only a small part of the big administrative machine.
"That is," said the prosecutor, "Hitler gave the order, and all the others, like Heydrich and Kantenbrunner, merely received orders. " When Eichmann indicated assent, the prosecutor bored in again: "But you yourself justified the Nuremberg sentences against Kalten-brunner and the others. "
Eichmann, obviously aware of the prosecution's goal of shattering his principle defense--that he like all officers in the Nazi hierarchy had to obey orders--replied that Kaltenbrunner and the other Nazi generals had "a certain veto power." Such high officers, he contended, were not receivers of orders but givers of orders and they had fairly wide authority to dissent.
This drew an interjection from Justice Moshe Landau, the presiding judge, who remarked: "I am surprised to hear this. Nazis Germany was organized on the leadership principle and everybody had to take orders from Hitler. "
Yes, replied Eichmann, "but those gentlemen had broader powers, and from my point of view, they were givers of orders and not recipients of orders. " He added that he remembered instances when commanding generals who dissented from Hitler's orders could "simply retire" to civilian life.
At one stage, Eichmann found that none of his formula replies availed to explain a contradiction between what he had said in pre-trial police interrogation and what he said in court under Hausner's heavy cross-examination.
He had told the Israeli police interrogators that his Gestapo department had authority to liquidate ghettoes and deport the inhabitants, a most damaging admission. Confronted by Hausner with this statement, he tried to clear himself of the clearly indicated responsibility with a series of lengthy replies, each of which was challenged and for each of which he managed an unconvincing correction. At length, he blurted "I'm getting mixed up. "