Judith Campbell Exner Dies; Had Affair With JFK

published 26/09/1999 at 18:02 PM by Patt Morrison

History: L.A. socialite was vilified for her relationship with the president and Chicago mobster Sam Giancana.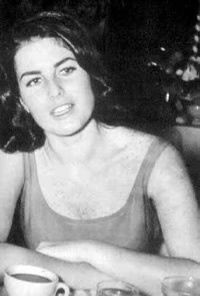 Judith Campbell Exner, the Los Angeles socialite whose affair with President John F. Kennedy embroiled her in decades of vilification as the first to shatter the Camelot myth, has died.

She was 65 when she died Friday at City of Hope hospital in Duarte, and had spent the last decades of her life battling both the cancer that ultimately killed her and the speculation that sprang up after she was forced to reveal to a Senate committee her relationship with the assassinated president.

Only in later years did she say Kennedy had also enlisted her as his unwitting courier, ferrying envelopes to Mafia contacts who had allegedly aided Kennedy politically.

Their affair began in 1960, after Frank Sinatra introduced the beautiful, sapphire-eyed Exner to a handsome senator who was running for president. It continued through most of Kennedy's days in the White House. After FBI director J. Edgar Hoover told Kennedy in 1962 that his investigators knew about the relationship and about Exner's contacts with Mafiosi, the two met only infrequently. At their last encounter, in 1963, Exner said, she became pregnant and later had an abortion.

It was only in 1975, by which time she had married golf pro Dan Exner and begun living in Orange County, that she was dragged from obscurity by a Senate committee investigating alleged CIA plots to assassinate Cuban President Fidel Castro. Despite a Senate promise of confidentiality, someone leaked her identity, and an appalled world still under the spell of Camelot reviled her.

Although documents would later affirm phone calls and White House visits, Kennedy loyalists denied the affair. One, JFK aide Dave Powers, a man Exner said helped to arrange her meetings with Kennedy, was still insisting in 1991: "The only Campbell I know is chunky vegetable soup."

"People who loved Jack felt if they could degrade me, then he was just a bad boy," she told The Times several years ago. "On the other side, [Republicans] felt they could destroy Jack by destroying me, by making me as bad as possible." In the quarter-century since her identity was revealed, she had battled depictions of her as a "Mafia moll" and had fought for government records to support her story.

Judith Katherine Immoor was born in 1934 and grew up in Pacific Palisades, the youngest daughter of a successful architect and a granddaughter of a real estate tycoon. Her family's wealth gave her an independent income, and later accusations that she had to make a "profession" of prostitution prompted yet another series of calls to her lawyers.

In a trait that would serve her well in years to come, Exner saved receipts for every gas bill she paid, every pair of shoes she bought, every hotel room she took. (The only gifts she told The Times she accepted from JFK were a ruby and diamond brooch from Tiffany's and money to buy a mink coat.)

The papers, which she stored in closets and under the bed in her Newport Beach home, would show not only that she lived on her own money, but, as government documents about her affair with JFK were released, that the official archive corroborated her own.

At 18 she had married television actor Bill Campbell, and the couple socialized with figures like Sinatra. The Campbells were unhappily divorced six years later, and she briefly dated Sinatra before he introduced her to JFK in February 1960. Exner said she and Kennedy were first intimate a month later, the night before the New Hampshire primary.

Within a month, she said, Sinatra had also introduced her to his friend Sam Flood--in truth, Chicago mob boss Sam Giancana--and JFK soon afterward asked her to arrange the first of what would be several meetings between him and Giancana. Investigative reporter Seymour Hersh has said the Mafia connection was made chiefly at the behest of patriarch Joseph P. Kennedy, familiar with the mob from Prohibition.

Exner said she also ferried envelopes from JFK to Giancana and to mobster Johnny Rosselli. In those envelopes--she said she never peeked inside--were alleged payoffs or instructions for vote-buying in elections and plans to kill Castro.

"Jack never in a million years thought he was doing anything that would hurt me, but that's the way he conducted himself; the Kennedys have their own set of rules," she said. "Jack was reckless, so reckless."

She was proud to be running errands for the man she loved, who would soon be the leader of the free world. "When he did win [the election], I felt this sense of pride that I had helped him." Still, had she known he was also seeing other women, "no matter how much I loved him, I would have walked away . . . "

In 1963, when she learned she was pregnant, she said, she and Kennedy agreed that she should contact Giancana, who arranged for the abortion. It was only then, she said, that she and Giancana were intimate; she insisted she never had a simultaneous relationship with Kennedy and Giancana.