The Deserters: A Hidden History of World War II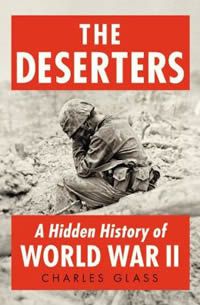 "[A]n impressive achievement: a boot-level take on the conflict that is fresh without being cynically revisionist." —The New Republic. A groundbreaking history of ordinary soldiers struggling on the front lines, The Deserters offers a completely new perspective on the Second World War. Charles Glass—renowned journalist and author of the critically acclaimed Americans in Paris: Life and Death Under Nazi Occupation—delves deep into army archives, personal diaries, court-martial records, and self-published memoirs to produce this dramatic and heartbreaking portrait of men overlooked by their commanders and ignored by history.

Surveying the 150,000 American and British soldiers known to have deserted in the European Theater, The Deserters: A Hidden History of World War II tells the life stories of three soldiers who abandoned their posts in France, Italy, and Africa. Their deeds form the backbone of Glass's arresting portrait of soldiers pushed to the breaking point, a sweeping reexamination of the conditions for ordinary soldiers.

With the grace and pace of a novel, The Deserters moves beyond the false extremes of courage and cowardice to reveal the true experience of the frontline soldier. Glass shares the story of men like Private Alfred Whitehead, a Tennessee farm boy who earned Silver and Bronze Stars for bravery in Normandy—yet became a gangster in liberated Paris, robbing Allied supply depots along with ordinary citizens. Here also is the story of British men like Private John Bain, who deserted three times but never fled from combat—and who endured battles in North Africa and northern France before German machine guns cut his legs from under him.

The heart of The Deserters resides with men like Private Steve Weiss, an idealistic teenage volunteer from Brooklyn who forced his father—a disillusioned First World War veteran—to sign his enlistment papers because he was not yet eighteen. On the Anzio beachhead and in the Ardennes forest, as an infantryman with the 36th Division and as an accidental partisan in the French Resistance, Weiss lost his illusions about the nobility of conflict and the infallibility of American commanders.

Far from the bright picture found in propaganda and nostalgia, the Second World War was a grim and brutal affair, a long and lonely effort that has never been fully reported—to the detriment of those who served and the danger of those nurtured on false tales today. Revealing the true costs of conflict on those forced to fight, The Deserters is an elegant and unforgettable story of ordinary men desperately struggling in extraordinary times.

ISBN-13 : 9781594204289
Publisher : Penguin Group (USA)
Publication date : 13/06/2013
Author : Charles Glass



Editorial Reviews

The New York Times - Dwight Garner

Stories about cowardice can be as gripping as those about courage. One tells us about who we'd like to be; the other tells us about who we fear we are…The Deserters: A Hidden History of World War II…performs a service. It's the first book to examine at length the sensitive topic of desertions during this war, and the facts it presents are frequently revealing and heartbreaking.

The Washington Post - Jonathan Yardley

The Deserters is…an intimate look at the whys and wherefores of three men who opted out of the front lines.

Publishers Weekly

ABC News correspondent Glass is to be commended for his take on WWII through the eyes of those who ran away from it. Nearly 150,000 British and American soldiers deserted the war; Glass follows three of them. Pvt. John Bain's brutal experience in a war-time prison as a deserter will make you question whatever moral authority the allies truly upheld, while Pvt. Steve Weiss's heroics behind German lines with the French resistance is as gripping as any Hollywood war epic. Except Weiss, upon returning to the front, walked away and spent the rest of the war doing hard labor. Finally, Pvt. Al Whitehead, a braggart, bully, and unreliable narrator, leaves battle less from psychological fatigue than for the riches of post-liberation Paris's black market; his gangster-in-uniform life an ignored and fascinating chapter of the period. Well-documented battle details will delight military enthusiasts but slow down the narrative. However, for readers who are not members of this "greatest" generation, Glass's history might be one of the best ways of relaying the experience of war: through the eyes of the young men who charged into the line of fire, gave up the ghost, and whose only reward was living to tell the tale. (June)

San Francisco Chronicle

A veteran correspondent in war zones, Glass is richly credentialed to write 'The Deserters: A Hidden History of World War II.' He is qualified by talent, by the good fortune of finding surviving veterans, and by exploring their lives with diligence and, most crucially, a deep compassion...Glass tells the soldiers' stories with novelistic vividness and a good historian's grasp of research detail...May the reviewer be permitted [a] personal confession? Did I like this book? No, I loved it.

Library Journal

Author of the much-praised Americans in Paris: Life and Death Under Nazi Occupation, Glass can be expected to offer rigorous but accessible history. He explains that many World War II soldiers fought bravely one day, then turned tail the next, to be comforted by their comrades when they returned.

Kirkus Reviews

Glass (Americans in Paris: Life and Death Under the Nazi Occupation, 2011, etc.) takes on the nearly taboo subject of Allied soldiers who deserted or were said to have displayed cowardice during World War II. Tracking in detail the wartime biographies of three privates in the infantry--Tennessee farm boy Alfred Whitehead, Brooklyner Steve Weiss and Britisher John Bain--the author constructs a frame for his much broader, and quite provocative, discussion of military personnel policy. Each of his subjects was court martialed and sentenced to long-term incarceration. But each had also fought bravely, and continuously, through a series of campaigns in Africa and Europe, including the Anzio landings, the D-Day invasion and its aftermath, and the assault on Nazi Germany itself.

Weiss, for example, won medals for bravery and, when separated from his unit, served with paratroops and the French Resistance. Glass situates the men's individual pathways within the context of a personnel policy that failed to fully assimilate lessons from World War I, when it was first acknowledged that there were limits to what combat soldiers could endure, both mentally and physically. Nevertheless, WWII military leaders prioritized combat experience, keeping veteran fighters in the field since raw replacement troops were not as effective; this led to increased pressure on long-serving soldiers that sometimes became intolerable.

By the summer of 1944, the Allies' combat units were suffering in excess of 10 percent casualties per month. The command level was divided between supporters of treating desertion as a discipline problem and those who advocated a medical response. Glass shows how deserters established criminal networks in liberated cities like Naples, Marseilles and Paris, diverting military supplies on a significant scale. Using memoirs, correspondence and military records, the author works outward from his three individual protagonists, through their networks of friends and comrades, to their units and larger questions about the war's conduct. A well-written, fast-moving treatment of an issue still relevant today.



Meet the Author

Charles Glass was the chief Middle East correspondent for ABC News from 1983 to 1993 and has covered wars in the Middle East, Africa, and the Balkans. He is the author of Americans in Paris, Tribes with Flags, The Tribes Triumphant, Money for Old Rope, and The Northern Front. His writing has appeared in Harper's Magazine, The New York Review of Books, The London Review of Books, The Independent, and The Spectator. Born in Los Angeles, Glass divides his time among Paris, Tuscany, and London. www.charlesglass.net