Unhealed Wounds Opening Up As Italy Marks Wartime Massacre

Jewish Telegraphic Agency published 25/03/1999 by Ruth E. Gruber

Rome, Mar. 24 (JTA) – Controversy stalked this year's commemoration of Italy's worst World War II massacre.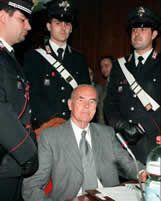 As part of the annual commemoration, Italian President Oscar Luigi Scalfaro, Rome Mayor Francesco Rutelli and other top government officials marked the anniversary of the March 24, 1944, Ardeatine Caves massacre with a solemn ceremony Wednesday morning presided over by Rome Chief Rabbi Elio Toaff and a Roman Catholic priest.

But some Jewish and partisan groups protested posters put up by the Rome municipal government to advertise the ceremony, which marks the Nazi execution of 335 Roman men and boys -- including about 75 Jews -- south of Rome.

The massacre was ordered in retaliation for a partisan attack that had killed 33 German soldiers the previous day. "Rome, city of peace, confirms its support for those who fought and died for democracy, and expresses respect and mercy for the defeated," the posters read. An editorial in the left-wing newspaper l'Unita, which has close ties with the current government, said "respect for the Nazis is not legitimate." But the Corriere della Sera newspaper defended the posters.

"Hitler and Himmler, Goering and Goebbels deserve no respect," it said in an editorial. "But those who do deserve respect are the German soldiers and citizens subjugated to that dictatorship who carried out the atrocious orders and paid a price for their (incidental) complicity or their incapacity to rebel against it."

Some right-wingers in Italy have long blamed partisan groups for bearing the main responsibility for the massacre. They argue that had the partisans responsible for the deaths of the German soldiers turned themselves in, the innocent civilians would not have been killed in reprisal. The controversy demonstrates that Italians have yet to resolve their feelings about the incident, said the author of a new book on the massacre. "The Ardeatine Caves massacre is still an open wound in the memory of Rome's citizens," Alessandro Portelli told the English language Italy Daily.

Politicians repeatedly allude to the massacre because it shows Rome to be a victim of Nazi violence, said Portelli. Italy began World War II on the side of Nazi Germany, joining the Allies after the fall of Mussolini in 1943. Former SS Captain Erich Priebke, 84, and Maj. Karl Hass, another former SS officer, are currently serving life prison sentences in Rome for having taken part in the massacre. In the wake of their trials, two right-wing political parties, including a party linked to neo-fascists groups, filed suit against the surviving members of the partisan squad for allegedly provoking the massacre.

Last week, however, Italy's highest court threw out the suit, ruling that the attack -- like all acts of anti-Nazi and anti-fascist World War II resistance - - was a legitimate act of war.