With Cool Energy, Ex-Vichy Official Defends His Past
BORDEAUX, France, Oct. 15— Maurice Papon, the elderly ex-Vichy functionary accused of aiding in the deportation of more than 1,600 Jews from wartime Bordeaux, defended himself with vigor and cool precision today in his first extended testimony at his trial on charges of complicity in crimes against humanity.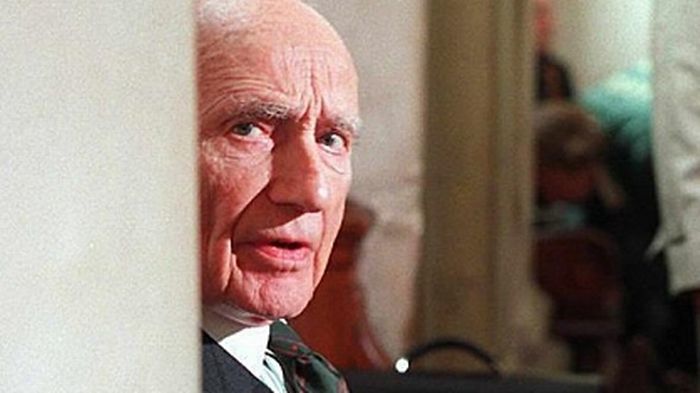 Belying the image of an enfeebled 87-year-old his lawyer portrayed, Mr. Papon didn't falter once in nearly three hours on the witness stand, energetically depicting himself as a man of compassion, a protector of Jews during the war and after, and a dedicated public servant. He recalled the events of his long career with a lucidity that would have been striking in a much younger man, and he repeatedly sprang from his seat to parry hostile questions from his accusers' lawyers.
Standing rigid and straight, he asserted with indignation that he had always felt great sorrow for the fate of the Jews during the war.
''I have never ceased to carry in my heart the sorrow of my Jewish compatriots, and of foreign Jews,'' said Mr. Papon, elegant in a dark suit and sweater, a handkerchief tucked nattily into his breast pocket. ''I spent the occupation fighting for the Jews and for others. It is an honor for me to have always protected the Israelite community.''
The Bordeaux Jews who have pursued Mr. Papon in the courts for 16 years have reproached him for never expressing sorrow over the Holocaust, and they, their lawyers, and French journalists have painted a picture of Mr. Papon as a heartless bureaucrat. Today, he seemed at pains to refute that image. His parents, he said, had always forbidden him to cry in public. But, raising his voice and looking at his accusers, Mr. Papon said forcefully: ''It is an infamy, an infamy to suggest that I have no sentiment.''
He told the court that he and his wife had spent Christmas of 1943 crying over a convoy of Jews that was soon to leave the city. Mr. Papon has always denied knowing the destination of the 10 convoys that left Bordeaux for Auschwitz, and one of the lawyers asked whether Mr. Papon's tears didn't in fact prove he knew the Jews' fate. But before he could answer, another lawyer intervened, pointing out that today's session was to be dedicated to Mr. Papon's career before and after the war years.
Today was the first day of testimony in a trial that promises to be a significant and singular history lesson for the French, and it was a day rich in insights into the character of this eminently successful bureaucrat. Mr. Papon is the first, and in all likelihood will be the last, ranking official of the Vichy government, which ruled France at the sufferance of its German occupiers, to be prosecuted for his part in the Holocaust.
Over the next two months, the plaintiffs' lawyers say, they will expose in detail Mr. Papon's performance during the war as a high-ranking official dealing with the ''Jewish question'' in Bordeaux and the surrounding Gironde region. Their exposition, the lawyers say, will demonstrate the efficient complicity of Vichy bureaucrats in the ''Final Solution.'' Mr. Papon's signature is at the bottom of numerous wartime documents dealing with the deportation of Jews, carried out here in this conservative mercantile city for a longer period of time and with more efficiency than in most other French cities.
Even Mr. Papon's defenders, among them some Resistance members, have reproached him for not resigning when the anti-Jewish measures began in earnest. But today Mr. Papon said coolly, in another context: ''It is not my custom to resign. Resigning is deserting. I have always done my duty.''
Today's questioning was focused mainly on Mr. Papon's remarkable ascent after the war, when the Government rewarded him with ever more responsible posts. He moved effortlessly from the Vichy government to the service of President Charles de Gaulle.
In the 1950's, Mr. Papon was prefect in an Algeria riven by the independence struggle and the brutal methods used to suppress it. Later, he was the prefect of police in Paris when men under his command savagely repressed demonstrations against the war there.
These matters have nothing to do with the charges against Mr. Papon. But the plaintiffs' lawyers put him on the spot over them nonetheless.
Asked about torture during his watch in Algeria, Mr. Papon said that Algerians had called him the Mahdi, or the wise and just one. Questioned about the notorious repression of a demonstration in Paris in October 1961, when the bodies of dozens of Algerians were fished out of the Seine, Mr. Papon declared angrily: ''It is unimaginable, unimaginable to accuse the police of that. First of all, it was not their style, it was not their way of doing things.'' He said that the Algerians were killed that day by other, more hard-line compatriots.
The plaintiffs' lawyers, like others here, were taken aback by Mr. Papon's vigor. Last week, in releasing the defendant from jail for the duration of the trial, Judge Jean-Louis Castagnede cited Mr. Papon's frailty in ruling that he was no threat to escape. But Gerard Boulanger, a Bordeaux attorney who has pursued Mr. Papon longer than anybody else, said: ''He's in great shape. He was really impressive.''