Castro Foe Puts U.S. in an Awkward Spot

EL PASO, Oct. 6 — Thirty years ago, long before liquids and gels were restricted on airliners, a tube of Colgate toothpaste may have brought a plane down from the sky.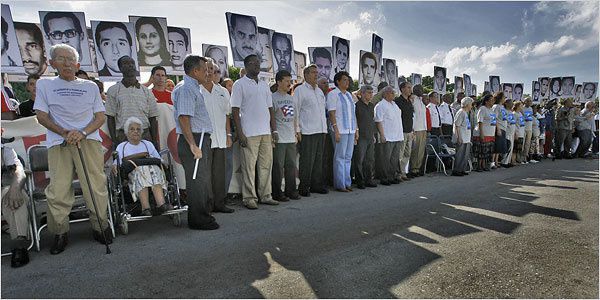 A ceremony in Havana on Friday for the 73 people killed when a bomb planted by anti-Castro militants blew up a Cubana Airlines plane in 1976
Cubana Airlines Flight 455 crashed off the coast of Barbados on Oct. 6, 1976, killing all 73 people aboard. Plastic explosives stuffed into a toothpaste tube ignited the plane, according to recently declassified police records.
Implicated in the attack, but never convicted, was Luis Posada Carriles, a Cuban exile who has long sought to topple the government of Fidel Castro.
Today, Mr. Posada, 78, is in a detention center in El Paso, held on an immigration violation while the government tries to figure out what to do with him. His case presents a quandary for the Bush administration, at least in part because Mr. Posada is a former C.I.A. operative and United States Army officer who directed his wrath at a government that Washington has long opposed.
Despite insistent calls from Cuba and Venezuela for his extradition, the administration has refused to send him to either country for trial.
Intensifying the problem is that Mr. Posada, who was arrested last year in Miami after sneaking into the country, may soon go free because the United States has been reluctant to press the terrorism charges that could keep him in jail.
That prospect has brought a hail of criticism of the Bush administration for holding a double standard when it comes to those who commit terrorist acts.
"The fight against terrorism cannot be fought à la carte," said José Pertierra, a Washington lawyer who is representing the government of Venezuela in its effort to extradite Mr. Posada. "A terrorist is a terrorist."
The Bush administration has stopped short of prosecuting him as a terrorist, however, even though the Justice Department called him as much this week. In papers filed in federal court in El Paso on Thursday, it described him as "an unrepentant criminal and admitted mastermind of terrorist plots and attacks on tourist sites."
Instead, Mr. Posada faces immigration charges, as the Bush administration tries its best to deport him somewhere else, where he would walk free.
Few countries seem willing to take him. So far, Canada, Costa Rica, El Salvador, Guatemala, Honduras, Mexico and Panama have all turned down American requests to take Mr. Posada, who denies that he bombed the plane but who is linked to the case in declassified C.I.A. and F.B.I. files.
"Who would want him?" asked one lawyer close to the case, who spoke on the condition that he not be identified because of the delicacy of the litigation. "Wherever he goes there will be intelligence agents from a variety of nations following him, not to mention hit squads."
Two countries do want Mr. Posada: Venezuela, where he is wanted for blowing up the plane, and Cuba, where he is viewed as an enemy of the state who has repeatedly tried to assassinate Mr. Castro.
An immigration judge has ruled that Mr. Posada may be subject to torture in those two countries. But because no other country has stepped forward, and because he has not been officially deemed a terrorist by the American government, a federal judge recommended last month — coincidentally on Sept. 11 — that Mr. Posada be released.
The Bush administration is now invoking a law that bars the release of an illegal immigrant who poses adverse foreign policy consequences for the United States. That tack has placed it in the awkward position of, in effect, having to call Mr. Posada a terrorist even as it refuses to charge him as one.
Mr. Posada has longstanding links to American intelligence agencies, and his colorful past helps to explain why this is not a garden variety terrorism case. One immigration judge involved in the proceedings described them as being "not unlike one of Robert Ludlum's espionage thrillers."
A former sugar chemist and exterminator in Cuba, Mr. Posada has been working in the shadows to carry out a policy not unlike the one Washington has advocated over the decades — the removal of Mr. Castro.
"How can you call someone a terrorist who allegedly committed acts on your behalf?" asked Felipe D. J. Millan, Mr. Posada's El Paso-based lawyer. "This would be the equivalent of calling Patrick Henry or Paul Revere or Benjamin Franklin a terrorist."
Mr. Posada received military training in the United States and worked for the C.I.A. as far back as the failed Bay of Pigs invasion. He played a role in supplying the contras in Nicaragua. He has admitted, but subsequently denied, involvement in a string of bombings of Cuban tourist facilities.
By the time the Cubana Airlines plane exploded, Mr. Posada was no longer in the employ of the C.I.A. But records show that he may have notified his former bosses that a bomb was going to be set off on a plane shortly before it happened.
Venezuela and Cuba staged events on Friday, the 30th anniversary of the airplane bombing, where Mr. Bush was condemned for his government's failure to turn over Mr. Posada. A billboard posted outside the United States Interest Section in Havana features the image of Mr. Bush, Mr. Posada and Hitler.
Some of the anger directed at the Bush administration's handling of the case originates closer to home. Roseanne Nenninger Persaud, whose 19-year-old brother, Raymond, was one of the passengers who perished, recently wrote a letter to Attorney General Alberto R. Gonzales urging him to brand Mr. Posada a terrorist.
"It feels like a double standard," Ms. Nenninger, who was born in Guyana but has since become an American citizen, said in a telephone interview from New York. "He should be treated like bin Laden. If this were a plane full of Americans, it would have been a different story."
A majority of the victims were Cubans, including the entire Olympic fencing team, which was returning from a competition in Venezuela. Guyanese and North Koreans made up most of the other passengers.
"Luis Posada Carriles is a terrorist, but he's our terrorist," said Peter Kornbluh of the National Security Archive at George Washington University, which has been unearthing documents on Mr. Posada's case. "The historical baggage that he brought with him when he sneaked into the U.S. has created this dilemma for the Bush administration."
Getting out of jail has not been a problem for Mr. Posada in the past. In Venezuela, where he was held in the prison bombing, he had associates bribe a guard and he walked out dressed as a priest in 1985. In Panama, where he was implicated in a plot to kill Mr. Castro during a visit there, the departing president pardoned him in 2004.
He appears headed for release again, this time from a nondescript holding center ringed by barbed wire near El Paso's airport.
Mr. Posada's cloak-and-dagger past — his aliases, his fake passports, his life on the run through Latin America — is over, insists his Miami-based lawyer, Eduardo R. Soto.
In fact, even before Mr. Castro fell ill and ceded power to his brother, Mr. Posada declared his campaign to topple the Cuban leader by force to be over.
"The Cuban government is in a very deteriorated condition, inexorably reaching its end, and I sincerely believe that nothing would help to go back to the past with sabotage campaigns," Mr. Posada said.
Mr. Posada's case has eerie parallels with the case of Orlando Bosch, an associate who has also been accused of playing a role in the bombing. The administration of Mr. Bush's father released Mr. Bosch from prison in 1990, a step praised by many in Florida's Cuban community. Now 80, he lives outside Miami.
Mr. Posada is two years younger and in failing health, partly the result of a 1990 assassination attempt against him. His application to become a United States citizen has been rejected by the government, but Mr. Posada, who is a naturalized Venezuelan citizen, is pursuing the matter on appeal.
Mr. Soto says Mr. Posada wants to devote whatever time he has left in life to members of his family who live in South Florida, and to a hobby he picked up years ago in prison — painting.
"Mostly nature scenes," Mr. Soto said. "He's seen a lot of those."