Kevin Kline to play Errol Flynn in tale of notorious Hollywood sex scandal

New biopic of silver screen star will feature Dakota Fanning as 15-year-old girl with whom he had two-year affair.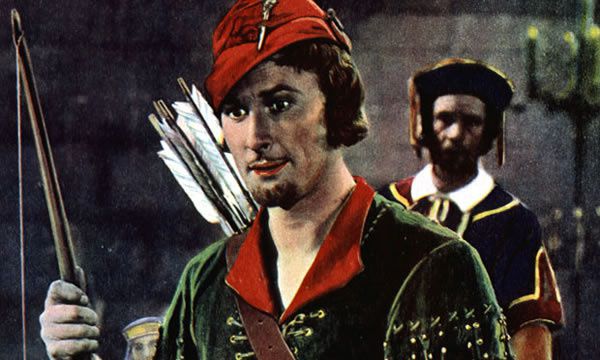 Swashbuckling … Errol Flynn in 1938 film The Adventures of Robin Hood. Kevin Kline will play the notorious star in a new biopic. Photograph: Ronald Grant Archive
It is one of Hollywood's most infamous sex scandals: the story of how the swashbuckling Errol Flynn conducted a two-year affair with a 15-year-old ingenue that lasted until his premature death in 1959. Now Dakota Fanning is set to play the young actor seduced by the 50-year-old Flynn in a new movie titled The Last of Robin Hood. Kevin Kline will play the faded star in his final years.
At the time of the affair Flynn, who had a reputation as an incorrigible womaniser, had already been accused – and found not guilty – of the statutory rape of two underage girls in 1942. According to the target of his attentions, Beverly Aadland, he was planning to marry her after securing a divorce from his third wife, Patrice Wymore. However, the Australian-born star of 1938's The Adventures of Robin Hood and 1940's The Sea Hawk suffered a fatal heart attack on a trip to Vancouver with Aadland in 1959. Aadland was at his bedside when he died, but provisions in the star's will for her support were subsequently declared legally invalid.
Flynn found work for Aadland in films such 1959's Cuban Rebel Girls, and is even said to have met with Stanley Kubrick in the late 1950s with the aim of securing roles for both of them in the British-based director's controversial film Lolita. Ultimately, the movie was released in 1962 with James Mason and 14-year-old Sue Lyon in the leading roles.
The Last of Robin Hood will also feature Susan Sarandon as Aadland's mother Florence, according to a report on the Deadline blog. In 1961 the latter wrote a book, The Big Love, in which the existence of the Flynn-Aadland relationship was first exposed. More than a quarter of a century later, in 1988, Beverly Aadland herself went public in an article for People magazine in which she confessed to the affair and spoke glowingly of Flynn – despite describing their first sexual encounter in horrific terms.
"I knew next to nothing about sex," she wrote. "With Errol I didn't know what was happening at first – I thought he was just trying to kiss me. He knew so many women who would say yes that when I was saying 'No, no, no,' he thought I meant yes. I know that because I asked him about it later. I was scared. He was just too strong for me. I cried. At one point he tore my dress. Then he carried me off to another room, and I was still carrying on. What was going through my head was, what was I going to tell my mother?"
After describing their two-year affair, Aadland added: "I was 15 chronologically, but I was so much older. I believe Errol was trying to do the best for me. I don't blame him for anything."
The Last of Robin Hood will be written and directed by Echo Park LA's (Quinceañera in the US) Richard Glazer and Wash Westmoreland, the duo's previous film having also centred on a 15-year-old girl struggling with emergence into adulthood. Filming is due to begin in February.