Kim Philby: Father, husband, traitor, spy
Kim Philby, Britain's fabled Third Man, fled to the Soviet Union 50 years ago. His family talk about one of the Cold War's worst acts of treachery.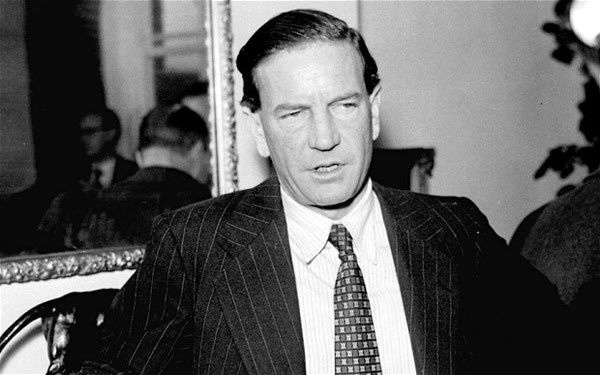 Double life of a double agent: Kim Philby, before he fled to the Soviet Union, said if there was a conflict between his political and personal life, politics would come first
Fifty years ago tonight, as a fierce storm lashed Beirut, a lean, middle-aged man quietly closed the door of his flat, situated on a hill overlooking the city, and made his way down five flights of stairs into the darkness of the Rue Kantari. Checking to ensure he was not being followed, he walked quickly through streets awash with water to the port, and a waiting ship, the Dolmatova. The freighter hauled anchor the minute the man came aboard, heading out into the turbulent Mediterranean. The hammer and sickle flew from her stern; Odessa was her destination. After a quarter of a century in the shadows, Kim Philby was finally on his way to the spiritual home he had visited only in his thoughts.
The defection of Philby to the Soviet Union on January 23 1963 is one of the great dramatic moments of the Cold War. With his departure that night, the humiliation inflicted on Britain's secret world by the Cambridge Spy Ring was almost complete. Nine years previously, Harold Macmillan, then Foreign Secretary, had stood in the House of Commons to declare that there was no evidence to suggest Philby was the so-called Third Man, who had helped the spies Guy Burgess and Donald Maclean to flee to Russia in 1951. But he was.
There was a Fourth Man, too – Anthony Blunt – and a Fifth, John Cairncross, who helped betray the secret of the atomic bomb. But Philby stands out as the archetypal traitor, the subject of admiration in MI6, the Secret Intelligence Service, even as he sent agents to their deaths behind the Iron Curtain.
There were many victims of Philby's campaign against his own country, not least the women he married and the children forced to live in the vacuum created by his disappearance. Dudley Philby, known to friends as Tommy, is the third of the spy's five children, all by his second wife, Aileen. Neglected by her husband, Aileen died of respiratory failure in 1957 at the age of 47. Tommy and his siblings were soon to lose their father, too. Forced to resign from MI6 under a cloud of suspicion, Philby took up journalism in Beirut, writing for the Observer and Economist. His defection in 1963 splintered the family.
"We split up when my mother died and father went away," says Tommy. "We all went separately – relatives and godparents. They were all very kind and understanding and basically very sorry for us."
It was some years before he was allowed to visit his father in exile, but he managed to rekindle their relationship, visiting Moscow five times in the Seventies.
"I got a letter many months later when he was in Moscow," he says. "He kept everything secret but he was a very good father. Communism was his belief and he carried it out. I didn't really enjoy Moscow – I like my whisky."
Philby's nocturnal escape was prompted by a visit by Nicholas Elliott, who had served as MI6 station chief in Beirut and was sent to extract a confession from his old friend. On January 10, 1963, Philby confessed verbally to Elliott after being offered immunity. Six days later Philby was ordered to report to the British Embassy. Suspecting a trap, the Third Man contacted his KGB handler, who arranged his seaborne exfiltration.
"My father was a very kind man who had his beliefs," says Tommy, who has spent much of his life working with horses. "I didn't agree with him but he was what he was. What could I do?"
But what of those who died as a result of his father's treachery?
"There is no information that anyone died."
Michael Smith, author of Six, a history of MI6, disagrees. He points to the scores, maybe hundreds, of doomed agents inserted into the newly formed Eastern Bloc by MI6 and the CIA in the immediate post-war period.
"The number of MI6 operations destroyed and agents killed as a result of Philby's betrayal is impossible to calculate," he says. "But operations mounted into the Baltic states, Poland, Albania, and the southern Soviet Union were all compromised by Philby's involvement. Some of those operations were no doubt doomed to failure for other reasons, but the full extent of their failure is down to Philby."
Has Tommy's life been blighted by association with his father? "No, no," he insists. "I have excellent friends, and my health."
Late 20th-century Russia did not turn out to be the socialist paradise envisaged by Philby during his gilded youth at Cambridge. Far from being greeted as a hero, he was sidelined by a KGB fearful that he was in reality a long-term double agent. The bottle provided solace.
"Nothing prepared me for what I was about to see," wrote KGB general Oleg Kalugin of a visit to Philby's flat near Gorky Street in 1972. "There, in the twilight of the entrance hall, was a wreck of a man, reeking of vodka."
Kalugin had been sent to rehabilitate Philby. The Kremlin was receiving fewer approaches from potential agents in the West and needed to show it was able to offer its moles a happy retirement.
Despite being dried out, Philby was never formally appointed to the KGB. Still, there were luxuries: his renovated flat, dacha and imports of English mustard, Oxford coarse-cut marmalade and Worcestershire sauce. PG Wodehouse novels, too, relics of the life he had left behind that January night.
Philby may not have deserved salvation but he found it to a degree in his fourth wife, Rufina Pukhova, who made up for the depressing reality of his new life in Russia.
"Kim didn't regret fleeing to the Soviet Union but he was disappointed about some of what he saw here," Rufina says from Moscow today. "He was shocked seeing poor people with shabby clothes. There were all the promises that 'we will build communism' and Kim saw that that hadn't happened.
"I think he would be even more upset if he saw Russia now. There is such a rift between the rich oligarchs and the poor. Modern England probably wouldn't have suited him, either. It's true he attempted suicide. He didn't regret coming, though, and he never talked of going home. Towards the end, he said, 'This is the golden sunset of my life.' "
Harold Adrian Russell 'Kim' Philby died in Moscow in 1988, aged 76, one of the most resourceful traitors of the 20th century. The ruthlessness that allowed him to lead two lives was fuelled by a rare certainty in a particular political system, something that would appear naïve to most people now. He may have been a jolly father to his visiting sons but family always came second.
"I am really two people," he once said. "I am a private person and a political person. Of course, if there is a conflict, the political person comes first."
Tommy Philby, unlike Rufina, believes his father came to see the error of his ways in those last years, as communism staggered towards collapse.
"He thought, at the end, that it was wrong."
Too late, though, for those men parachuted into the night.
Additional reporting by Tom Parfitt in Moscow