Austria marks annexation by Germany 75 years ago

VIENNA (AP) — In shockingly graphic detail at ceremonies marking Austria's annexation by Germany 75 years ago, the son of an anti-Nazi activist on Monday recounted how his stepmother found his father's guillotined head after the end of World War II in a hospital ward used for medical experiments under Hitler.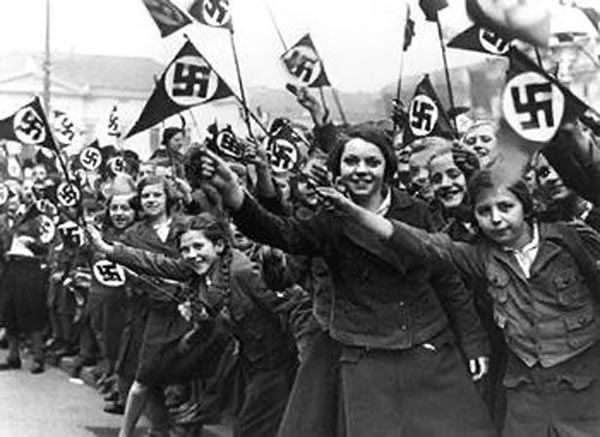 Schoolchildren read moving passages from letters to family members from those awaiting execution on conviction of anti-Nazi activities, adding to the somber mood at Vienna's Central Cemetery, at an event attended by government leaders to honor Austrians who opposed Hitler and his 1938 "Anschluss."
Are you still reading fairy tales or now other stories?" asked one father of his son on the day of his execution that came after months of torture in prison. "Pay attention when you do math. God be with you my child; your father who loves you above all."
The Anschluss was formally proclaimed March 12, 1938, but Hitler's troops crossed into Austria a day earlier to establish de-facto control of the country after Austrian Nazis staged a coup. A referendum a few weeks later formally ratified the fait accompli with official results showing more than 99 percent in favor.
Still, thousands were opposed — and executed by the Nazis, along with the more than 100,000 Austrian Jews, Gypsies or other Austrians killed directly or indirectly because they were deemed inferior to the Arian ideal.
Since the end of the war, Austrians have moved from claiming to be Hitler's first victims through the Anschluss to widespread acknowledgement that they were among the most committed of Hitler's henchmen, and the government has tried to make amends through reparation payments, restitution of property and — like on Monday — public acknowledgement of the country's guilt.
"We are never permitted to forget or diminish the darkest time in the history of our country," Chancellor Werner Faymann told guests gathered at a cemetery section holding the remains of those killed for opposing Hitler. "We need solidarity and a union against racism, fascism and right-wing extremism."
Other dignitaries also warned that forgetting the Nazi past could lead to reliving its atrocities. But no one described the horrors of that era more effectively Monday than Gerhard Kastelic, whose father was beheaded in 1944 for his anti-Hitler stance.
Like many others, his head and other body parts were then taken to Vienna's Institute of Anatomy for pseudo-medical experiments, and Kastelic recounted how his stepmother found his father's remains at the institute after the end of the war — and the ensuing bureaucratic tug-of-war with the same hospital officials who conducted those experiments to have them released for burial.
"Heads were lying there without hair, heads of men and women, of young people and old ones," he told an audience gathered under sullen gray skies that included raptly listening teenagers on a class outing, elderly Nazi-era survivors and political and religious dignitaries.
After his father's remains were identified, "an assistant sewed on the head and dressed the corpse," Kastelic said. Then, he said, a photo was taken before burial to show him in a state of death more dignified than accorded him by the Nazis.
Commemorations such as the one Monday serve in part to show the world that Austria has learned from the past. But are also directed at the country's citizens with some effect, with surveys over the past few decades showing a steady decline in anti-Semitism. On Monday, Faymann and others unveiled a plaque to commemorate the "Victims of the National Socialist Justice."
Still there is a ways to go. A poll published this weekend by "Der Standard" newspaper found that 42 percent of respondents said that "not everything was bad under Adolf Hitler," while 54 percent of the 502 respondents said a Nazi party would have some success in democratic elections today, and 61 percent supported the concept of a "strong man" as leader.
The Market Institut survey's margin of error was 4.5 percent.
Separately, research published Monday on the Vienna Philharmonic Orchestra's website in response to charges the world-renowned ensemble was hiding some aspects of its past under Hitler revealed that 60 of its 122 members were card-carrying Nazi party members.
Austria had a wartime population of about 6.7 million. Even if millions of those were minors and ineligible for party membership, the 500,000 adult Austrians who were members would comprise a significantly lower percentage than in the orchestra.
The historians doing the research also revealed the probable — and previously unknown — identity of an orchestra member who gave Hitler Youth leader Baldur Von Schirach a replica of the orchestra's ring of honor after Von Schirach's 1966 release following a 20-year prison sentence for crimes against humanity for his role in deporting Jews to death camps.
It named him as trumpet player Helmut Wobisch, a fervent backer of Hitler who was fired from the orchestra after the war, but then rehired a few years later. The historians emphasized that Wobisch acted on his own, not on behalf of the orchestra.
Thirteen Jewish orchestra members were fired under the Nazis, with five of them murdered during the Holocaust.
Austria marks annexation by Germany 75 years ago