Columbia Pictures' 'Corned Beef and Cabbage' salad days

It's all in the name. Columbia Pictures, which celebrates its 90th anniversary on Jan. 10, began life in 1920 as the C.B.C. Sales Film Corp. Founded by Harry and Jack Cohn and Joe Brandt, the company churned out low-budget shorts, westerns and comedies. In fact, it was even jokingly referred to as "Corned Beef and Cabbage" because of its shoe-string productions.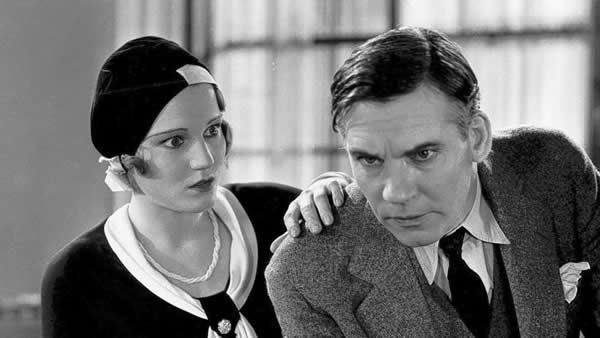 Constance Cummings as Mary Brady and Walter Huston as Mark Brady in "The Criminal Code," 1931, directed by Howard Hawks. (Columbia Pictures / Photofest)
To add luster to its reputation, the name was changed to the more prestigious-sounding Columbia Pictures. And the studio continues to thrive under that name to this date as part of the Columbia Tri-Star Motion Picture Group at the old MGM studios in Culver City.
But even with the name change 90 years ago, Columbia was still a "Poverty Row" studio at what is now the Sunset Gower Studios in Hollywood. Two-fisted President and Chief of Production Harry Cohn, who once said running a studio was "better than being a pimp," kept the budgets low. Sets and props were recycled. Actors from more prestigious studios, such as MGM and Paramount, balked about being loaned out to Columbia.
Though money was the object to Cohn, he also had a keen eye for talent and, in the late 1920s, he hired a young director by the name of Frank Capra. It was perhaps Cohn's wisest decision. Soon the studio started making the occasional "A" film alongside its typical "B" fare.
"They were one of the minor players in Hollywood at the time, but they had Frank Capra," said Charlie Tabesh, Turner Classic Movie's senior vice president of programming. "That is what gave them prestige. I think that gave them the chance to grow and evolve to what they became."
The former "Corned Beef and Cabbage" struck Oscar gold with Capra's 1934 romantic comedy "It Happened One Night," which won best film, director, screenplay (Robert Riskin), actor (Clark Gable) and actress (Claudette Colbert).
While finding success with "B" movies, serials and shorts — including ones featuring the Three Stooges — Columbia also had A-list stars such as Jean Arthur, Rita Hayworth, Glenn Ford, Judy Holliday and Kim Novak in its stable. Cary Grant, Jean Arthur, Irene Dunne and Rosalind Russell did some of their best work there.
And several films have won best picture, including "On the Waterfront" (1954), David Lean's "The Bridge on the River Kwai" (1957) and "Lawrence of Arabia" (1962), and Bernardo Bertolucci's "The Last Emperor" (1987).
Turner Classic Movies and UCLA Film & Television Archive are celebrating Columbia's 90th birthday. TCM is featuring a 24-hour festival kicking off at 4 a.m. Tuesday with Capra's 1933 comedy, "Lady for a Day," the first Columbia film to get a best picture nomination, and concluding with James Ivory 1993 Oscar-nominated drama, "Remains of the Day."
At the Billy Wilder Theater at the Hammer Museum, UCLA Film & Television Archive is showcasing some of the terrifically entertaining and often scrappy low-budget fare that the studio turned out in its early years. "Columbia in the 1930s: Recent Restorations" features such gems as Capra's 1933 romantic drama, "The Bitter Tea of General Yen," and Howard Hawks' 1931 crime thriller, "The Criminal Code," as well as such rarely seen Pre-Code delights as 1932's "The Final Edition" and 1931's "Men in Her Life."
The series highlights the talents of such actors Barbara Stanwyck, Walter Huston, Boris Karloff, Mae Clarke, Pat O'Brien, Lois Moran, Charles Bickford, Lee Tracy and Constance Cummings.
The names behind the camera are equally stellar, including renowned cinematographers James Wong Howe, Teddy Tetzlaff and Joseph Walker and screenwriters such as the Oscar-winning Riskin, Seton I. Miller and Oscar-nominated Jo Swerling.
"This is one of the periods of time in Columbia I really love," said Rita Belda, executive director, asset management, film restoration and digital mastering for Sony Pictures Entertainment. "They were sort of defining themselves."
The films in the retrospective, said Shannon Kelly, head of programming at the UCLA archive, "reveal a tremendous amount of vigor with machine-gun dialogue and a generalized sense of energy. There's also a really interesting sense of mission — social movies indicting the whole of society."
Cohn "was very adept at figuring out how best to use these people," Belda said. "With Capra, he gave him a lot of leeway to do projects because he came in on time and completed the films. He knew who he needed to rein in. He really was a businessman, but in the end, he knew how to get the best out of people."