Prince Harry commemorates sacrifice of Polish soldiers who captured Monte Cassino
Prince Harry joins Polish Second World War veterans as he commemorates the sacrifice of servicemen in capturing Monte Cassino in 1944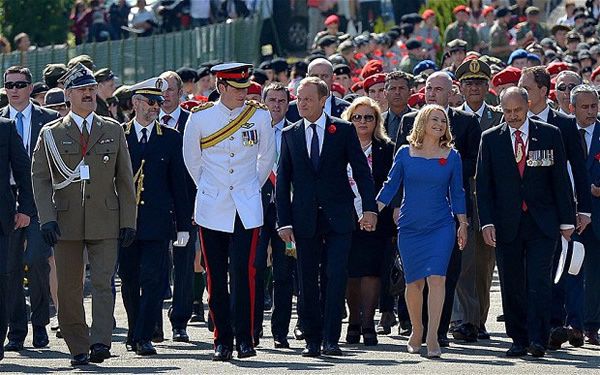 Polish Prime Minister Donald Tusk (C) with his wife Malgorzata Tusk (2-R), Prince Harry (2-L), New Zealand Governor General Sir Jerry Mateparae (R) and Polish General Wieslaw Grudzinski (L) arrive for the official ceremony marking the 70th anniversary of the Battle of Monte Cassino
Prince Harry stood shoulder to shoulder with Polish veterans as he commemorated their bravery and sacrifice capturing Monte Cassino in one of the Second World War's bloodiest battles.
It was 70 years ago on today that troops from the Polish II Corps finally took the ruined Benedictine monastery near Rome - a symbol of Nazi resistance to the Allies' campaign to push Hitler's forces out of Italy.
The victory had followed months of hard fighting that left an estimated 250,000 dead.
The Prince joined more than 50 Polish veterans of the battle, their prime minister Donald Tusk and many dignitaries for an open-air mass at the Polish Military Ceremony where those who paid the ultimate sacrifice are buried.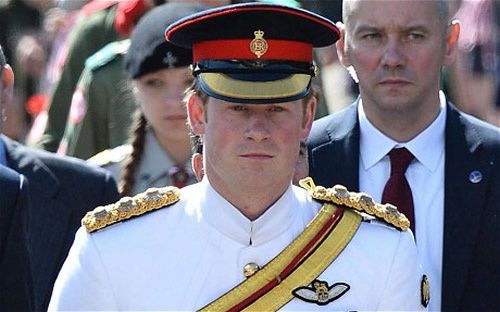 He arrived wearing his white tropical no 1 dress of the Household Cavalry and walked with Mr Tusk and the Governor General of New Zealand, Sir Jerry Mateparae, along a long avenue to the burial place.
Their route was lined by hundreds of scouts in their uniforms and each carried a single large poppy.
The Battle of Monte Cassino was one of the most important campaigns of the Second World War and saw Allied forces launch four major attacks in 1944 to remove Nazi forces from a strategically-important rocky outcrop, home to the 1,400 year-old Benedictine monastery of Monte Cassino.
Controversially, the monastery was heavily bombed and destroyed in a bid to make a breakthrough but the move failed and the holy site was later rebuilt after the war.
Finally, on May 18 1944, the troops of the Polish II Corps commanded by General Wladyslaw Anders reached the monastery ruins.
The campaign had claimed the lives of 923 Poles, 2,931 were injured and 345 reported missing.
The Second World War battle is an important part of Polish history and seen as a crucial element of their struggle for self determination.
The Polish prime minister told the congregation in a speech that ''it was a fight for our freedom and all the successive generations throughout the world''.
He added that Poland ''was not idle, we were not helpless, we were able to prove to the whole world there is no hill that cannot be attained''.
During the moving service, each teenager from the youth groups placed their red poppy on an individual grave.
Monte Cassino loomed large above them on a nearby hill top and Harry paid tribute to the Poles who died fighting to take it by placing a wreath at the Virtuti Militara Cross.