Having met on a film set, the matinee idol and his 'funny girl' made the perfect Hollywood couple. But their blissful marriage ended in tragedy...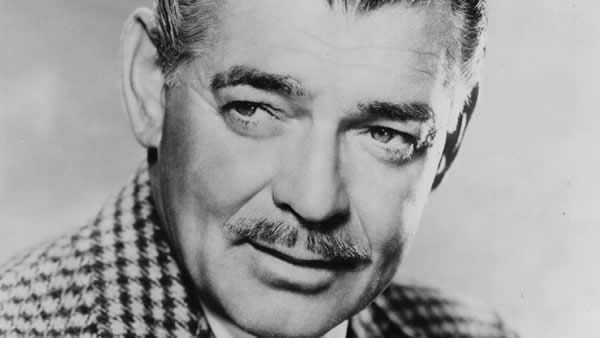 Clark Gable was born in Ohio, to William Henry Gable, an oil-well driller, and Adeline in 1901. His mother baptised him as a Catholic and died of a brain tumour when he was just seven months old.
He was heavily influenced by his stepmother Jeannie, who his dad married in 1903, as she brought Clark up to be a well-behaved and well-dressed gentleman. She also taught him how to play the piano and at the age of 13, he was the only boy in the town's Men's Band.
At the age of 16 he quit high school and was inspired to become an actor after seeing the play 'Birds of Paradise'. However, he couldn't start this career until he inherited some money at the age of 21. Following the death of his stepmother, Gable's father had financial difficulties so Clarke worked at a tire factory.
In 1924, he moved to Hollywood with his theatre coach Josephine Dillon, who was 17 years his senior. She paid to have his teeth repaired and his hair styled. She also trained him to lower his voice and achieve better body posture. In Hollywood, she became his manager and first wife.
They divorced in 1930 and Gable married Maria Langham, who was also 17 years his senior.
Famed for his charm and knowing smile, Gable worked as an extra in Hollywood before making his film debut as an archetypal villain in the western 'The Painted Desert' in 1931.
He starred in films for various companies, until he signed a contract with MGM that lasted for twenty-three years.
His on-screen appeal meant that early in his career he was playing the leading man, opposite such actresses as Joan Crawford, Jean Harlow and Greta Garbo.
The 1930s saw him at the peak of his acting ability and his popular appeal. Crawford even asked for Gable to co-star with her in the 1931 film 'Dance, Fools, Dance' while the public loved him manhandling Norma Shearer in 'Free Soul' in the same year. He attracted public acclaim for his unshaven lovemaking with Rita Hayworth in the 1932 film 'Red Dust'.
His performance in 'It Happened One Night', which was made in 1934 when MGM had loaned the actor to Columbia Studios as a punishment for refusing to make a film with MGM, earned him a 'Best Actor' Oscar, and in 1937 he was crowned King of Hollywood. Directors knew that with Clark Gable they were assured a box-office hit.
1939 saw Gable play perhaps his most famous role, Rhett Butler to Vivien Leigh's Scarlett O'Hara in the civil war epic 'Gone With The Wind'. He got to utter the famous last line, "Frankly my dear, I don't give a damn".
He divorced his second wife in 1939 after fathering a child with actress Loretta Young, with whom he appeared in 'Call of the Wild' in 1935.
The same year he married his third wife, actress Carole Lombard, and for a time they were considered the golden couple of Hollywood. Sadly, Lombard died in a plane crash in 1942.
After his service in the war, Gable returned to the big screen as a leading man. Some say that after Carole Lombard's tragic death his sadness became evident in his acting, and in the fading of his all-important smile.
Even though his work in the 1940s and 50s didn't shine in the same way as his earlier work, he continued to be a box-office draw. In 1949 he married Douglas Fairbanks' widow Silvia Ashley but they divorced in 1952.
He wed Kay Williams, who had been a former sweetheart, in 1955 and he became stepfather to her two children.
Marilyn Monroe was his last on-screen partner. His role as a troubled cowboy in 'The Misfits' in 1961 proved to be his last. Shortly after they finished filming, he died of a heart attack. His wife Kay gave birth to their first child in March 1961, after his death, and named him John Clark Gable.