Under the guidance of her mother, an entertainer herself, Dorothy and her sister began performing in black Baptist churches throughout the country. As the 1930s depression worsened, Dorothy and her family moved to Los Angeles, where they had hopes of finding better work.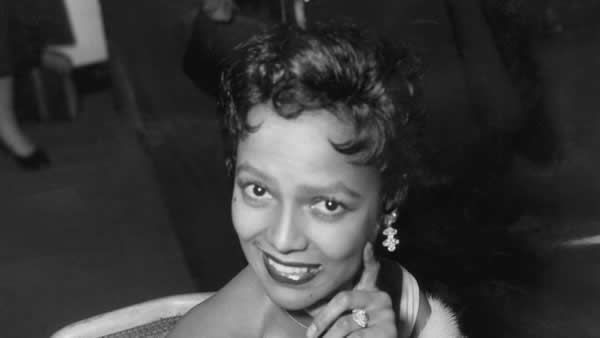 Dorothy Dandridge was born on 9 November 1922 to a cabinetmaker and minister father and an aspiring entertainer mother. Her parents separated shortly before her birth. Her mother Ruby created an act for her two young daughters Dorothy and Vivien and called them 'The Wonder Children'. They toured the southern US for five years, rarely attending school, before moving to California when their work dried up during the Great Depression.
Dandridge's first part was a small role in the Marx Brothers comedy, 'A Day at the Races', in 1937. As a black woman in a very prejudiced society, Dandridge did not have access to roles that were readily available to her white counterparts, and she did not appear in another film until 1940's 'Four Shall Die'.
Her next few roles in the early 1940s included films such as 'Bahama Passage', 'Drums of the Congo', and 'Change of Heart'.
On 6 September 1942, Dandridge married entertainer and dancer Harold Nicolas, giving birth to her only child Harolyn on 2 September 1943. Her daughter was born with brain damage and the couple divorced in 1951.
Not only was she a talented actress but she could also sing, as evidenced in films such as 'Atlantic City' and 'Pillow to Post', and she went on to become the headline act in the best hotel nightclubs in New York, Miami, Chicago, and Las Vegas. She may have been allowed to sing in these hotels, but because of segregation, she couldn't stay there.
In 1951, Dandridge played Melmendi, Queen of the Ashuba in her comeback film 'Tarzan's Peril'. Although it was just a small role she met music manager Earl Mills at a party who promised to kick-start her singing career. She said she preferred to focus on making films but still signed Mills as her agent.
Despite being billed second in the 1952 film 'Harlem Globetrotters', Dandridge mainly toured nightclubs singing until she signed a three-film deal with 20th Century Fox in 1954.
In 1954, Dandridge appeared in the all-black production of 'Carmen Jones', in the title role. She garnered an Academy Award nomination becoming the first African-American to receive a Best Actress nomination, but did not secure another movie role until she appeared in 'Tamango', an Italian film, in 1956.
In 1958, she starred in thriller 'The Decks Ran Red' with James Mason. It only enjoyed minor success at the box office but is now considered a Dandridge 'cult classic'.
She made six more motion pictures, of which 'Island in the Sun' and 'Porgy and Bess', for which she was nominated for an Oscar despite the film failing at the box office, were probably the best. Her last was 'The Murder Men' (1961).
Dandridge's life went downhill, with a poor second marriage to Jack Denison (her first was to Harold Nicholas), financial woes, and a problem with alcohol. She married Denison in 1959 but they divorced following allegations of domestic violence. Dandridge then found she had been swindled out of $150,000 by those handling her finances and owed $139,000 in back taxes.
Forced to sell her home and move into a small flat and after sending her daughter to a state mental institution, she suffered a nervous breakdown. Mills was planning her comeback but she was found dead in her West Hollywood apartment on 8 September 1965, of barbiturate poisoning.
Years passed before the entertainment industry recognised Dandridge's legacy to the world of entertainment. Since the 1980s, Jada Pinkett Smith, Halle Berry, Janet Jackson and Whitney Houston have all acknowledged Dandridge's contribution to the role of African-Americans in films.
In 1999, Berry played the lead in 'Introducing Dorothy Dandridge' for which she won an Emmy. She also paid tribute to the late actress in her Oscar acceptance speech for her role in 'Monster's Ball'.
Dandridge has now been given a star on the Hollywood Walk of Fame for her achievements.