With the mystery of Canadian flight sergeant's death finally solved after 72 years, family can say goodbye
Maureen Pegg grew up listening to stories about her uncle Jay, the uncle she never got to meet; the hockey player, the big brother, the hero, the handsome lug and the oldest and first of the four Carey boys to enlist during the Second World War. Flight sergeant John (Jay) Joseph Carey was shot down over Germany on Aug. 29, 1942. His stricken Halifax bomber crashed into the Laacher See, a crater lake 37km south of Bonn, a watery crypt that has held his remains captive for 72 years.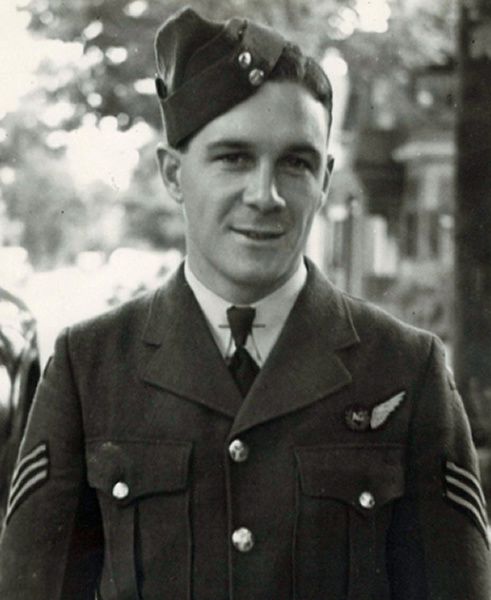 Flight Sergeant John Joseph (Jay) Carey, who died in the crash of a Halifax bomber over the Laacher See in Germany on Aug. 29, 1942
Jay Carey was presumed dead and, indeed, he was dead. But to his family, especially his mother, Janet, he was a ghost. The son that haunted her. The son she could not bury. The only Carey boy that did not come home from the war.
"My grandmother never accepted the fact that her oldest son had died," Ms. Pegg says. "I think she did know, intellectually, but in her heart there was never any closure because there was never any body. And what made it worse was one of the other crew, who had bailed out of the plane safely, thought they saw Uncle Jay with his parachute on, getting ready to jump.
"And so for my grandmother it was always: Did he jump? Did he make it to shore? Was he hurt? Was he taken prisoner? Did he have amnesia? My Uncle Jay was very real to me. He was my hero."
He was the family mystery.
There are 28,000 Canadian war dead whose remains have never been found. It is a staggering number, never more so than when you consider all the mothers and fathers, siblings and wives, daughters and sons, without a body to bury, with no place to go to mourn their loss and no adequate answers to all the questions they must have asked.
For the Carey family, the questions have finally been answered. German explosive disposal team divers surveyed the downed bomber in 1948, 1980 and 1994. It was laden with unexploded ordnance and deemed too risky to move, or even tamper with, until 2008 — when a diver retrieved human remains from the wreck. The working theory then was that they belonged to Sgt. JW Platt, a Brit. DNA testing proved otherwise, and pointed investigators at the University of Bonn to Canada and the Department of National Defence.
Ken Carey was the last of the Carey boys. In December 2013, the 90-year-old, who was suffering from terminal cancer, submitted a DNA sample that led to the positive identification of his brother's remains. Family members were informed of the results — officially made public Monday — in February.
Ken Carey died three weeks ago. Rita Carey is his widow.
"Ken was the baby of the family and he loved his big brother," Ms. Carey says from Kingston, Ont. "He kept photos of Jay all around the house and he had one on his desk, of he and Jay — and their parents. They are standing in front of the family home in Ottawa. It was taken just before Jay went overseas.
"That picture is still in Ken's office, on his desk. I don't have the heart to move it. I probably never will. I think Ken always carried a regret that he wasn't in Germany to help his brother when he needed him."
Jay Carey was 22 when he was killed. He never married. He had no children. In a few weeks time, Maureen Pegg and a handful of other nieces and nephews "Uncle Jay" never got to meet will travel to the Rheinberg War Cemetery in Germany for his funeral. They will carry his war medals, old photographs and their memories of a mother who never got over the death of her eldest son.
"This is a bittersweet time for our family," Ms. Pegg says. "We are happy that Uncle Jay's remains have been found, and that he will be given a proper burial, but we are profoundly sad, too.
"My grandparents suffered the loss — like so many people of that generation — of a son. And these men were hardly more than boys when they went overseas. So that is who I'll be thinking of in Germany, my grandparents."