Nicolas Sarkozy becomes first former head of state to be held in police custody

Former president questioned in long running corruption probe.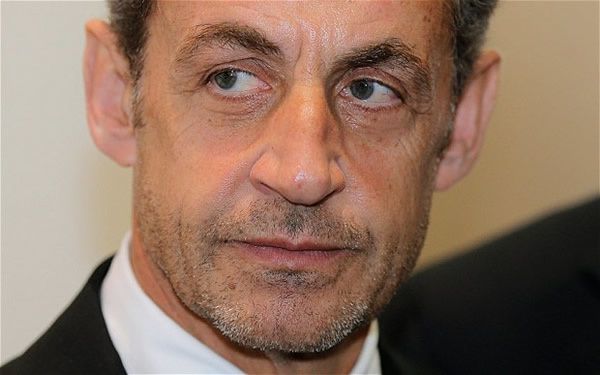 Nicolas Sarkozy turned up early Tuesday in a black saloon car with tinted windows to be quizzed by investigators at their offices in Nanterre, west of Paris
Nicolas Sarkozy became the first former French head of state to be held in police custody on Tuesday when he turned himself in for questioning in a corruption probe that could torpedo his hopes of making a political comeback.
His allies quickly accused the Socialist government of President Francois Hollande of conducting a witch hunt against the politician many on the right hope will run again for the presidency in 2017.
Mr Sarkozy turned up early Tuesday in a black saloon car with tinted windows to be quizzed by investigators at their offices in Nanterre, west of Paris, in one of a raft of corruption probes embroiling him since he was defeated by Mr Hollande in 2012.
The interrogation, which can last up to 48 hours before he must be released or charged, followed the arrest on Monday of Mr Sarkozy's lawyer and two senior judges who are under investigation for allegedly trying to obtain information about legal cases against the ex-president.
Police are trying to establish whether Mr Sarkozy promised a plum job in Monaco to a judge in return for letting him know whether corruption allegations against him – regarding irregularities in his victorious 2007 election campaign – would go to court.
Mr Sarkozy, 59, denies all wrongdoing in this case and in all the others he is implicated in. He faces five years in prison and a fine of 500,000 euros (£413,000) if charged and convicted in the current case in which he is suspected of the crime of "influence peddling".
French media in March revealed police intercepts of Mr Sarkozy's phone conversations with his lawyer, Thierry Herzog, which suggested that the two men may have persuaded a judge to provide inside information on a case against the former president.
News that his phone had been tapped prompted Mr Sarkozy to compare France under President Hollande to the "Stasi" police state in the former communist East Germany.
The phone taps had initially been ordered by judges probing allegations that Libya's Muammar Gaddafi had donated up to 50 million euros in illegal financing for Mr Sarkozy's successful 2007 presidential campaign.
After four fruitless months the judges discovered Sarkozy had a secret phone registered under an assumed name. Recordings from that device led to the opening of the influence peddling investigation.
Mr Sarkozy was cleared last year of taking envelopes stuffed with cash from France's richest woman, L'Oreal heiress Liliane Bettencourt. But his campaign treasurer is one of ten people awaiting trial in that case.
The ex-president's allies denounced what they see as a witch-hunt against their man.
"Never before has a former president been subjected to such treatment, such an outpouring of hatred," said Christian Estrosi, the mayor of Nice and an MP for Sarkozy's UMP party.
Government spokesman Stephane Le Foll insisted the judges in the case had acted of their own accord.
"Nicolas Sarkozy can face justice just like anyone else," he said.
Mr Sarkozy had widely been expected to attempt a political comeback in time for the 2017 presidential election.
But a growing number of voices in the UMP have been arguing that the various corruption cases make him too much of a liability.
The UMP has failed to capitalise on the Socialist government's deep unpopularity, is riven by in-fighting, and last month its leader had to step down after a separate funding scandal over Mr Sarkozy's 2012 campaign escalated.
The other cases involving Mr Sarkozy include claims that, while president, he rigged a settlement procedure which resulted in disgraced tycoon Bernard Tapie receiving 400 million euros from the state.
The Tapie payout, it is alleged, was organised in return for political support in 2007.
Another centres on an allegation that he helped organise kickbacks from a Pakistani arms deal to finance the 1995 presidential campaign of former premier Edouard Balladur.
The former president denies all wrong doing.
Mr Sarkozy is not the first French ex-president to face the law. His predecessor, Jacques Chirac, was convicted in 2011 on corruption charges related to his time as mayor of Paris and was given a two-year suspended prison term.