Real-life love story unfolding in WW2 soldier's letters recovered
Passionate, and prodigious, correspondence records a friendship blossoming into life-changing romance – and now a 'remarkable' book.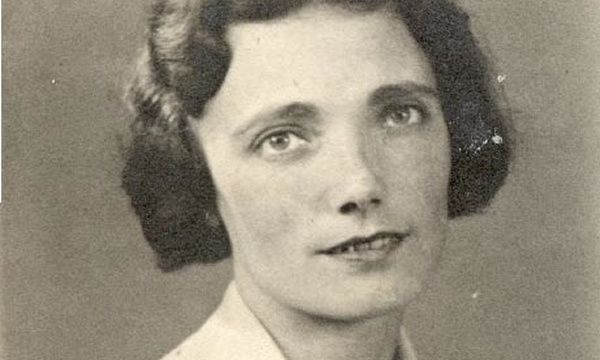 'Contact again with you, contact with life – Oh Darling of my heart' … Bessie Moore (pictured) replies to one of Chris Barker's letters
"Dear, dear, dearest Elizabeth, what are you doing to me, what are we doing to each other? How did I not see you, why was I blind, what can I do?" wrote Chris Barker to Bessie Moore in August 1944, in one of 500 letters that detail the couple's long-distance, slow-burning romance, and which are set to be published next year.
Moore and Barker worked together in the Post Office before the onset of the second world war. When Barker was stationed as a signalman in north Africa, he began writing letters to a host of friends and acquaintances, including Moore and her boyfriend Nick. Her reply let him know her relationship with Nick had ended, and also confessed her feelings for Barker, sparking a lengthy correspondence over the course of which the pair fell in love.
"I think that I will now start to tell you something of myself and family from the Year Dot to the present day. I think this is necessary because I want to (it is very difficult to write – all I want to do is tell you I LOVE YOU) marry you very soon after I return to England, and I want us to do most of the 'talking' through the medium of our letters. I hope that you, too, will give me an abridged 'something', so that when we do, wonderfully, finally meet, we shall know more about each other than could be obtained by a contemporary or current correspondence," wrote Barker in one letter.
And, on receiving pictures of Moore: "You can imagine how I felt today to get your photographs … How lovely you are! How really nice! How much to be admired!"
Sometimes the letters strike a comic note – Barker writes: "I must risk hurting you, my love – I hope you aren't R.C. I'll say no more for the present." Sometimes they are gently affectionate: "I had strawberries today, pal, they were grand. I need hardly say I prefer you to all the strawberries yet or to be." Sometimes passionate: "How I long for YOU! I love you. I love you. I love you. Hurry on the day when I may say these things to you, with all the force I have and be received by your flesh and revived by your loveliness."
The pair went on to marry after the war. Their correspondence was discovered by their son, Bernard Barker, after his father's death. "I didn't know my Dad was a great writer until I opened the small blue box he gave me before his death," he said. "Out tumbled 500 letters written in his familiar clear hand, with half a million words squeezed on to fragile blue airmail paper. They evoke the daily grind of wartorn London, and the tedium and danger of a conscript's life in north Africa, Italy and Greece. They express the timeless passion of an ordinary couple hoping to survive the storm."
Only a handful of Moore's letters to Barker survive – many were destroyed by Barker to prevent them being read by prying eyes, others were burnt at her own request after the war. Those that do reveal her own ardour: "Well, I am glad you have 4 blankets to keep you warm – if I was there you wouldn't want any, you'd be hot enough. Here am I, a blooming iceberg of a maiden waiting to be roused into a fire, not just melted but changed into a fire, and there are you, miles and miles away, needing an extra blanket."
They also, movingly, show her relief at hearing Barker is safe, after a prolonged lack of letters: "Oh Gosh! Christopher, I have just received your telegram – how can I tell you how beautiful the world is, contact again with you, contact with life – Oh Darling of my heart" – and her nerves about, finally, seeing him in the flesh once again. "I too am a little scared – everything in letters appears larger than life size, like the photograph, it didn't show the white hairs beneath the black, the decaying teeth, the darkening skin, I think of my nasty characteristics, my ordinariness. Yes, I too feel a little afraid."
The pair's romance was first highlighted in Simon Garfield's history of letter-writing, To the Letter, with Kathryn Hughes describing their story as "the most compelling part of his book" in a Guardian review. Canongate has now acquired rights in their entire correspondence, which will be published as My Dear Bessie: A Love Story in Letters in 2015. The publisher said the book "distils the most alluring, compelling and heartwarming of their correspondence, conveying danger, lust, comical misunderstandings and deep yearning".
Garfield, who is editing and introducing the volume, called it "one of the most heart-tugging, compelling and occasionally hilarious correspondences I've ever read", and said he "knew I had lucked into something very special as soon as I started reading the first few letters".
Bernard Barker, and Barker and Moore's granddaughter Irena Barker, will provide an afterword to what Canongate described as "a remarkable and unique example of the power of letters to transform ordinary lives".
To watch videos of letter readings taken from To the Letter by Simon Garfield and Letters of Note by Shaun Usher visit www.letterslive.co.uk