Award-winning actor who starred in Cape Fear, she was also a dynamic entrepreneur.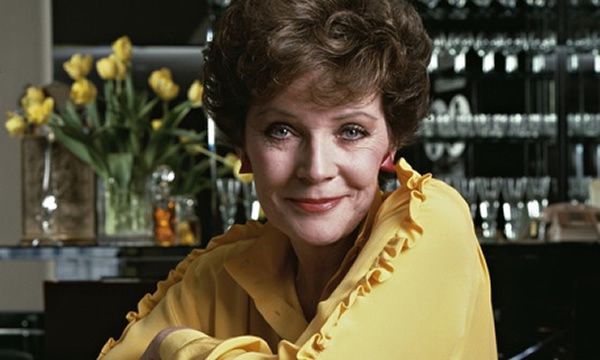 Polly Bergen, seen here in 1983, was always in work, wrote fashion advice books, and sold her cosmetics business to Fabergé
Versatility can be a curse, but in the case of Polly Bergen, who has died aged 84, it was a blessing. She was never out of work in films or on stage or television, in drama, comedy, musicals and game shows. By the mid-1960s, her elegance and beauty was so renowned that she marketed Polly Bergen Cosmetics, which she eventually sold to Fabergé, and then established Polly Bergen Jewellery and Polly Bergen Shoes. She was also the author of three fashion and beauty advice books.
As if to prove that being fashion-conscious was not incompatible with feminism, Bergen lobbied ardently for the Equal Rights amendment and for women's right to choose. She was open about having had an illegal abortion when she was a 17-year-old singer; it left her unable to have children. In 2008, Bergen campaigned for Hillary Clinton to become president. Back in 1964, in Kisses for My President, a rather lumbering sexist comedy, Bergen had been vibrant as the first female US president, though the movie mainly concerned the problems of Fred MacMurray trying to adapt to being First Husband.
Born Nellie Burgin into a poor family in Knoxville, Tennessee, she moved to Los Angeles with her Southern Baptist family when she was in her early teens. At the age of 14, while still at Compton junior college in California, she started a singing career, performing hillbilly songs with her father on the radio, and solo with touring bands.
As Polly Burgin, she made her film debut in a low budget Monogram Western called Across the Rio Grande (1949), in which she portrayed a guitar-playing saloon singer, pleasantly warbling the title song. She was then discovered by the Paramount mogul Hal B Wallis, who signed her up with his studio, and immediately cast her in three of Dean Martin and Jerry Lewis's early comedies. Playing Martin's romantic interest, she sang duets with the crooner, getting gorgeous close-ups while singing You and Your Beautiful Eyes in At War With the Army (1950), and Ballin' the Jack in That's My Boy (1951). In The Stooge (1952), about a comedy duo, Bergen was Martin's long-suffering wife.
At MGM, she played the loyal wife of disillusioned cop Barry Sullivan in the chase thriller Cry of the Hunted (1953), but did little more than look pretty in the western Escape from Fort Bravo and the rodeo drama Arena (both 1953).
Dissatisfied with her film roles, she moved over successfully to television with The Polly Bergen Show (1957-58), in which she appeared with her singing father Bill, ending each episode with a rendition of The Party's Over.
She won an Emmy for her moving portrayal of the alcoholic torch singer in The Helen Morgan Story (1957), and continued to appear regularly on television for the rest of her career. Bergen's return to the big screen came in her most celebrated role as lawyer Gregory Peck's terrified and terrorised wife in the creepy Cape Fear (1962), stalked by menacing psychopathic ex-con Robert Mitchum. In one daring and improvised scene, Mitchum cracks eggs over her chest and smears them over her breasts.
Despite the notoriety of Cape Fear, Bergen only made four further features in the 60s, before a 20-year gap. In one, Borderlines (aka The Caretakers, 1963), she gives an incredibly overwrought performance as a patient in a hospital for mentally ill people.
In the next few decades, Bergen was hardly ever off the small screen, however, as a guest star in series such as Dr Kildare and The Love Boat, and on game shows including Hollywood Squares and To Tell the Truth. In these years she shared her glamour tips in her books The Polly Bergen Book of Beauty, Fashion and Charm (1962), Polly's Principles (1974) and I'd Love to, But What'll I Wear? (1977).
Returning to the stage at the age of 70, she triumphed in the 2001 Broadway revival of Stephen Sondheim's Follies as Carlotta, singing from the heart "I'm Still Here", the defiant anthem for all female stars with Bergen's staying power.
Bergen made one of her rare later movie appearances in John Waters's Cry-Baby (1990), most amusing as an extremely conservative matriarch, leader of the "squares", opposed to Johnny Depp's gang of "juvenile delinquents", who believes in the four Bs: "beauty, brains, breeding and bounty!"
She topped off her acting career on television, and was nominated for an Emmy, as Stella Wingfield in Desperate Housewives (2007-11).
Three marriages ended in divorce, the first, to the actor Jerome Courtland, after five years. Her second husband was the talent agent Freddie Fields, for whom she converted to Judaism. Her third husband, Jeffrey Endervelt, was an investor who almost ruined her when the stock market collapsed in 1987.
Bergen is survived by a daughter and son, adopted with Fields, and a stepdaughter.
Polly Bergen (Nelly Paulina Burgin), actor and singer, born 14 July 1930; died 20 September 2014