Tibor Rudas dies at 94; impresario behind Three Tenors
Tibor Rudas, an impresario who once booked Luciano Pavarotti into a circus tent in Atlantic City and packed Dodger Stadium for a performance by the Three Tenors, died of natural causes Monday at his home in Santa Monica. He was 94.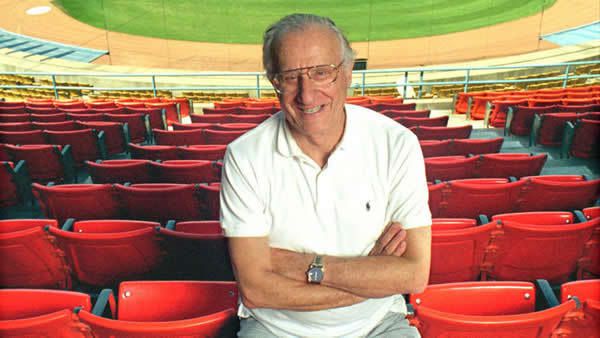 Tibor Rudas at Dodger Stadium in 1994. The Three Tenors concert drew 50,000 people to the venue, some paying as much as $1,000. The show was later televised to an audience of 1.3 billion.
His death was confirmed by his daughter, Kim Goerlitz.
The Hungarian native who once performed with the Budapest Opera made a name for himself in the United States by bringing Las Vegas-style brio to performances by highbrow artists. He presented the New York Philharmonic in an Atlantic City casino and produced large outdoor concerts for other classical artists at the Eiffel Tower, the Sydney Superdome and other unconventional venues.
"He wanted to create and he wanted to do it on the grandest scale possible," Goerlitz said Tuesday. "He just got a big thrill out of wowing his audiences."
Classical music aficionados often took a dim view of his extravaganzas.
"In the final analysis, the singing seemed virtually irrelevant," Times critic Martin Bernheimer wrote of the 1994 Dodger Stadium concert, presented on a set with fake classical columns and waterfalls. "This was a night for celebrating personalities and personality cults. … It certainly wasn't a night for serious art."
But the Dodger Stadium concert drew 50,000 people, some at $1,000 a seat. It was later televised worldwide to an audience estimated at 1.3 billion.
Rudas, who earlier in his career had promoted headliners such as Frank Sinatra and Dean Martin, worked especially closely with Pavarotti, producing 200 concerts for the opera great over 20 years.
"He was a businessman and an artist. That's a tough combination," said Mel Lewinter, an executive vice president at Sony Records, who worked with Rudas on "The Three Tenors in Concert: 1994," which was released by Atlantic Records. "I think he definitely expanded the audience to people who loved opera and classical music but were not as versed as the aficionados are."
Or, as Rudas liked to put it, "I am the most hated man in the world of opera, but I am loved by the masses."
Rudas was born in Budapest on Feb. 6, 1920. His father worked in the home heating business, and his mother was a seamstress. He was a boy soprano in the Budapest Opera until his voice gave out at 13. But he had other talents.
He formed an acrobatic act with his brother and toured Europe until World War II erupted. Rudas and his brother were sent to the Nazi camp at Bergen-Belsen.
After the war, they moved to Australia and started a dance studio. Soon Rudas was choreographing shows that toured internationally.
He landed in Las Vegas in 1963 and began producing variety shows. By the 1970s he had established himself in Atlantic City, where he built and operated the Resorts International Superstar Theater, drawing high-rollers to the New Jersey casino with big names on the stage, including Sinatra, Jackie Gleason and Bill Cosby.
"I was very successful before I was in Atlantic City with my Las Vegas shows," he told the New York Times in 1996. "But in Atlantic City I hit the big time....I had the freedom to do anything I wanted."
In 1981, he decided he wanted to bring opera to Atlantic City and began courting Pavarotti, which meant first courting his manager, Herbert Breslin.
"Tibor would go to New York, stop in to see Herbert, and Herbert would ask him to leave," said Frank Gelb, a veteran concert promoter who worked with Rudas in Atlantic City. According to Pavarotti's 1995 memoir, "Pavarotti: My World," Rudas offered the opera great $100,000, but he turned it down because he "felt very strongly against singing in a place that is for gambling."
He changed his mind after Rudas proposed that he perform under a 4,000-seat tent next to the casino. The 1983 concert sold out in an hour, and more seats were added for a total of 12,000, Gelb said. "Many people came in tuxedos and gowns," he said. "It shocked me. But he proved there was a market for this."
The concert was so successful that Rudas left Atlantic City and made Pavarotti concerts his main business, presenting the tenor at locations as diverse as Central Park and Miami Beach. He also booked the Three Tenors on a 1996 world tour under the direction of the Metropolitan Opera's James Levine.
Not all of Rudas' ideas met with success. He took three relatively unknown female singers and promoted them as the Three Sopranos, whose repertoire was mostly non-operatic. They were quickly forgotten. "If you loved 'The Three Tenors,' you'll adore 'The Three Sopranos,'" the Chicago Tribune wrote in 1996. "That is the wildly optimistic humbug behind Tibor Rudas' latest triumph of cynical marketing over musical values."
Rudas paid little attention to such skeptics. "I am the bad boy who is taking the opera out of the opera houses," he told the Philadelphia Inquirer.
In addition to Goerlitz, Rudas, who was married twice, is survived by daughters Evelyn and Marilyn, son Dean, six grandchildren and three great-grandchildren.