Naish Joseph Patrick Carrol
Joseph Patrick Carrol Naish est un acteur américain né le 21 janvier 1897 à New York et mort le 24 janvier 1973 à La Jolla (Californie).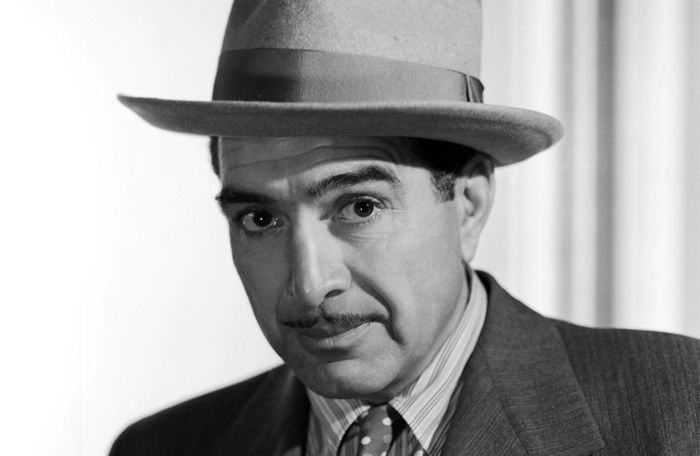 Jeunesse
Il est né à New York, fils de Catherine (Moran) et de Patrick Naish, qui avaient émigré du comté de Limerick, en Irlande, vers 1890. Patrick était un neveu de John Naish, lord chancelier d'Irlande. Naish est apparu sur scène pendant plusieurs années avant de commencer sa carrière cinématographique. Il a commencé comme membre de la troupe de vaudeville de Gus Edwards. Après la Première Guerre mondiale, Naish a formé son propre groupe de chant et de danse à Paris. Il parcourait le monde de l'Europe à l'Egypte à l'Asie, quand son navire à destination de la Chine a développé des problèmes de moteur, le laissant en Californie en 1926.
Carrière
Le rôle non crédité de Naish dans What Price Glory? (1926) lance sa carrière dans plus de deux cents films. Il a été nominé deux fois pour un Oscar du meilleur acteur de soutien, le premier pour son rôle de Giuseppe dans le film Sahara (1943). dans lequel il prononce le discours de propagande : Mussolini n'est pas aussi intelligent qu'Hitler, il peut habiller ses Italiens seulement pour ressembler à des voleurs, des tricheurs, des meurtriers, il ne peut pas comme Hitler leur faire sentir comme ça. Il ne peut pas comme Hitler gratter de leur conscience la connaissance le bien est le bien et le mal est le mal, ou creuser des trous dans leurs têtes pour planter ses propres Dix Commandements- Voler ton voisin, Tromper ton voisin, Tuer ton voisin! Mais mes yeux sont-ils aveugles que je doive tomber à genoux pour vénérer un maniaque qui a fait de mon pays un camp de concentration, qui a fait de mon peuple des esclaves ? Dois-je embrasser la main qui me bat, lécher la botte qui me frappe ? NON !
Le second était pour sa performance en tant que père hispanique du personnage-titre dans le film A Medal for Benny (1945). Pour ce dernier film, il a remporté le Golden Globe Award du meilleur acteur de soutien – Film Picture. Il a souvent joué des méchants de gangsters dans de nombreuses photos Paramount à des scientifiques fous, comme le Dr. Daka dans le film Batman série. Dans les années 1940, Naish joue un rôle de soutien dans plusieurs films d'horreur. Il joue l'assistant de Boris Karloff dans House of Frankenstein (1944). De descendance irlandaise, il jouait rarement un Irlandais, expliquant, "Quand le rôle d'un Irlandais arrive, personne ne pense jamais à moi." Il a représenté de nombreuses autres ethnies, y compris l'Europe du Sud (en particulier l'Italie), l'Europe de l'Est, l'Amérique latine, les Amérindiens, le Moyen-Orient, l'Asie du Sud, l'Asie de l'Est, les îles du Pacifique, et même l'Afro-Américain, ce qui lui a valu le surnom de « Hollywood's one-man U.N..
À la radio, Naish joue le rôle de Luigi Basco dans l'émission populaire CBS Life with Luigi (1948-1953). La popularité de Luigi a donné lieu à une série télévisée de CBS du même nom, et Naish a repris son rôle. En 1955, Naish crée le rôle d'Alfieri dans la version en un acte et en vers d'Arthur Miller, A View from the Bridge on Broadway, mettant également en vedette Van Heflin et Eileen Heckart. En 1971, il est apparu dans son dernier rôle de film, Dracula vs. Frankenstein (1971), en tant que scientifique fou; un rôle descendant de l'original Dr. Frankenstein prend à assassiner de jeunes femmes pour l'expérimentation dans l'espoir de relancer la création de son ancêtre, avec l'aide de son assistant muet, joué par Lon Chaney Jr., dont l'apparition au cinéma était aussi sa dernière.
Vie personnelle
Naish est mariée (de 1929 à sa mort) à l'actrice Gladys Heaney (1907-1987); ils ont une fille, Elaine.
Mort
Naish se retira à San Diego et mourut d'emphysème le 24 janvier 1973, au Scripps Memorial Hospital à La Jolla, en Californie, trois jours après son 77e anniversaire. Il est inhumé au cimetière du Calvaire à l'est de Los Angeles, en Californie. Pour ses contributions à la télévision, il a une vedette sur le Hollywood Walk of Fame au 6145 Hollywood Boulevard.
Distinction
Golden Globes 1946 : Golden Globe du meilleur acteur dans un second rôle pour A Medal for Benny
Filmographie
1926 : The Open Switch
1926 : Au service de la gloire (What Price Glory) de Raoul Walsh (non crédité)
1930 : Cœur et Cambriole (Double Cross Roads) : Dyke's Lookout / Driver
1930 : Cheer Up and Smile : Bit Part
1930 : Good Intentions : Charlie Hattrick
1930 : Scotland Yard : Dr Remur
1931 : The Royal Bed : Laker
1931 : Gun Smoke d'Edward Sloman : Mink Gordon
1931 : The Finger Points : Phone Voice (the Finger is on You)
1931 : Kick In : Sam
1931 : Homicide Squad : Hugo
1931 : Surrender : Bit
1931 : Cette nuit ou jamais (Tonight or Never) : Radio Announcer
1931 : Pénitencier de femmes (Ladies of the Big House) : Witness against Doremus
1932 : L'Honorable Monsieur Wong (The Hatchet Man) : Sun Yat Ming
1932 : La Bête de la cité (The Beast of the City) de Charles Brabin : Pietro Cholo
1932 : The Mouthpiece de James Flood et Elliott Nugent : Tony Rocco
1932 : The Famous Ferguson Case : Claude Wright
1932 : Two Seconds : Tony
1932 : Week-End Marriage : Joe
1932 : Crooner : Nick Meyer
1932 : Big City Blues : Bootlegger
1932 : No Living Witness : Nick
1932 : Le Harpon rouge (Tiger Shark) : Tony
1932 : Kid d'Espagne (The Kid from Spain) de Leo McCarey : Pedro (Rosalile's father)
1932 : Afraid to Talk : (replaced by Matt Mc Hugh)
1932 : The Conquerors : Agitator
1932 : Frisco Jenny : Ed Harris
1933 : Sa femme (No Other Woman), de J. Walter Ruben : Bonelli
1933 : The Past of Mary Holmes : Gary Kent
1933 : Silent Men : Jack Wilder
1933 : Infernal Machine : Bryan
1933 : Whirlwind : Injun
1933 : The World Gone Mad de Christy Cabanne : Ramon Salvadore
1933 : Le Signal (Central Airport) de William A. Wellman : Drunk in Wreck
1933 : Elmer, the Great : Jerry
1933 : The Devil's in Love : Salazar
1933 : Arizona to Broadway de James Tinling : Tommy Monk
1933 : Notorious but Nice : Joe Charney
1933 : The Avenger : Hanley
1933 : Capturé (Captured!) : Cpl. Guarand
1933 : The Last Trail de James Tinling : John Ross
1933 : The Big Chance : John Wilson
1933 : Ann Vickers : Dr Sorelle
1933 : The Mad Game : Chopper Allen
1933 : Havana Widows : First Taxi Driver
1933 : The Mystery Squadron : Collins
1934 : What's Your Racket? : Dick Graves
1934 : Sleepers East : Carl Izzard
1934 : L'Homme de quarante ans (Upperworld) : Lou Colima
1934 : One Is Guilty : Jack Allan
1934 : Murder in Trinidad de Louis King : Duval
1934 : The Hell Cat : Joe Morgan
1934 : Return of the Terror : Steve Scola
1934 : The Defense Rests : Ballou
1934 : Girl in Danger de D. Ross Lederman : Russo
1934 : British Agent : Commissioner of War Trotsky
1934 : Marie Galante : French Sailor painting ship
1934 : The President Vanishes
1934 : Hell in the Heavens : Sgt. Chevalier
1934 : Bachelor of Arts : Radical Speaker
1935 : Les Trois lanciers du Bengale (The Lives of a Bengal Lancer) : Grand Vizier
1935 : Behind the Green Lights de Christy Cabanne : Sam Dover
1935 : Black Fury : Steve Croner
1935 : Les Nuits de la pampa (Under the Pampas Moon) de James Tinling : Tito
1935 : Sixième édition (Front page woman) : Robert Cardoza
1935 : Les Croisades (The Crusades) : Arab Slave Dealer
1935 : Little Big Shot : Bert (Kell's henchman)
1935 : Agent spécial (Special agent) : Joe Durell
1935 : Confidential : 'Lefty' Tate
1935 : Le Capitaine Blood (Captain Blood) : Cahusac
1936 : Robin des Bois d'El Dorado (The Robin Hood of El Dorado) : "Three Fingered" Jack
1936 : Two in the Dark : Burt Mansfield
1936 : Exclusive Story de George B. Seitz : Comos
1936 : The Leathernecks Have Landed d'Howard Bretherton : Drenov
1936 : The Return of Jimmy Valentine : Tony Scapelli
1936 : Charlie Chan at the Circus, de Harry Lachman : Tom Holt
1936 : Moonlight Murder : André Bejac
1936 : Special Investigator : Edward J. 'Eddie' Selton
1936 : Absolute Quiet : Pedro
1936 : Anthony Adverse, marchand d'esclaves (Anthony Adverse) : Maj. Doumet
1936 : Ramona : Juan Can
1936 : La Charge de la brigade légère (The Charge of the Light Brigade) : Subahdar-Major Puran Singh
1936 : Sous le masque (Crack-Up) : Operative #77
1937 : We Who Are About to Die de Christy Cabanne : Nick Trotti
1937 : Song of the City : Mario
1937 : The Grand Bounce : Hoodlum
1937 : Border Cafe : Rocky Alton
1937 : It May Happen to You : Moxie
1937 : L'Énigmatique M. Moto (Think Fast, Mr. Moto) : Adram, shopkeeper
1937 : Hideaway : Mike Clarke aka John Knox
1937 : Sea Racketeers : Harry Durant
1937 : Bulldog Drummond Comes Back : Mikhail Valdin
1937 : Thunder Trail de Charles Barton : Rafael Lopez
1937 : Night Club Scandal de Ralph Murphy : Jack Reed (gangster)
1937 : La Fille de Shangaï (Daughter of Shanghai) de Robert Florey : Frank Barden
1938 : Tip-Off Girls de Louis King : Joseph Valkus
1938 : Toura, déesse de la Jungle (Her Jungle Love) : Kuasa
1938 : Hunted Men : Henry Rice
1938 : Prison Farm : Senior Guard Noel Haskins
1938 : Bulldog Drummond in Africa : Richard Lane
1938 : L'Évadé d'Alcatraz (King of Alcatraz) : Steve Murkil
1938 : Illegal Traffic : Lewis Zomar
1939 : Persons in Hiding : Freddie 'Gunner' Martin
1939 : Le Roi de Chinatown (King of Chinatown) de Nick Grinde : Professor
1939 : Hotel Imperial : Kuprin
1939 : Undercover Doctor : Dr Bartley Morgan
1939 : Beau Geste : Rasinoff
1939 : Island of Lost Men : Gregory Prin
1940 : Typhon (Typhoon) : Mekaike
1940 : Queen of the Mob de James P. Hogan : George Frost
1940 : Golden Gloves d'Edward Dmytryk : Joe Taggerty
1940 : Sous le ciel d'Argentine (Down Argentine Way) : Casiano
1940 : A Night at Earl Carroll's : Steve Kalkus
1941 : Mr. Dynamite : Professor
1941 : Une nuit à Rio (That Night in Rio) : Machado
1941 : Arènes sanglantes (Blood and Sand) : Garabato
1941 : Accent on Love : Manuel Lombroso
1941 : Forced Landing de Gordon Wiles : Andros Banshek
1941 : Birth of the Blues : Blackie
1941 : Vendetta (The Corsican Brothers) de Gregory Ratoff : Lorenzo
1942 : A Gentleman at Heart : Gigi
1942 : Sunday Punch : Matt Bassler
1942 : Dr. Broadway : Jack Venner
1942 : Jackass Mail : Signor Michel O'Sullivan
1942 : The Pied Piper : Aristide Rougeron
1942 : Six destins (Tales of Manhattan) : Costello
1942 : The Man in the Trunk : Reginald DeWinters
1942 : Dr. Renault's Secret : Noel
1943 : Harrigan's Kid : Jed Jerrett
1943 : Batman : Dr Tito Daka aka Prince Daka
1943 : Good Morning, Judge de Jean Yarbrough : Andre
1943 : Face au soleil levant (Behind the Rising Sun) d'Edward Dmytryk : Reo Seki
1943 : Sahara de Zoltan Korda : Giuseppe
1943 : Calling Dr. Death : Inspector Gregg
1943 : 'Gung Ho!': The Story of Carlson's Makin Island Raiders : Lieutenant C.J. Cristoforos
1944 : Une voix dans la tempête (Voice in the Wind) d'Arthur Ripley : Luigi
1944 : Two-Man Submarine : Dr Augustus Hadley
1944 : The Whistler : The Killer
1944 : Le Créateur de monstres (The Monster Maker) : Dr Igor Markoff
1944 : Jungle Woman : Dr Fletcher
1944 : Waterfront : Dr Carl Decker
1944 : Les Fils du dragon (Dragon Seed) de Jack Conway et Harold S. Bucquet : Japanese Kitchen Overseer
1944 : Enter Arsene Lupin : Ganimard
1944 : La Maison de Frankenstein (House of Frankenstein) : Daniel
1945 : Getting Gertie's Garter : Charles, the Butler
1945 : A Medal for Benny : Charley Martin
1945 : L'Homme du sud (The Southerner) : Devers
1945 : Strange Confession : Roger Graham
1945 : Star in the Night : Nick Catapoli
1946 : L'Ange et le bandit (Bad Bascomb) : Bart Yancy
1946 : La Bête aux cinq doigts (The Beast with Five Fingers) : Commissario Ovidio Castanio
1946 : Humoresque : Rudy Boray
1947 : Carnival in Costa Rica : Rica Molina
1947 : Dieu est mort (The Fugitive) : A Police Informer
1948 : Jeanne d'Arc (Joan of Arc) : John, Count of Luxembourg (Joan's captor)
1948 : Le Brigand amoureux (The Kissing Bandit), de László Benedek : Chico
1949 : Canadian Pacific : Dynamite Dawson
1949 : That Midnight Kiss : Papa Donnetti
1950 : La Main noire (Black Hand) : Louis Lorelli
1950 : J'ai trois amours (Please Believe Me) : Lucky Reilly
1950 : Annie, la reine du cirque (Annie Get Your Gun) : Chief Sitting Bull
1950 : Le Chant de la Louisiane (The Toast of New Orleans) : Nicky Duvalle
1950 : Rio Grande : Lt. Gen. Philip Sheridan
1951 : Le Signe des renégats (Mark of the Renegade) : Luis
1951 : Au-delà du Missouri (Across the Wide Missouri) : Looking Glass (Nez Perce chief)
1951 : Bannerline : Frankie Scarbine
1952 : Denver and Rio Grande : Gil Harkness
1952 : Le démon s'éveille la nuit (Clash by Night) : Uncle Vince
1952 : Woman of the North Country : John Mulholland
1952 : Ride the Man Down : Sheriff Joe Kneen
1952 : The Story of Will Rogers de Michael Curtiz
1952 : Life with Luigi (série TV) : Luigi Basco (1952)
1953 : Fighter Attack : Bruno
1953 : Tempête sous la mer (Beneath the 12-Mile Reef) : Socrates(Soc)
1954 : La Brigade héroïque (Saskatchewan) : Batouche
1954 : Sitting Bull : Sitting Bull
1955 : Man on a Bus
1955 : New York confidentiel (New York Confidential) de Russell Rouse : Ben Dagajanian
1955 : La Fille de l'amiral (Hit the Deck) : Mr. Peroni
1955 : Les Rôdeurs de l'aube (Rage at Dawn) : Sim Reno
1955 : Les Inconnus dans la ville (Violent Saturday) : Chapman, Bank Robber
1955 : Quand le clairon sonnera (The Last Command) : General Antonio Lopez de Santa Ana
1955 : Desert Sands : Sgt. Diepel
1956 : Rebel in Town : Bedloe Mason
1956 : Yaqui Drums : Yacqi Jack
1957 : The New Adventures of Charlie Chan (série TV) : Charlie Chan
1957 : This Could Be the Night : Leon
1957 : The Young Don't Cry : Plug
1958-1959 : Au nom de la loi (Wanted Dead or Alive) (série TV) Saison 1 épisode 12 : Miguel Ramierez
1959 : Les Incorruptibles (série télévisée), La Loi de la Mafia
1960 : Guestward Ho! (série TV) : Chief Hawkeye
1961 : Force of Impulse : Antonio Marino
1964 : Le Prix d'un meurtre (The Hanged Man) de Don Siegel (téléfilm) : Oncle Picaud
1970 : Cutter's Trail (TV) : Froteras
1971 : Dracula contre Frankenstein (Dracula vs. Frankenstein) d'Al Adamson : Dr Frankenstein, aka Dr Duryea