Whiting: Remembering the O.C. Holocaust survivor who cheated Nazis with a phantom diamond

Were it not for one very righteous lie and one very greedy guard at Auschwitz concentration camp, a memorial service at Harbor Lawn-Mt. Olive Memorial Park in Costa Mesa could not have happened.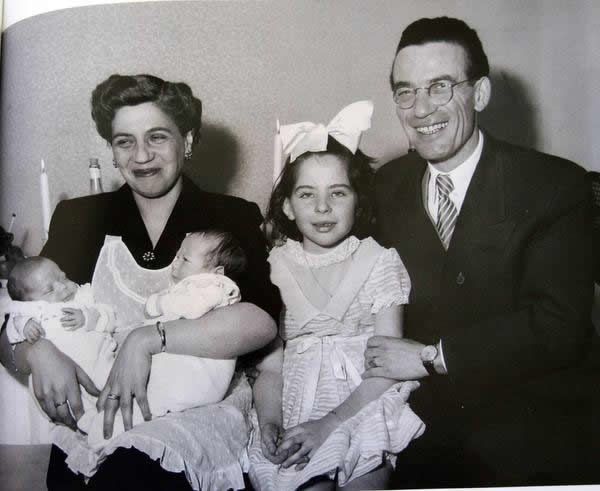 A family photo shows, from left, Ester Bershtel, holding daughter Ora and son Jack, along with daughter Sara and Ester's second husband, Manny Bershtel, in 1956
It is Wednesday and one by one, Ester Bershtel's son, daughter, grandson and granddaughter walk past the seven electric lights on the menorah, a 21st-century version of the seven-branch lamp stand used by ancient Hebrews.
They walk to the lectern and speak of the Holocaust survivor's humor, warmth, connection with family.
Bershtel's granddaughter, Maya Bershtel Navar, grips the podium and closes her eyes for a moment to gather herself. Of Bershtel, she offers, "She was the strongest person I ever met."
Her words bring to mind the 94-year-old's perseverance, determination and iron will not only to live but to save her little sister in the midst of blood-lust, horror and despair.
Together, Bershtel's children and grandchildren symbolize the goodness, the meaning, the importance of family.
Daughter Sara recalls sitting with her mother next to a tree-shaded koi pond in Laguna Woods where Bershtel lived. Bershtel said, "If anyone said to me I'd be sitting under these trees under the beautiful California sun, I'd have never believed it."
But Bershtel's family also represents much more. Their memories, smiles and tears are living testimony to the millions killed and the tens of millions who were never born because of intolerance.
When Sara Bershtel tells the gathering in the chapel about the columns I wrote about her mother, I drift back to the day Ester Bershtel revealed how she escaped from a place infamous for killing 1.1 million people.
The first thing that comes to mind?
A phantom diamond.
• • •
Bershtel grew up in a poor village in central Poland called Przytyk. If you are a student of the Holocaust, you know the name.
At Wednesday's service, Rabbi Dennis Linson tells the history. Nazis descended on Przytyk in the late 1930s, smashing windows, destroying homes. Jews fought back. By the time it was over, hundreds of Jews were homeless, in concentration camps or dead.
It is a tale of resistance and the bystanders' apathy. It also is a tale that can be distilled to the Jewish statement, "Never again."
Yes, never again.
During one of our visits, she shared one of the worst discoveries in a life of difficult discoveries.
It was December 1941, and Bershtel, her husband and one of her sisters, Rokhl, were on the run. Nearly dead of cold and hunger, they gave themselves up and were stuffed into an abandoned leather factory along with other Jews.
It was there that Bershtel learned that her youngest sister, Pearl, only 12 years old, had been killed.
"Losing Pearl," Bershtel told me, "felt like losing a piece of my life."
• • •
Within two years, Bershtel, only 23 years old, and her sister, Rokhl, were shipped to Auschwitz.
"The smell of burning flesh followed us everywhere," Bershtel wrote in a memoir. "Every day, we thought that our turn had come."
In 1944, Bershtel, Rokhl and their grandmother were lined up before Joseph Mengele, Waffen-SS doctor and Nazi experimenter on living humans. The bone-thin women were ordered to remove their clothes.
Her grandmother and sister were marched to a holding pen. Bershtel knew she had to do something, anything to save Rokhl.
Bershtel tracked down the guard in charge of train manifests. She whispered she had a diamond hidden, and that she would give him the gem if he got her and her sister on a train to a different concentration camp.
Before the guard realized there was no diamond, Bershtel and her sister – but no other family member – squeezed onto a train headed for a munitions factory.
Their escape from Auschwitz was bold, courageous and life-saving. But there was no joy.
At Wednesday's service, Becky Bershtel, Bershtel's granddaughter-in-law, explains, "In Auschwitz, Ester was very depressed.
But as Bershtel wrote: "Even the worst sort of life gives a person the spark of hope."
• • •
A little more than a decade ago, Bershtel returned to Auschwitz with her children, Sara and Jack. At one point, Bershtel stopped to correct a guide. He wondered how she knew so much.
Bershtel pointed to her left forearm. The faded tattoo offered a silent cry for the 6 million Jews murdered in the Holocaust as well as another 6 million people the Nazis exterminated.
At Wednesday's ceremony, the rabbi says, "We can all learn from Ester's example. ... In spite of her experiences, she was always ready to laugh."
But there is one more point Linson makes, and it is one that offers a greater truth, a truth that Bershtel would understand and embrace.
Linson says, sure we want a pain-free life, but that's not realistic. Pain, challenges, loss is part of living.
"The real blessing we seek ... is for our pain to have meaning."
Whiting: Holocaust survivor cheated Nazis, won at life
Sara Bershtel and her brother Jack, right, walk with Rabbi Dennis Linson, left, through a line of family and friends as the memorial service for their mother, Ester Bershtel, ends on Wednesday in ...
http://www.ocregister.com/articles/bershtel-639469-one-sister.html