Mafia arrests in Corleone: Cosa Nostra code of silence broken
ITALIAN police believe they are finally breaking the infamous mafia code of silence after a victim of an extortion racket co-operated with authorities for the first time.
Police in Corleone, the Mafia's Sicilian heartland, arrested an alleged mob boss and three other suspects this week after the unnamed businessman told police he could no longer afford to pay the required $565 a month in so called "protection money".
Police commander Pierluigi Solazzo told The Independent that this arrest, along with several others over the past six months, was proof the infamous code of Omerta was weakening.
"It's an excellent sign," he said.
"Businessmen already crushed by the crisis are not able to bear this additional Mafia pressure."
The businessman who ran a car showroom told police he couldn't afford to pay the extortion demand and was forced to close.
When he opened another business, he asked for his payment to be reduced but was refused, a conversation which was recorded by police.
He then agreed to cooperate with police, leading to Monday's arrest.
Corleone is the birthplace of Cosa Nostra's most infamous godfathers and home to notorious boss of bosses Salvatore "Toto" Riina, who is serving jail time for life.
The town is also famous thanks to Marlon Brando's portrayal of the Godfather in the hit film series of the same name.
Police said it was the first time a victim had chosen to cooperate, with hopes further victims would continue to speak out across Italy.
The Corleone arrests follow those made overnight where more than 160 alleged members of the 'Ndrangheta Mafia were collared in what prosecutors and politicians hailed as a historic setback for the group behind much of Europe's cocaine trade.
More than 40 arrests were made in Calabria, the secretive crime group's southern homeland.
But the bulk came in dawn raids in towns and cities across the much wealthier north of Italy, where it has spread its tentacles in recent years in order to launder drugs profits.
More than 100 people were arrested in the region of Emilia Romagna, including six alleged 'Ndrangheta bosses, former and currently serving police officers, a prominent local politician and several businessmen.
The Calabrian mob has spent decades infiltrating one of Italy's richest and most productive areas, Bologna's chief prosecutor Roberto Alfonso told a press conference in the region's capital.
Another 200 people were being investigated and assets worth 100 million euros were frozen, including a block of 200 flats near Parma.
Franco Roberti, the national anti-mafia prosecutor, hailed the operation as "unprecedented" and claimed it marked a "turning point" in the state's battle with organised crime.
"It is an impressive and decisive step against the mafia in the north. This is a deeply implanted and very dangerous criminal organisation," he said.
The 'Ndrangheta is considered the most powerful crime syndicate in Italy, having surpassed Sicily's Cosa Nostra and the Naples-based Camorra thanks to the wealth it has amassed as the principal importer and wholesaler of cocaine produced in Latin America and smuggled into Europe via North Africa and southern Italy.
That trade is worth billions and previous police operations have indicated that the 'Ndrangheta has well-established links with Colombian producer cartels, Mexican crime gangs and mafia families in New York and other parts of North America.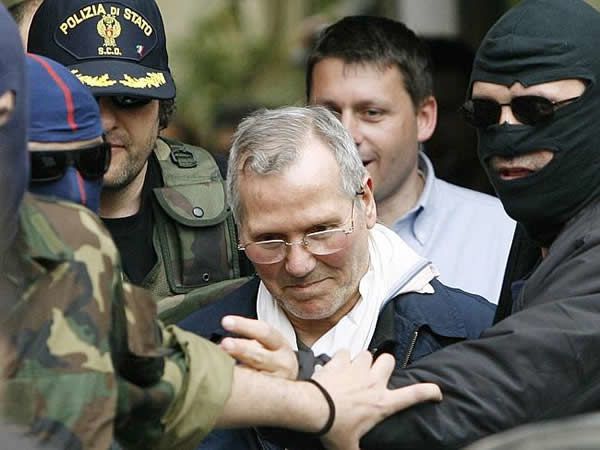 Mafia boss Bernardo Provenzano had been on the run since 1963 but was captured near Corleone, Sicily, a Cosa Nostra power base, in 2006. Provenzano took command of the Sicilian Mafia in 1993, after Salvatore "Toto" Riina was arrested in Palermo, also after years as a fugitive
A NATIONAL MAFIA:
Yesterday's arrests were the latest in a series of high-profile operations which have confirmed the hitherto little-known expansion of 'Ndrangheta across Italy from Calabria, the underdeveloped "toe" of the boot-shaped country.
Last week police made 31 arrests in Rome in connection with an alleged plot by a branch of the group to squeeze out other criminal gangs so that they could set the street price of cocaine in the Italian capital.
In November, dozens of alleged mobsters linked to the group were detained in and around Milan, Italy's business capital, on charges of criminal association and extortion.
Those arrests provided a fascinating glimpse into the 'Ndrangheta's shadowy culture with police releasing secretly-filmed footage of men undergoing initiation into "Santa" (holy) membership.
As part of the quasi-religious ceremony, the promoted mobsters swore allegiance to their new "wise brothers" and took an "oath of poison" under which they vow to kill themselves should they ever betray fellow clan members.
The name 'Ndrangheta comes from the Greek for courage or loyalty and the organisation's tight clan-based structure has made it hard to penetrate.
It has also shown itself capable of operating extremely discreetly. Mr Alfonso said that the group's establishment of a base in his region had involved placing loyalists in companies, the professions, local administrations and the forces of law and order.
SECRET CODE UNLOCKED:
The recent series of arrests have however allowed the authorities to make headway in its fight against the group.
The operation in Rome led to the seizure of a notebook written in a hieroglyphic-style code which detailed the initiation rites and the 'Ndrangheta's hierarchical structure from "piciotto" (foot soldier) up to Godfather.
It also detailed the clan's own mystical account of how its structure and "code of honour" came into being as a result of three knights landing on an island off Sicily after being banished from Spain for avenging the honour of their raped sister.
Police were able to crack the code and interpret documents which listed drug dealers and other associates working for the clan.
Their efforts have also reportedly been helped by a rare case of a 'Ndrangheta member agreeing to give evidence against the group.
The alleged "supergrass" has been identified by Italian media as Gianni Cretarola, who is awaiting trial for his alleged role in the 2013 murder of a rival Roman mobster, Vincenzo Femia.