Actor and comedian who teamed up with her husband, Jerry Stiller, to form a favourite American entertainment duo.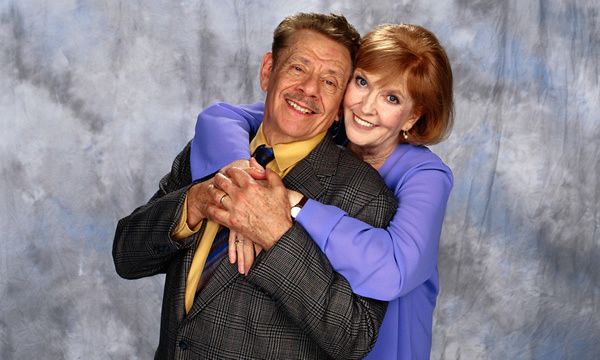 Anne Meara and her husband, Jerry Stiller, in an episode of the US television sitcom The King of Queens.
The actor and comedian Anne Meara, who has died aged 85, was famous on television, on the stage and in films more than three decades before her son, Ben Stiller, the actor and director, made a name for himself.
In fact, Meara entertained four generations of TV viewers of programmes ranging from The Ed Sullivan Show in the early 1960s to Sex and the City (2002-04). She was accompanied on screen and off by her husband, Jerry Stiller, to whom she was married for 61 years. As one of the very few male-female comedy teams, Stiller and Meara were on a par with George Burns and Gracie Allen, and Mike Nichols and Elaine May. (Notice the men's names come first.)
Stiller and Meara met at a talent agency in 1953 when the former was looking for a partner for a vaudeville act. They were married the following year, and began appearing together regularly on TV. Their act, often wholly or partially improvised, drew comedy from a bickering relationship between a tall Irish girl, Mary Elizabeth Doyle, and a short Jewish man, Hershey Horowitz.
She was born in Brooklyn, New York, the daughter of parents of Irish-Catholic descent, Edward Meara, a lawyer, and Mary (nee Dempsey), who took her own life when Anne was 11. After her marriage to Stiller Anne would convert to Judaism. When she was 18, she spent a year studying acting at the Dramatic Workshop at the New School in Manhattan. The following year, 1948, she began her acting career performing in summer stock.
Before becoming a comedy team, Meara and Stiller honed their improvisation skills at the Compass Players, Chicago, (which later became the Second City). At the same time, Meara continued an acting career separate from Stiller's.
In 1956-57, Meara appeared as the maid Katya on Broadway in Turgenev's A Month in the Country, directed by Michael Redgrave, and in Brecht's The Good Woman of Setzuan, both with Uta Hagen, with whom she had studied. She also played in several of Joseph Papp's Shakespeare in the Park productions, including Audrey in As You Like It, and the Second Witch in Macbeth (1958). The same year, off-Broadway, she was a prostitute in Ulysses in Nighttown, which starred Zero Mostel as Leopold Bloom.
But it was the Stiller-Meara comic duo on television that first brought her fame. Gradually, she started to get substantial supporting roles in films and TV sitcoms. On the big screen, in the wry comedy Lovers and Other Strangers (1970), Meara played a mother of two, feeling her age and missing the passion she once had with her husband.
In Nasty Habits (1977), an adaptation of Muriel Spark's 1974 Watergate satire, The Abbess of Crewe, Meara was Sister Geraldine, mirroring Gerald Ford. She had an emotive scene with Laurence Olivier as a Nazi-hunter, Ezra Lieberman, in The Boys from Brazil (1978), about a postwar Nazi plot to clone Hitler, in which, as the adoptive mother of one of the cloned boys, she begs Lieberman not to make the truth public.
Meara was especially effective in Alan Parker's Fame (1980) as the put-upon English teacher trying to get through to a class of reluctant students, clashing particularly with a hostile, secretly illiterate, black dancer. Awakenings (1990) saw her as a Jewish patient emerging from a decades-long coma, relieved to learn that her husband had divorced her years before.
On TV, in Rhoda (1976-77), Meara played the title character's friend Sally Gallagher, known as Big Sally, and in Archie Bunker's Place (1979-82), Meara was Veronica Rooney, the bar's wisecracking, alcoholic cook, for which she gained Emmy nominations two years running.
Meara was later in the long-running daytime soap opera All My Children (1992-99), in which she was a commonsense maid to whom the plot would return for calm whenever it got too melodramatic. After small roles in her son's films Reality Bites (1994) and Zoolander (2001), she played opposite her husband in the sitcom The King of Queens (2003).
In the meantime, Meara had not neglected the theatre. She appeared as the Nurse in the Papp production of Romeo and Juliet (1988), and wrote After-Play (1995), a comedy about couples going to a restaurant after a play, which had an off-Broadway run.
Meara is survived by her husband and their children, Ben and Amy.
Anne Meara, actor, born 20 September 1929; died 23 May 2015