Scholar of literature and influential critic of the Romantics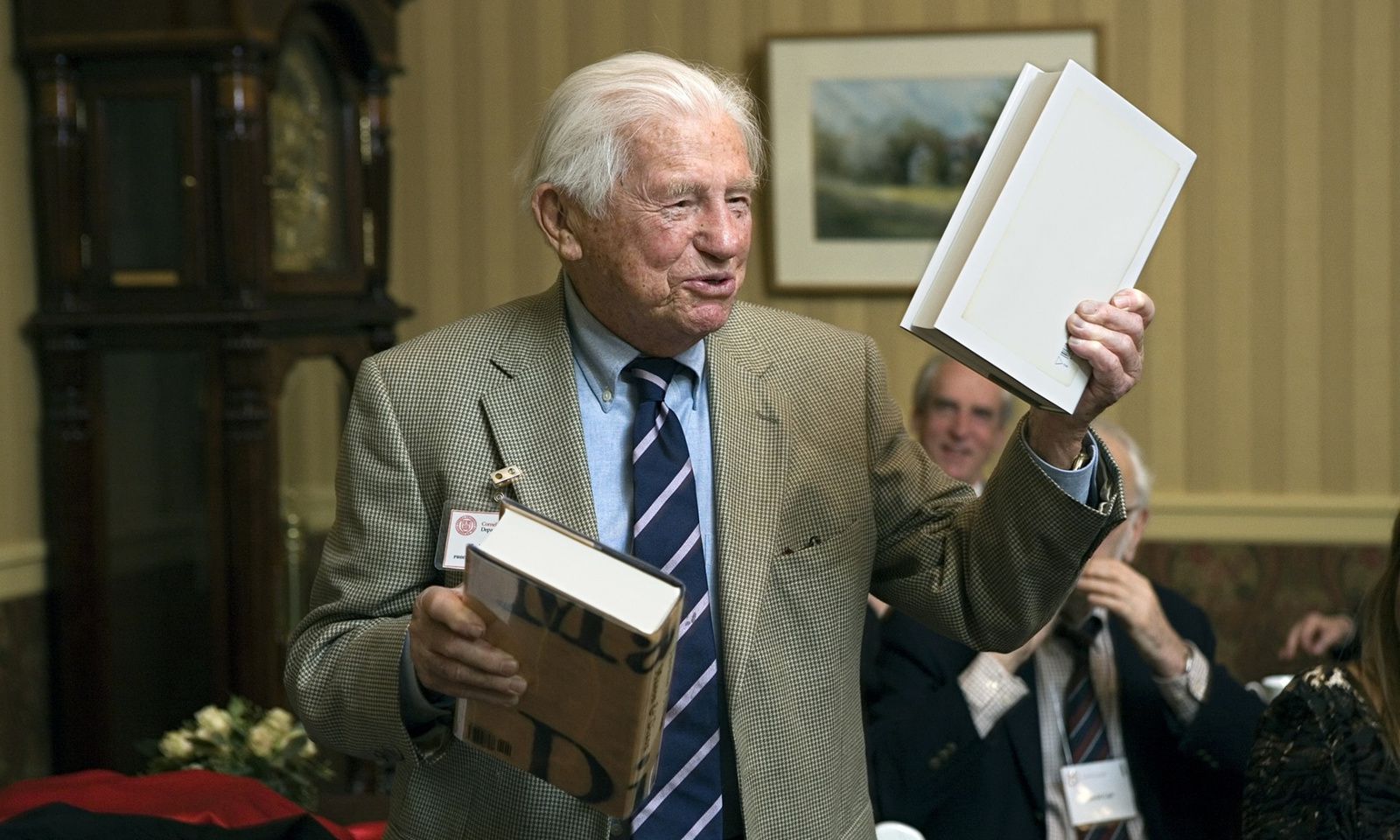 MH Abrams believed that poetry should be read aloud to yield its full meaning. Photograph: Cornell University
In two works of literary and historical study, The Mirror and the Lamp (1953) and Natural Supernaturalism (1971), the American scholar MH Abrams, who has died aged 102, argued that metaphor was central to human communication, and that the emergent Romanticism of the later 18th century was pivotal in its sophisticated development. Between the two volumes, he compiled an anthology of English literature that was to become essential reading for generations of students, running to nine editions and 9m copies. The Norton Anthology of English Literature (two volumes, 1962) favoured whole works rather than extracts. "We believed that to understand literature you had to understand its place in history and culture," Abrams said. He edited the section on Romantic poetry himself, and oversaw the six other section editors, whose literary choices spanned several centuries of writing.
Born in Long Branch, New Jersey, Abrams, named Meyer but known as Mike, was the son of Jewish migrants from Europe, and until starting school spoke only Yiddish at home. His father, a house painter, never pressed him and his younger brother to take a religious path, and his mother's religious observance struck him as purely token. The family's first scholarship winner, he went to Harvard to study English in 1930: if the Depression meant starving, it might as well be while doing something enjoyable.
An undergraduate essay upon Coleridge and others' opium use became a short book, The Milk of Paradise: The Effects of Opium Visions on the Works of De Quincey, Crabbe, Francis Thompson, and Coleridge (1934), which gained him a year's fellowship in Britain, at Cambridge. There, IA Richards's close "practical criticism" was influential. Through him Abrams met WB Yeats (a phrase from whose introduction to the Oxford Book of Modern Verse of 1936 inspired The Mirror and The Lamp's title) and came into the orbit of TS Eliot.
He married Ruth Gaynes in 1936 and completed a PhD in 1940, and the couple joined the psycho-acoustic laboratory at Harvard, which was run in secret by American intelligence services. There they worked on developing military codes that would be highly audible in a noisy military environment. The work was rooted in the study of psychology, phonetics and philology. This experience, perhaps, helped to fortify Abrams's belief that poetry must be read aloud to yielded its full meaning.
In 1945 he became an assistant professor at Cornell, in Ithaca, New York, where overt antisemitism had declined with news of German persecutions – and a need to fill postwar posts. It was there that he wrote The Mirror and the Lamp. Recondite though Abrams's forays into 18th-century German thought may have seemed, the book was a surprise success. Essentially, it argued that, where art and literature had once sought to reflect the real world, Romantic artists and writers sought to illuminate it, often by revealing their souls.
Though it was hugely influential, Abrams set greater store by Natural Supernaturalism, an examination of the key English and German Romantics which explores the nature of revolution from a cognitive rather than a political perspective, showing how ideas from earlier epochs invigorated the Romantic movement. It adroitly surveys the Romantic age to show that even as atheistic a poet as Shelley was steeped in the Bible.
Abrams looks back as readily at the religious thinkers St Augustine, Gerrard Winstanley and Thomas Burnet as he does at connections between the opening of William Wordsworth's The Prelude and Marcel Proust's A la Recherche du Temps Perdu. He explores pagan and biblical roots, mythic and conceptual formulations, all of which, come the 1790s, "constituted a genuine epoch in intellectual and cultural history; not, however, by absolute innovation but by a return to a mode of hereditary wisdom which was redefined, expanded and applied to the emerging world of continuous political, industrial, and social revolution and disorder, which is the world we live in today".
Among other titles in a publishing career that lasted nearly 80 years was the frequently revised and republished A Glossary of Literary Terms (1957), no mere dictionary. Its miniature essays discuss, for example, Objective Correlative – a term "casually introduced by TS Eliot in an essay on Hamlet and his Problems (1919) whose subsequent vogue in literary criticism, Eliot has confessed, astonished its inventor". Eliot believed that Shakespeare could not make the audience feel as Hamlet did through images, actions and characters – which is how an objective correlative would work – but could only describe his emotional state. Surprisingly, the entry for Novel brackets Ivanhoe and A Tale of Two Cities with Northwest Passage (1937) by Kenneth Roberts. Bombast points to its roots in cotton stuffing.
Abrams's last book, The Fourth Dimension of a Poem (2012), came out when he was 100. In 2014 he received the National Humanities medal from President Barack Obama.
Ruth died in 2008. Abrams is survived by two daughters, two grandchildren and a great-grandson.