Jon Vickers, Opera Star Known for His Raw Power and Intensity, Dies at 88

The Canadian tenor Jon Vickers, who brought a colossal voice and raw dramatic intensity to everything he sang, including legendary portrayals of Wagner's Tristan, Verdi's Otello, Beethoven's Florestan and Britten's Peter Grimes, died on Friday in Ontario, Canada. He was 88.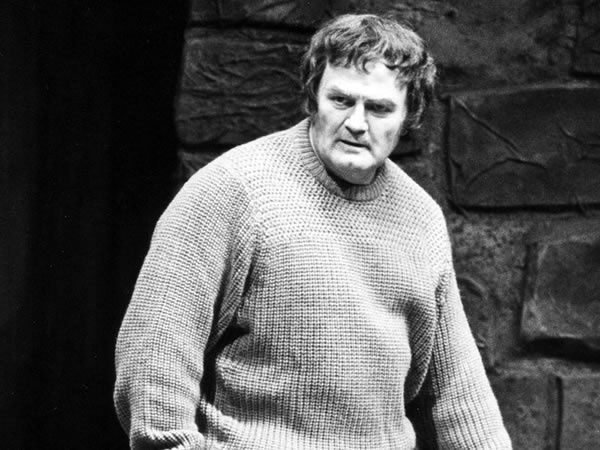 Jon Vickers in Britten's "Peter Grimes" in 1983 at the Metropolitan Opera, where he made more than 280 appearances
The Royal Opera House in London posted a statement from the Vickers family saying the cause was Alzheimer's disease.
From his early teens, when his robust singing in his family church in Saskatchewan was the talk of the congregation (parishioners remember his final high note in the hymn "Jerusalem" almost rattling the windows), until his fledgling appearances in the mid-1950s at the Toronto Opera Festival, the sheer size of Mr. Vickers's voice was both the glory and the challenge of his artistry.
In dramatic tenor roles demanding stirring power and stamina Mr. Vickers had few rivals. Yet, even in subdued passages, whether posing questions as the clueless title character of Wagner's "Parsifal" or singing tender phrases of a Schubert song, Mr. Vickers's voice had penetrating body and depth. For all his power, he was a master at singing high pianissimo phrases with ethereal beauty.
Making every word he sang matter was another hallmark of his artistry. Mr. Vickers was incapable of fudging a text for the sake of vocal effect, a priority he traced to his Christian upbringing, in which hymns and prayers were revered.
Still, Mr. Vickers had his share of detractors, who found his singing burly and gruff.
He identified intensely with the characters he portrayed, especially misfits, like Peter Grimes, and misunderstood heroes, like Verdi's Otello, who are outwardly strong but struggling against brutal destinies. Yet he readily admitted that in taking risks and giving his all, his singing could be inconsistent and uncontrolled.
Projecting His Feelings
That Mr. Vickers lost himself in his roles did not surprise those who knew him. He was a volatile and enigmatic person, in many ways decent and principled, but hot-tempered and quick to jump on any perceived slight.
The soprano Birgit Nilsson, the great Isolde to his Tristan, said that Mr. Vickers "was almost always unhappy," and that his "nerves were outside the skin, not inside the skin," as she told Jeannie Williams, the author of "Jon Vickers: A Hero's Life" (1999).
In her book, Ms. Williams recounts stories of Mr. Vickers bullying underlings and dressing down colleagues. When a 1986 Metropolitan Opera production of Handel's "Samson," an oratorio, traveled to the Lyric Opera of Chicago, Mr. Vickers insulted the conductor, Julius Rudel, during a rehearsal in front of the entire cast and orchestra, shaking Mr. Rudel so much that he offered to quit. Yet in interviews he often spoke of how his rural roots and Christian convictions had shaped his life philosophy, as he explained in a 1974 documentary for the Canadian Broadcasting Corporation:
"The understanding, which slowly and surely developed in me, of the necessity of human contact and an understanding of the needs of others and their problems has probably, more than anything else, given me the ability to analyze my roles, to come to grips with a score, to study a drama, to project my feelings into the life of someone I've never met except on a piece of paper."
Humble Beginnings
Jonathan Stewart Vickers was born on Oct. 29, 1926, in Prince Albert, Saskatchewan, the sixth of eight children of William and Frances Vickers. His father was a schoolteacher and lay minister in the Presbyterian and Methodist traditions; he eventually became a high school principal. His mother was a homemaker.
The Vickers house had no electricity or running water, just a well out back. After his fourth birthday the family moved to an old frame house with proper utilities and an adjacent lot that became their vegetable garden. Blond, blue-eyed Jonathan grew to look much like his barrel-chested father, with a square chin, large forehead, big hands and bowed legs.
In the Vickers house everyone sang and played instruments — a "poor man's Trapp family," as Mr. Vickers used to call it. On Saturday afternoons, Mr. Vickers was captivated by the Metropolitan Opera radio broadcasts.
In the summers he and his brothers worked at a farm owned by their father's best friend, and in his last year in high school he played football and basketball and took voice lessons from the local church organist.
He graduated from high school in 1945, but young Canadian military veterans returning from the war were given preference for college admission, so Mr. Vickers, who had a head for business, went to work at the Safeway, moving from fruit sorter to butcher boy before eventually becoming a manager.
This led to his being hired by the Woolworth Co. to travel from store to store as a managerial troubleshooter. After more than three years of this he went to work as a tool salesman for a company based in Winnipeg, where he was taken under the wing of a respected music director at Knox United Church.
Encouraged to pursue singing seriously, he auditioned for George Lambert, a voice teacher who recruited students for the Royal Conservatory of Music in Toronto, and was offered a scholarship, beginning with the 1950-51 academic year. Money was still tight, and for two summers he drove a truck at night for a Canadian brewery.
While at the conservatory, Mr. Vickers met Henrietta Elsie Outerbridge, a child of missionaries who had worked in China. Hetti, as she was called, had studied medicine for several semesters and taught English and art. They married in July 1953. A devoted couple, they were "one of the great love stories of our time," in the words of the soprano Teresa Stratas.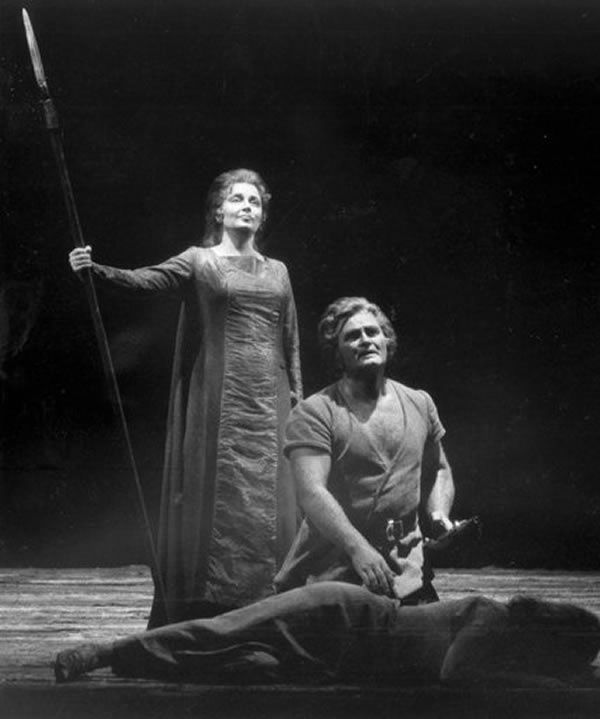 Roberta Knie, left, as Brünnhilde and Mr. Vickers as Siegmund in a San Francisco Opera production of "Die Walküre" in 1976
Mr. Vickers's survivors include their daughters, Alison Netzske and Wendy Roughton; their sons, William, Jon and Ken; 11 grandchildren; two great-grandchildren; and a sister, Bernice.
Hetti Vickers died of cancer in 1991. Two years later Mr. Vickers married Judith Panek Stewart, a flight attendant from California 13 years his junior. She had a daughter and a son from a previous marriage.
Mr. Vickers considered his professional stage debut to be a performance in 1954 as the Duke of Mantua in Verdi's "Rigoletto" at the Toronto Opera Festival, which in 1959 became the Canadian Opera Company. Over the next two years with the festival he sang Alfredo in "La Traviata," Don José in "Carmen" and other roles but preferred singing for radio and television because the work paid better.
In 1957, for his first season at the Royal Opera at Covent Garden in London, he sang Don José, Riccardo in "Ballo in Maschera" and Enée (Aeneas) in Berlioz's epic opera "Les Troyens."
Mr. Vickers would later sing Enée in a new production of the opera at Covent Garden in 1969, the centennial of the composer's death. The conductor was Colin Davis, an inspired Berlioz interpreter.
During the run, the Covent Garden forces recorded the opera in a London studio, and the sessions were tense. The cast, especially Mr. Vickers, complained of the strain of recording the work while also performing it on stage. Some rough patches in Mr. Vickers's singing come through. Still, he brought a heroic cast to the music, and the recording remains a classic.
Mr. Vickers's first performances at the Metropolitan Opera came in early 1960, singing Canio in Leoncavallo's "Pagliacci," Florestan in Beethoven's "Fidelio" and Siegmund in Wagner's "Walküre," all within two months. It was on the Met stage in 1967 that Mr. Vickers introduced what many consider his greatest achievement, the title role of Britten's "Peter Grimes," conducted by Mr. Davis and directed by Tyrone Guthrie.
Becoming Peter Grimes
Working with a libretto by Montagu Slater, Britten conceived the title role of the loner fisherman in an English village for his lifelong partner, the tenor Peter Pears, who gave the first performance in London in 1945. With his ethereal voice, Pears portrayed the fisherman as an alienated dreamer, a misfit in a narrow-minded town. While yearning to be accepted, Grimes takes out his thwarted anger on homeless boys who are drafted into work as his apprentices.
Britten described the opera as depicting the struggle of an individual against the masses. But many see Grimes's persecution as a metaphor for the oppression of homosexuals. Mr. Vickers, who was, as many of his colleagues recounted, quite homophobic, could not abide such an interpretation. For him "Peter Grimes" was a study in the "psychology of human rejection," a view shared by Mr. Davis and Guthrie.
With his powerful heldentenor voice, Mr. Vickers revealed the danger within the twisted psyche of the ostracized fisherman. His Grimes was one moment lost in reverie, the next exploding with brutality. His bleakly poignant portrayal and fearsome singing altered the public perception of the role. Though they did not like to voice their attitudes publicly, Britten and Pears were dismayed by Mr. Vickers's Grimes. But they could not argue with success. Companies around the world mounted productions of "Peter Grimes" for Mr. Vickers.
He sang more than 280 total performances at the Met, including the company premiere of "Les Troyens" in 1973, and the title roles of Verdi's "Otello" and Wagner's "Parsifal."
For years Mr. Vickers resisted the role of Wagner's Tristan, to the frustration of Birgit Nilsson, the great Isolde of her day, who had been searching for a powerhouse tenor who could match her in the opera. Mr. Vickers finally came through in Buenos Aires in 1971, singing Tristan to Ms. Nilsson's Isolde. It was a triumph. They went on to sing it many times, though not as often as Ms. Nilsson had hoped.
"I told him at the time that I waited and waited for my Tristan for 14 years," Ms. Nilsson told The New York Times, "as long as Jacob waited for Rachel in the Bible." He sang the role just twice at the Met, and only one of those was with Ms. Nilsson, on Jan. 30, 1974.
Mr. Vickers lived in Toronto at the start of his career and then settled in London before returning to Canada and buying a farm about an hour's drive from Toronto. After his retirement in 1988 he gave occasional master classes but mostly kept a low profile.
He once touched on the impetus of his artistry in a graduation address in 1969 at the Royal Conservatory of Music in Toronto. "I sang because I had to," he said. Singing, he explained, was "an absolute necessity, fulfilling some kind of emotional and even perhaps physical need in me."
Correction: July 14, 2015
An obituary on Monday about the opera singer Jon Vickers misstated, at one point, part of the name of a school in Toronto at which he delivered a graduation address in 1969. As the obituary correctly noted elsewhere, the school, which Mr. Vickers also attended, is the Royal Conservatory of Music, not the Royal Academy of Music. The obituary also misstated, in some copies, part of the name of the television network that broadcast a documentary about Mr. Vickers in 1974. It is the Canadian Broadcasting Corporation, not the Canadian Broadcast Company.