Sergeant 'Smokey' Smith VC

Canadian soldier decorated for taking on three Panther tanks in Italy in 1944.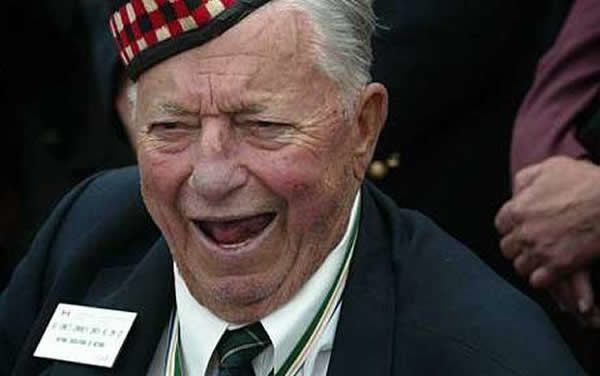 On the night of October 21 1944, Private Ernest Alvia "Smokey" Smith, who has died aged 91, was serving with one of the two companies of the Seaforth Highlanders of Canada which crossed the Savio river, in northern Italy, and seized a narrow bridgehead. Supporting heavy armament was expected to cross the river shortly, but rain caused the level to rise some six feet and turn into a raging torrent. The Canadian armour was unable to cross.
In the early hours of October 22, the Seaforth's right flank came under attack from three Panther tanks of the German 26th Panzer Division. Smith, armed with a PIAT anti-tank weapon, and some distance away, gathered up his team, crossed an open field and took up a position with a colleague in a ditch alongside the road on which the tanks were advancing. The PIAT was a highly effective "tank-stopper", but only at close range. To be certain of knocking out the tank, Smith knew he had to be as close as possible to his target.
As the Panther advanced, its machine guns raking the position with fire, Smith's companion was hit and badly wounded. Undaunted, Smith stood up and, at a range of about 30ft, fired his PIAT, stopping the Panther in its tracks. A group of some 10 German soldiers leapt from the tank and attacked Smith's position with machinegun fire and grenades. Smith immediately broke from the cover of the ditch on to the road, shooting four of the enemy and driving the remainder back.
A second Panther, sited beyond range of the PIAT, now attacked and a second party of German troops opened fire. In the ensuing fight Smith managed not only to hold the Germans at bay but also to protect his wounded comrade. Like the first assault, the second failed as the German troops withdraw in the face of Smith's sustained fire and determined courage.
Inspired by Smith's example, the Seaforth company, still without heavy support, managed to knock out a second tank, two self-propelled guns, a half-track and a scout car. But a third Panther, out of range, continued to rake Smith's position with heavy fire. Despite this, Smith managed to get his wounded comrade into cover and summon medical aid. That done, he returned to his position to continue the fight. Smith received his VC from George VI at an investiture held at Buckingham Palace in December 1944.
Smith, one of two sons of a teamster father, was born in New Westminster, British Columbia. Educated at Herbert Spencer elementary school and the TJ Trapp technical school, he excelled at sports, particularly sprinting, basketball, football and lacrosse. He later worked as a building contractor before enlisting in March 1940. That July, he sailed for England, where he spent the next three years training.
In July 1943, the Seaforths, part of the Canadian Infantry Division, took part in the invasion of Sicily. In the fierce fighting that followed, Smith was twice wounded. By March 1945, the Seaforths were in Holland, but Smith, sent home to Canada on leave before his regiment went into action, missed that stage of the fighting.
Following his demobilisation, Smith worked for a photographic studio but, in 1951, re-enlisted, this time in the regular army, as a sergeant. Somewhat to his dismay, he missed the fighting in Korea but, while not always happy with the role of the peacetime soldier, remained in the army until his retirement in 1964. For some years after that Smith and his wife ran a successful travel agency in New Westminster.
Smith was quite clear that soldiering was not a branch of the social services or a welfare organisation. When recalling his actions at the Savio river crossing he did not mince his words. "I don't take prisoners. Period. I'm not paid to take prisoners. I'm paid to kill them. That's the way it is."
Fond of a cigar and good Scotch, Smith was a genial man and great company. He enjoyed life and lived it to the full, but also gave unstinting service to various Canadian ex-servicemen's organisations. His contribution was recognised in 1996, when he was appointed a member of the Order of Canada. He also received the Canadian Forces Decoration. A staunch supporter of the Victoria Cross and George Cross Association, he was a regular and welcome visitor to this country. Smith was the last surviving Canadian holder of the VC, and his death leaves only 13 living holders in the world.
His wife, Esther, whom he married in 1947, died in 1996. Their daughter and son survive him.
Ernest Alvia "Smokey" Smith, soldier, born May 3 1914; died August 3 2005