José María Ruiz-Mateos, businessman - obituary

Spanish sherry tycoon and serial fraudster who was said to have bought three banks in a single day.
José María Ruiz-Mateos, who has died aged 84, was a colourful Spanish businessman who presided over the scandalous collapse of not one, but two business empires.
He was born on April 11 1931 in Ronda, Andalucia, and began his career in the 1950s working in his family's sherry business in Jerez. As the Franco regime began to liberalise the economy, Ruiz-Mateos, a member of the rigorously Catholic society Opus Dei, allegedly used his contacts in the movement and in the political and financial establishment to build up the firm. Its consequent growth was so impressive that many could not quite believe what they were seeing.
In the late 1950s Ruiz-Mateos secured a 99-year contract to supply Harveys of Bristol with all their sherry requirements. With help from the banks, he then began buying up other bodegas and in 1961 established a holding company called Rumasa. Over the next 20 years Ruiz-Mateos acquired substantial wine interests outside Jerez, as well as in banking, construction, retailing, tourism, chemicals and textiles. On one occasion Rumasa is said to have bought three banks in a single day.
By the late 1970s Rumasa had become Spain's leading business group with some 700 subsidiaries, including 18 banks, which were used to provide more and more credit to other companies in the group. Its hexagonal "busy bee" logo was ubiquitous.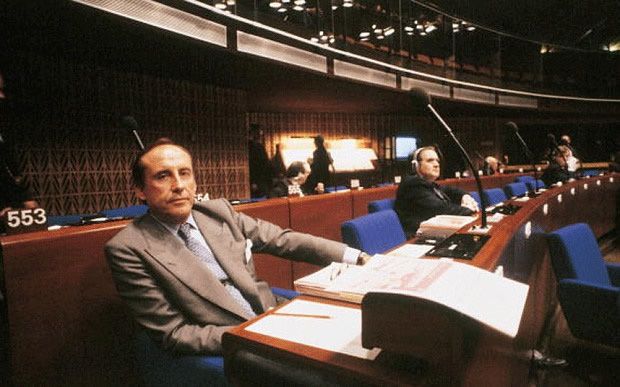 From 1978, however, the Bank of Spain began investigating Rumasa, noting "the dangerous concentration of its banks' risk in its own companies and an excess of investment above orthodox levels". Ruiz-Mateos was told to disinvest, but he refused and the group continued to grow, acquiring the Galerías Preciados department store, the hotel chain Hotasa, and even the luxury brand Loewe.
In 1983 the banking industry's Deposit Guarantee Fund requested audits of Rumasa banks, to be completed within four months. When Ruiz-Mateos refused, the new Socialist government of Felipe González expropriated the conglomerate. According to government sources Rumasa had been run using a labyrinthine double accounting system which meant that, although it was showing paper profits, in fact it was running at a substantial loss, with an overall financial black hole of more than 111 billion pesetas and owing 20 billion pesetas in taxes.
Although the expropriation was backed by business leaders, Spain's political Right took issue with it and appealed all the way up to the constitutional court, which threw out the appeal, a decision seen as a political triumph for González.
After the expropriation, Ruiz-Mateos fled to London and later to West Germany, where he was arrested and jailed on charges of currency smuggling, fraud and tax evasion. Extradited to Spain, he was first put under house arrest and later in prison, after saying he could not come up with the 300 million peseta bail. He was freed for lack of proof of fraud in 1986.
For the next few years, as the Rumasa companies were sold back to the private sector, there was endless litigation as Ruiz-Mateos, who blamed his downfall on enemies in Opus Dei (from which he was said to have been expelled in 1986) as well as ministers, counterclaimed against the government, seeking compensation.
At one court case he dressed as Superman. On another occasion he tried to punch the minister of economy, Miguel Boyer, the man behind the expropriation. In 1989 he formed his own political party, the Ruiz-Mateos Group, campaigning on the platform "Let's get out of Europe"; he was elected to the European Parliament, serving until 1994.
In the early 1990s he bought a house opposite a Madrid villa being constructed by Felipe González, set up a powerful telescope on the balcony and vowed to watch the prime minister's every move. He also appeared on The Truth Machine, a popular television show in which he was hooked up to a lie detector, promising to "tell so much truth, you'll need three machines". Yet doubts persisted, so much so that when he claimed to have been the victim of a drive-by assassination attempt in 1993, many disbelieved him – although forensic evidence later confirmed his account.
Ruiz-Mateos was eventually, and controversially, absolved by the Supreme Court in 1997, though he was refused the compensation he had demanded.
Somehow he had managed to safeguard assets which he used to rebuild his business empire, beginning by founding a new company, Nueva Rumasa, in 1990, acquiring major interests in the food, drink and hotel sectors and buying the Madrid soccer club Rayo Vallecano. When the financial crisis hit in 2008, however, Nueva Rumasa found itself struggling with massive debts and in 2009 it launched a splashy advertising campaign to lure investors with high-yielding promissory notes – payments on which were not honoured – using the proceedings to cancel debt and (so it was claimed by investigators), support the Ruiz-Mateos family's lavish lifestyle.
In 2011, shortly before the firm collapsed with debts of €700 million, the Spanish newspaper El Pais found itself unable to understand "how the captain of a corporate and financial shipwreck of the magnitude of the old Rumasa has been able to obtain bank financing to once again build a house of cards which now threatens to collapse, sweeping away more than 9,000 jobs with it; nor is it easy to imagine why some investors have accepted his promissory notes and calls for capital injections, as if the precedent of 1983 did not exist."
In 2012 Ruiz-Mateos was arrested and spent time in prison on remand, essentially accused of operating a vast pyramid scheme. At the time of his death he was facing several court cases for fraud, punishable insolvency and defrauding the public treasury, cases in which several of his sons were also implicated.
In 1958 he married María Teresa Rivero, with whom he had six sons and seven daughters.
José María Ruiz-Mateos, born April 11 1931, died September 7 2015