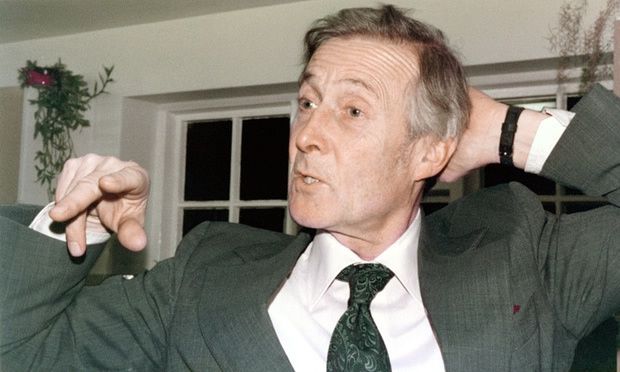 Between 1943 and 1945, my father, James Arnold, who has died aged 92, flew 49 second world war missions over Germany with RAF Squadron 107, many of them under heavy enemy fire. During one return, his pilot, John ("Mad") Ballachey, a Canadian, suddenly disappeared into the well of the cockpit of their Mosquito; the metal bolts holding his seat had sheared off. Fortunately Dad managed to pull him back up. On another occasion, in pitch darkness and thick fog, Ballachey suddenly announced, while they were still over the Channel, that they were almost out of fuel. After a few minutes, Dad, praying his calculations were correct, said: "If you go down now you should see the lights of [RAF] Lasham". They landed safely.
None of these missions affected Dad as much as the battle of Arnhem in 1944. He told us that the US general Dwight Eisenhower himself had directed 107 to carry pistols in case of capture. Many of the close friends he made died, but he never forgot them.
James was born in London, within the sound of Bow Bells, son of Jack, a fishmonger, and his wife, Amelia. He was educated at Chelsea boys' school. He was not without characteristics often associated with cockneys, including a gift of the gab and self-confidence. As an eight-year-old he made his way alone to the Arsenal ground at Highbury, where he was lifted above the heads of the standing fans so that he could see his football heroes, particularly Alex James, unobstructed.
After leaving school he worked as an office boy at a firm of solicitors in the City; and when collecting the mail from the office upstairs always made a point of stopping for a chat with the young shorthand typist, Margery Tredinnick, who worked there. He was also an RAF cadet, and at the outbreak of the war was earmarked for officer training. He was sent to Nova Scotia, where he qualified as a navigator, and was posted as a flight lieutenant to RAF Lasham, joining Squadron 107.
After demob, in 1948 he achieved a long-held wish when he married Margery, and they set up home together, initially in West Sussex. James became a teacher, then headteacher at St Nicholas primary school in Stevenage, Hertfordshire, where our family settled. He worked and played hard, taking part in singing and amateur dramatics. His performance as Fagin in Oliver! was held by some to outshine even Ron Moody's.
His philosophy was that every child had something important to offer; the teacher's job was to find it. His schools were always full of music, laughter and fun. His retirement was often blessed with visits from students he had helped to believe in themselves.
His son Richard died in 1973. James is survived by Margery, four children, Tim, Nicola, Rebecca and me, 12 grandchildren and four great-grandchildren.