Nancy Reagan, the Happiest First Lady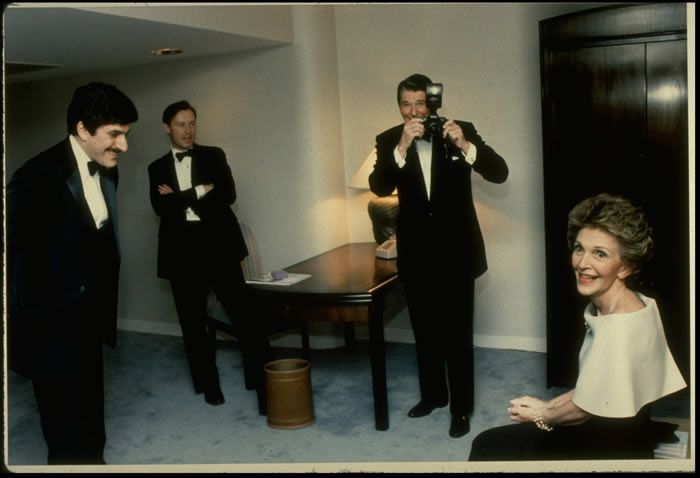 FOR more than two hours, Nancy Reagan sat behind the artist Everett Raymond Kinstler as he painted her husband's portrait in his New York City studio shortly after the Reagans left the White House. Mr. Kinstler, who had done several portraits of President Gerald Ford, was unnerved by Mrs. Reagan's intensity. "It was terribly distracting," he recalled. When he asked if she would wait in the living room, Mrs. Reagan replied, unmoved, "No, I really would like to stay here while you work."
That was classic Nancy Reagan. Since her death on Sunday, she has been remembered as a powerful and stylish first lady. But she was much more than that. Many ambitious women have filled the role of presidential spouse. Mrs. Reagan understood better than any of them how to use the position to control her husband's image and legacy.
The title of first lady comes with a thorny combination of intense scrutiny, an incredible platform and no official mandate. We have traditionally seen the first lady as the embodiment of American womanhood, but that view is on its way out; largely thanks to Hillary Clinton, we're now more likely to see the first union as a political alliance between equals.
Many first ladies have been unhappy in the White House. Martha Washington called herself a "state prisoner." Jacqueline Kennedy proclaimed: "The one thing I do not want to be called is 'first lady.' It sounds like a saddle horse." And Michelle Obama says that living in the White House is like living in a "really nice prison." Mrs. Reagan, however, was unabashedly proud of her hard-won position and even put "first lady" as her occupation on her income tax forms.
She was crucial to her husband's electoral success: cultivating wealthy California friends who could aid his first campaign for governor in the 1960s and eventually get him to the White House. "She was the human resources department," says a Reagan political consultant, Stuart Spencer, because she helped decide who was in her husband's cabinet.
Mrs. Reagan was content because she defined the role in a uniquely ambitious — and covert — way. There was no West Wing office like the one Mrs. Clinton had, nor sitting in on cabinet meetings like Rosalynn Carter. Mrs. Reagan insisted that it would have been "embarrassing" to attend such high-level meetings. But in many ways she wielded as much power as either of these women. "I talk to people, they tell me things. And if something is about to become a problem I'm not above calling a staff person and asking about it," Mrs. Reagan said in a 1987 speech. "I'm a woman who loves her husband and I make no apologies for looking out for his personal and political welfare."
President Reagan was a ready recipient of her steady guidance, and she performed the tasks, including firing underlings, which he found distasteful. Her love and loyalty were returned. On their anniversary in 1981 the president left her a note, telling her that he "scrooches down" at his desk in the Oval Office so he could see her window.
Susan Porter Rose, who was Barbara Bush's chief of staff when George H. W. Bush was vice president, remembers seeing the Reagans after an event and watching as the elevator door opened to carry the first lady to the second-floor residence. "He was going to go back to the Oval, and he just put his hand on top of hers and looked at her and said, 'I so wish I didn't have to go back to the office.' "
Mrs. Reagan's image as an imperial first lady — she was referred to contemptuously in the press as "Queen Nancy" — was amplified by her more than $200,000 purchase of a new set of china (through private donations) and not helped by revelations that she spent $25,000 on her inaugural wardrobe and $10,000 on a single gown.
But this wasn't mere vanity. Mrs. Reagan understood the physical power of the executive mansion better than any first lady before her, with the exception of Mrs. Kennedy. Before the historic visit of Mikhail Gorbachev and his wife, Raisa, in 1987, Mrs. Reagan and her social secretary made a visit to the flower shop in the White House basement. The first lady gave simple instructions to "blow" Mrs. Gorbachev's "socks off."
To write of Mrs. Reagan's outsized influence on her husband - of which Ms. Brower concedes President Reagan was a "ready recipient" -...
What a regressive and antiquated article! I'm supposed to believe that she was the "happiest" first lady because she chose to remain behind...
"Many ambitious women have filled the role of presidential spouse. Mrs. Reagan understood better than any of them how to use the position to...
"So we did," recalled a florist, Ronn Payne. "We changed every single flower in the house three times in one day: for the morning arrival, for the afternoon lunch, and for the state dinner. Every single flower, three times, every one."
Mrs. Reagan was a self-proclaimed worrier, and her concerns became all-consuming after the attempt on her husband's life months into his presidency. She referred to the period after the assassination attempt as "the lost year." She insisted that her husband go to the residence to take an afternoon nap. If she found him at his desk working, she would tell him: "Horizontal. I want you horizontal."
As first lady she built walls around herself so that she could get the job done. But she was heartbroken when her favorite White House doorman died, and she was deeply saddened when the actress Katharine Hepburn ended their friendship because of their political differences.
Few people could intimidate Nancy Reagan, a woman who reveled in the power of her position, but during the portrait sitting with Mr. Kinstler, Mrs. Reagan noticed several paintings of Hepburn on the walls of his studio and reminisced about her old friend. When Mr. Kinstler picked up the phone and got Hepburn on the line, Mrs. Reagan suddenly became shy and pushed the receiver away. "No, you talk to her first," she said.
Kate Andersen Brower is the author of "The Residence: Inside the Private World of the White House" and the forthcoming book "First Women: The Grace and Power of America's Modern First Ladies."