Longtime Press-Telegram columnist Tom Hennessy dies at 80

Tom Hennessy, a former columnist and longtime fixture at the Press-Telegram whose deeply personal anecdotes and colorful tales about Long Beach sparked morning conversations for nearly three decades, died from heart complications Saturday. He was 80.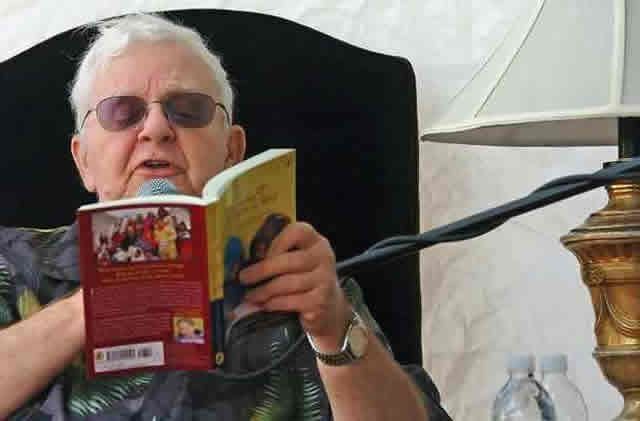 Press-Telegram columnist Tom Hennessy in 2009 helps kick off Long Beach Reads One Book week in Belmont Shore. Hennessy died on Saturday, April 2, 2016. He was 80
Hennessy's death was met with sadness both by colleagues and those he covered during his 27-year-career at the Press-Telegram, which began in 1980. He produced four columns a week during that time, but continued to write columns on and off until 2013.
Rich Archbold, public editor of the Press-Telegram, hired Hennessy when the proud Irishman, who was 44 at the time, looked west after newspaper stints that led to the sports editor gig at the Detroit Free Press.
"Tom had a love affair with Press-Telegram readers that lasted for more than 30 years," Archbold said Saturday. "His Irish wit and charm came through in everything he wrote.
"Readers always came first to him. He really was Mr. Long Beach, a city treasure. He will be sorely missed."
Thomas Anthony Hennessy was born Feb. 5, 1936, in Red Bank, New Jersey, to William and Etta Hennessy. He took his first editor job at age 7. Actually, he created the job for himself when he published the "Hennessy Family News" one day, with a story headlined "Mom and Dad in Big Fight."
The "paper" was delivered to everyone in the neighborhood. Hennessy's "subscribers" got to read a he-said, she-said about the family budget.
Hennessy studied at the United States Army Language School in Monterey. America was ratcheting up its efforts in the Cold War, and the language school had recently expanded to include instructors from around the world.
Russian became the largest language program, and Hennessy served in the the U.S. Army Security Agency as a Russian translator from 1954 to 1958, before briefly working as a banana inspector in Florida.
As a newly married man, Hennessy went to Wall Street to learn how to become a public trader. But he couldn't shake the journalism bug. Hennessy visited a library and found the addresses of newspapers throughout the New York area.
The Bergen Record in New Jersey offered him a job in circulation, but Hennessy countered with an offer to work two weeks as a reporter, on a trial basis. He wrote for more than two years at the newspaper before moving on to the Pittsburgh Post-Gazette in 1962.
Hennessy later started an alternative weekly newspaper called the Pittsburgh Forum, which would ultimately fold under financial pressure, and then served for five years as press secretary to the mayor of Pittsburgh.
In 1975, Hennessy took a reporting job at the Detroit Free Press, covering environmental and social welfare issues, in addition to writing a weekly environmental column. He climbed to the rank of sports editor after stints as an assistant city editor, acting business editor and a government editor.
In Hennessy lore, his time at the Detroit Free Press came to an end when an executive editor called him in and said "One of us is leaving. Guess which one?"
He fielded offers from newspapers across the country, but Hennessy headed to Long Beach because the Press-Telegram offered him a job as a columnist, which he always wanted to be.
Outgoing columnist Frank Anderson on Sept. 12, 1980, introduced Press-Telegram readers to Hennessy as the "handsome Irish lad fresh in from the sports editorship of the Detroit Free Press" whose charm and wit were "equaled only by his considerable journalistic talents."
His wife, Debbie Hennessy, was known throughout his columns — and to readers — as "The Duchess." She was by his side when he died.
Readers would come to know Hennessy as "Mr. Long Beach," as the Press-Telegram's lead columnist and tireless writer chronicled city life with pieces that were heartwarming or hard-hitting, depending on the subject matter.
"He was one of the greatest men I was blessed to know," said Jeff Burroughs, a former Major League Baseball player with the Texas Rangers who co-wrote a book with Hennessy on the Long Beach Little League World Champions called "The Little Team That Could."
"He was so unique and smart and so funny," Burroughs said Saturday. "He would always bring a smile to your face and was a genius to work with."
Hennessy ran an ugly dog contest for charity, and spearheaded campaigns to help veterans. He also started the Press-Telegram's Send-a-Kid-to-Camp fund, which has raised more than $1 million and sent hundreds of youngsters to summer camps in local mountains.
"Tom was a Long Beach institution, not just well-known in the newspaper world, but in the entire community through all the work he did," Mayor Robert Garcia said Saturday. "We're going to miss him."
Hennessy could weave a tale about his dogs, grandparenthood, his first baseball glove or trying to lose weight, then turnaround and expose local corruption, wax about presidential politics and criticize Veterans Day Parade organizers for banning veterans who disagreed with war efforts.
His career took him to Nicaragua, where he wrote about social unrest. And to the South Pacific, where he interviewed veterans for his World War II series. Hennessy also documented the aftermath of the 1986 Cerritos airplane crash.
A big fan of the Notre Dame Fighting Irish, Hennessy could pick a fight with readers and politicians alike, but it was often his compassion for people that cut deep into the hearts of those who savored his columns. He wrote about recovering drug addicts, a dishwasher who scrubbed pots and pans for 37 years, and a kitten whose death attracted 40 people to its funeral.
Hennessy revealed the dark times and determination in his family, when his son, Dan, committed suicide in 2004. His series, Suicide: Out of the Darkness, netted sales from reprints, and the money was donated to the Suicide Prevention Action Network.
Former mayors Beverly O'Neill and Bob Foster also expressed sadness at the loss Saturday.
"Tom was a great asset and friend to our city and to the multitude of fans eagerly awaiting his column," O'Neill said. "He brought astute analysis and observations about our daily lives in a humanitarian way."
Foster said it is difficult to come up with words to describe the loss of Hennessy, an "institution."
"Tom, through his writing and love of Long Beach, illustrated and illuminated the small-town feel of our large city," he said. "His gift was to make us feel knitted together into a larger fabric. ... I will miss Tom forever, but I will be forever grateful for what he gave to all of us."
When Hennessy retired in 2007, he described Long Beach as "a fun community, a very kind community and sometimes an absolutely crazy place, and the craziest people are, of course, the politicians."
He suffered a small stroke just before he retired, but for months prior had struggled with the decision to leave full-time journalism. Hennessy went on to write occasional columns for the Press-Telegram, but stopped in 2013 when he suffered another small stroke, endured heart problems and underwent surgery to replace an aortic valve.
Hennessy was in and out of hospitals and tried physical therapy so he could walk again. He entered hospice in late March.
He was preceded in death by his son Dan and his sister, Alyce Guido. In addition to his wife, Debbie, Hennessy is survived by his former wife, Jeanne Hennessy; brother Bud Hennessy (Eileen); son John Tien (Tracy); daughters, Jackie Tien (David Levin), Patty Tomashefsky (Scott), Diana Rousseau (Randy); six grandsons and four granddaughters.
Funeral services will be private, but a public memorial is being planned.