Nazi Heinrich Himmler's Lost Diaries Show How He Mixed Family With Mass Murder

Entries reveal calls to family members — and orders for executions.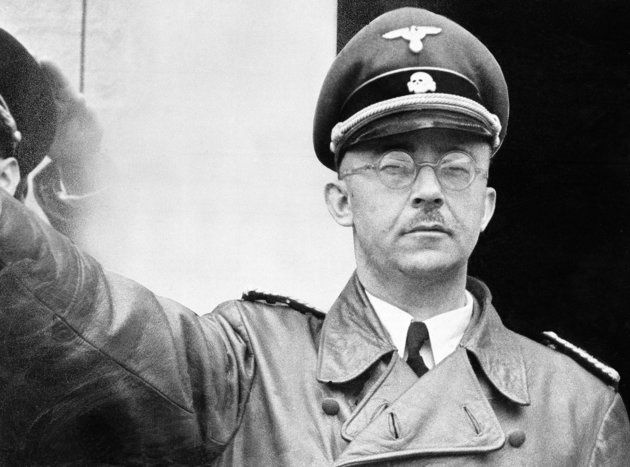 Heinrich Himmler, head of Nazi Germany's SS and one of the architects of the Holocaust, seen in an undated file photo
Dinner parties... phone calls with his daughter... massage sessions... and orders for mass murder.
Newly uncovered diary pages show in chilling detail how Heinrich Himmler, head of the SS in Nazi Germany, plotted some of the worst atrocities ever committed while also finding time for his family.
Although many of Himmler's diary pages were previously discovered, some 1,000 pages missing for more than 70 years were recently found in an archive in Moscow where they were listed only as "diary," according to the Jewish Chronicle.
The diaries are being published by Germany's Bild newspaper, with many of the details translated in the British press.
In one entry, reported by The Sun, Himmler referred to a "comradely" lunch at the Dachau concentration camp, scene of 41,500 murders. In another, he "took a snack in the cafe at the SS casino" at Buchenwald, where 56,000 were killed.
The paper reported that Himmler often began his days with two-hour massage sessions, and called home to speak with his wife, Margarete, and daughter, Gudrun "Puppi" Burwitz nearly every day. That daughter, now 86, has remained involved in neo-Nazi causes.
"The most interesting thing for me is this combination of doting father and cold-blooded killer," Damian Imoehl, the journalist who helped to track down the diaries for Bild, told the Times of London.
"He was very careful about his wife and daughter, as well as his affair with his secretary. He takes care of his comrades and friends," Imoehl said. "Then there is the man of horror. One day he starts with breakfast and a massage from his personal doctor, then he rings up his wife and daughter in the south of Germany and after that he decides to have 10 men killed or visits a concentration camp."
Some of the greatest atrocities of World War II were given only passing reference in the diary's pages.
"Tour of SS-Sonderkommando" was how Himmler listed a trip to see diesel engines being used to gas prisoners to death at the Sobibor death camp, according to The Sun. Because there were no Jewish prisoners available to kill, 400 Jewish women and girls were rounded up from the nearby city of Lublin and murdered in the gas chamber.
After the mass killing, Himmler had a "banquet" with SS officers.
One of the most notorious moments of the war was listed only as "17:30 speech to SS officers." That referred to a speech Himmler delivered in Posen in which he referenced the "small matter" of the "extermination of the Jewish people."