Reaction to Toronto Star.jpg's death underscores divide over Israeli-Palestinian conflict

As the West pays tribute to statesman, many Arabs recall a legacy of destruction. Obituaries across the Middle East describe Peres as playing a central role in Israeli assaults against Palestinians.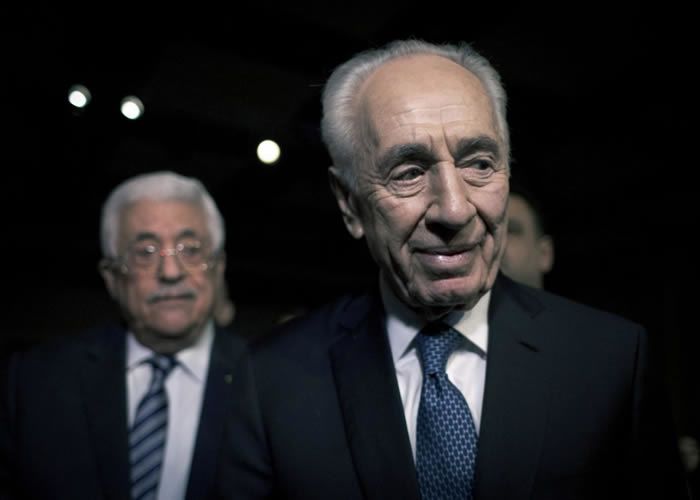 Former Israeli president Shimon Peres, right, and Palestinian President Mahmoud Abbas attend the World Economic Forum in Jordan on May 22, 2015. While Abbas expressed his condolences after Peres's passing, many across the Arab world recalled the late Israeli statesman in much harsher terms
CAIRO—While Western leaders mourned the death of Israeli statesman and Nobel laureate Shimon Peres, many in the Arab world reacted with scorn, viewing him as a key architect of destructive Israeli policies toward Palestinians.
In Saudi Arabia's Sabq newspaper, the headline of his obituary read, "President of Israeli Colonialism Peres Dies."
On the Qatar-based Al Jazeera network's Arabic-language website, Peres was described as: "The butcher of Qana who was awarded the Nobel Prize for Peace" — a reference to the Israeli bombardment that killed scores of civilians in the village of Qana during the 1996 war in Lebanon. Peres was prime minister at the time.
The starkly different reactions to Peres's death underscored the deep divides over the Israeli-Palestinian conflict and the plight of the Palestinian people, as well as the wide gulf in perceptions between the West and Arab countries.
Even as U.S. President Obama and other leaders paid tribute to his legacy as a peacemaker, obituaries across the Middle East on Wednesday described Peres as playing a central role in Israeli assaults against Palestinians, dispossessing them of their lands and rights.
"To the West, Shimon Peres is the 'Nobel laureate' and the 'tireless dove' who has been widely respected for his 'achievements' regarding the peace in the Middle East," said an obituary on the website of Al-Manar, the television station of Hezbollah, the Lebanese Shiite Islamist militant group and political party. "However, behind this image Peres, who died on Wednesday, represents the real face of the bloody and colonial policies adopted by the Zionist regime."
The vitriol also appeared louder and more widespread than after the 1996 assassination of Israeli Prime Minister Yitzhak Rabin. Rabin shared the Nobel Peace Prize with Peres and Palestinian leader Yasser Arafat following the Oslo peace accord in 1994. Statesmen from nine Muslim countries, including Egypt, Jordan, Turkey and Qatar, attended Rabin's funeral, which was widely seen as a tribute to his efforts to build peace in the region.
Dignitaries included Egypt's then-president, Hosni Mubarak, and Jordan's King Hussein. Both nations had signed peace accords with Israel.
As of Wednesday evening, the number of Arab leaders planning to attend Peres's funeral, scheduled for Friday, remained unclear.
Peres was a more polarizing figure in the Arab world than Rabin. In 2009, Turkish Prime Minister Recep Tayyip Erdogan, now the country's president, famously stormed out of a World Economic Forum debate after verbally clashing with Peres, then the Israeli president, over Israel's offensive against the Gaza Strip. Critics have long condemned Peres for his advocacy of a blockade of Gaza.
Now, tensions between Israelis and Palestinians are deepening again, fuelled by a spate of deadly stabbings by Palestinians over the past year against a backdrop of growing frustration over peace talks that have all but faded.
In other Arab media, Peres was criticized for his drive to build up Israel's nuclear weapons programs and his support of Israeli settlements in the West Bank, occupied by Israel after the 1967 war.
"Peres' name has always been linked to settler colonialism, forced displacement of Palestinians from the West Bank, so much that he became known as 'the founder of settlements,' " wrote Akhbaar24, a leading Saudi website.
Still, Palestinians had mixed reactions to Peres' death.
In a tweet in Arabic, Palestinian President Mahmoud Abbas described his passing as "a heavy loss for all humanity and for peace in the region." He also reportedly sent a condolence letter to the Peres family, according to WAFA, the official Palestinian news agency.
Some in the Arab world dismissed Abbas's condolences on social media. Referring to Abbas's comments, Abdulkhaleq Abdullah, an adviser to Abu Dhabi's royal court, tweeted: "Might be a loss to you, but not a loss to humanity, peace, and surely not a loss to the Palestinian People. He was a Zionist and a criminal."
A spokesman for the Palestinian militant group Hamas described Peres as one of "the Israeli occupation state's founders that was established on Palestinian land, which caused the displacement of millions of Palestinians worldwide until now."
"In the Palestinian mind, Peres is connected to massacres conducted by the (Israeli) occupation against the Palestinian people," said Hazem Qasem, the Hamas spokesman in Gaza. "Hamas feels sorry that Peres died before he is held accountable according to international justice for conducting crimes against humanity like the Qana massacre."
Predictably, Israel's other core enemies also expressed scorn for Peres.
The website of Iran's state-run Press TV carried a story noting Peres' death and illustrated with photos of a magazine cover that described the former Israeli leader as a "war criminal" and images from Israeli attacks in Gaza in 2014 and the war in Lebanon in 1996.