Ananias Mathe escaped as warders watched soccer

On the night that South Africa's most notorious criminal became the first person to ever escape from C-Max maximum security prison in Pretoria warders were watching a double-header soccer match on television.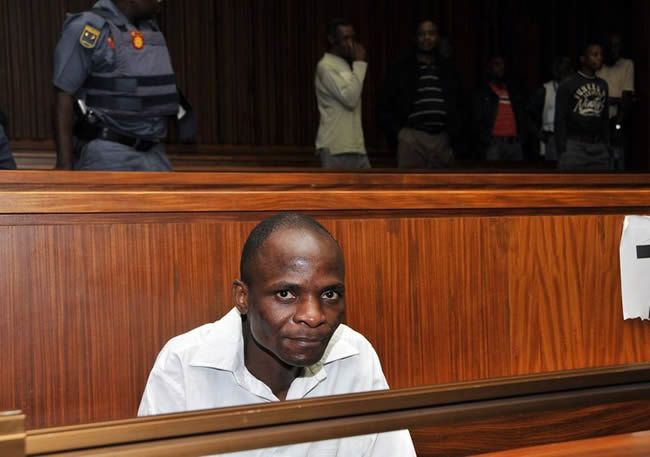 Caption: Ananias Mathe in the Johannesburg high court. He pleaded guilty to two charges of escaping from custody but pleaded not guilty to several charges of rape, robbery, theft and attempted murder
A labour dispute involving one of six warders who were dismissed over the incident' has revealed details of what happened in the hours leading up to the audacious 2006 escape into darkness by Ananias Mathe.
Mozambican-born Mathe's behaviour was described by a judge as "vicious and abnormal" when he was convicted of 64 charges' including aggravated robbery' rape' indecent assault' attempted murder and housebreaking. He was jailed for 54 years in 2009.
Warder Paulina Phahobe was dismissed for dereliction of duty after being charged with failing to detect and prevent the escape.
But now' thanks to several blunders in the way her dismissal was subsequently handled after nearly a decade' the Labour Court in Johannesburg has ruled that Phahobe be "reinstated into her position as a correctional services officer at C-Max Correctional Centre in Pretoria with immediate effect".
Mathe dramatically evaded capture after his escape. Police were hot on his heels for two weeks. He drove past police near Boksburg on a motorcycle he had just stolen' but without a helmet' reported the Sunday Times.
"They saw him going down the highway and shot at him' but missed. He fell off the bike' but got back on and drove away at a hell of a speed'" said André Snyman' head of the community crime-fighting organisation eBlockwatch.
He was eventually shot several times and arrested after being located via the tracking device of a car that he had stolen' in December 2006.
The Labour Court judgment revealed details about what was going on inside the country's toughest prison in the hours leading up to his escape — evidence that contributed towards the court ruling that the dismissal of Phahobe was in fact unfair. They include:
- C-Max was' at the time' understaffed and only two of five inmate observation towers – one of them occupied by Phahobe – were manned on the night of the escape.
- The catwalk' the area from which Mathe escaped' was not regularly patrolled.
- Correctional Services staff were watching a double-header soccer match that evening and heavy rain had caused a noisy environment in the prison.
The Labour Court found that an arbitrator who initially declared her dismissal to be fair' had in fact relied on hearsay evidence.
The dramatic escape caused red faces within the department and former Correctional Services Minister Ngconde Balfour appointed a team headed by agents from the then National Intelligence Agency to investigate.
Mathe's reign of terror as a criminal' and escapes from custody' spawned a documentary titled' Houdini Man — The life and crimes of Ananias Mathe' by Sabido Productions.