Barbara Bush married quickly to make sure her grandfather, George H.W., could attend

Barbara Bush has a sweet reason she got married to Craig Louis Coyne just five weeks after getting engaged.
The former first daughter revealed in a new interview with People magazine published on Wednesday that she wanted to ensure her 94-year-old grandfather, former President George H.W., was able to attend.
"We actually would have gotten married the next week if we could have," Barbara — who got engaged on August 25 at the same spot her grandfather proposed to her grandmother, former first lady Barbara Bush 75 years ago — told the outlet.
"We just thought, let's try to do it soon," she continued. "We knew we wanted to be married — we'd already made that decision — so we didn't need months of an engagement."
For Barbara, it was especially important to have her grandfather there following the sudden death of her grandmother, who died in April at age 92.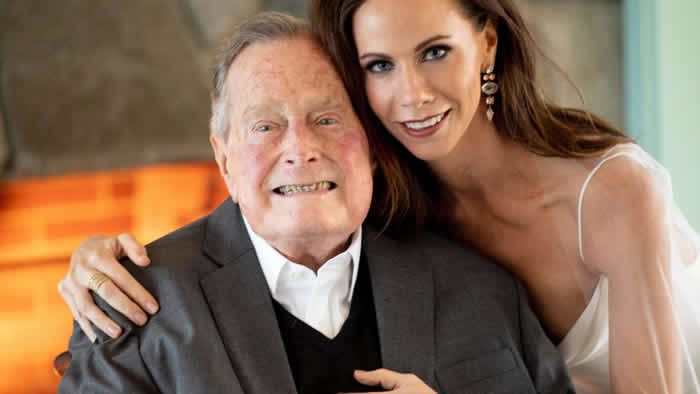 Former president George H. W. Bush and his granddaughter Barbara Bush at her October 7 wedding. (Allison V. Smith)
"We weren't expecting that," said Barbara.
"Craig didn't get to meet my grandmother. I thought there would be plenty of time for that to happen."
On Sunday, the couple said "I do" in a private ceremony at Walker's Point in Kennebunkport, Maine, in front of family, according to a statement from the office of her father, former President George W. Bush.
Per People magazine, Barbara, 36, and the Los Angeles-based screenwriter knew they wanted to have their wedding in Maine after they spent some quality time there with her grandfather, his first visit without his wife, over the summer.
"It was just us three — quiet and beautiful," Barbara said. "I would read to him. While he napped, Craig and I would go on walks, then dress my grandfather up and take him out for martinis and oysters."
According to a press release, both Barbara's grandfather and father escorted her down the aisle. Her aunt, Dorothy Bush Koch, officiated the ceremony.
As for her something borrowed? Barbara, who wore a custom ivory silk crepe Vera Wang gown, told People that it was a bracelet her grandfather gave her late grandmother on their 70th anniversary. Her something blue was a pair of earrings from her sister Jenna.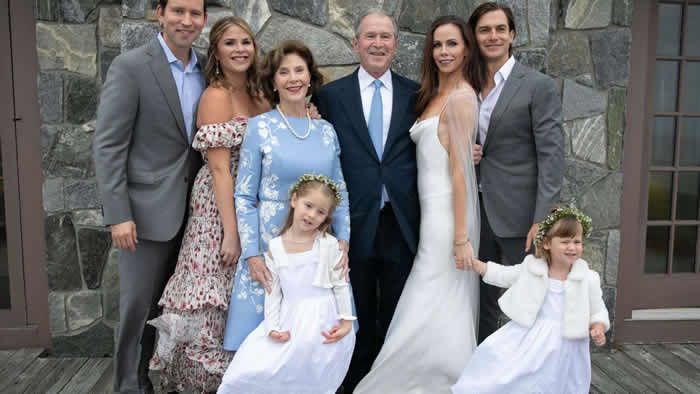 Top row from l-r: Henry Hager, Jenna Bush, Laura Bush, George W. Bush, Barbara Bush, Craig Coyne, Barbara Bush and Craig Coyne and on the bottom, Margaret Hager and Poppy Louise Hager at Barbara and Craig's wedding on October 7. (Paul Morse)
"That's the one thing about waiting," Barbara tells People. "You can have this great career and this great life. But, of course, the older you get, you lose people that you love."