52 years after last visit, JFK's Arizona ties echo
In life and in death, President John F. Kennedy played a big role in shaping Arizona's growth and left a mark on the legacies of some of its biggest political personalities.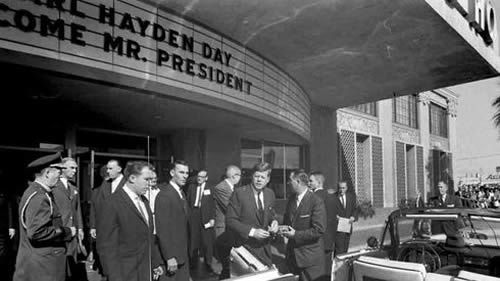 President John F. Kennedy (center) visited Phoenix's Hotel Westward Ho on this date in 1961 to help celebrate Sen. Carl Hayden's 50 years in Congress. It was Kennedy's final visit to Arizona.
Kennedy, who was assassinated 50 years ago this coming Friday, made multiple political trips to Arizona, including as early as February 1958, when he was a rising Democratic U.S. senator from Massachusetts. He raised money in Tucson, visited the Legislature and sparred with the reporters of the Phoenix Press Club over whether he intended to run for the White House.

He would come to the state again in April 1960; November 1960; and 52 years ago today, on Nov. 17, 1961.

Kennedy tapped U.S. Rep. Stewart Udall, D-Ariz., as his Interior secretary, making Udall the first Arizonan to serve in a Cabinet position.

Looking back at Kennedy's relationship with Arizona, it is clear he was acutely tuned into the Central Arizona Project, the state's top — and bipartisan — political priority of the mid-20th century. CAP, which Congress approved in 1968, is the 336-mile network of canals and pumping stations that delivers Colorado River water to Phoenix and Tucson.

Kennedy won the presidency in 1960 as tensions between Arizona and California over Colorado River water rights were peaking.

During a Nov. 3, 1960, campaign appearance outside the Hotel Westward Ho in Phoenix, Kennedy blasted Vice President Richard Nixon, his Republican rival, and the GOP for opposing new reclamation projects.

"What have the Republicans done for Arizona?" Kennedy asked the thousands who had gathered on the hotel's south side, according to the American Presidency Project's online transcript of his remarks. "What have the Republicans ever done for the nation compared to the progress to which we are committed, the kind of progress which (past Democratic Presidents) Woodrow Wilson and Franklin Roosevelt provided in their time, which makes it possible now for Arizona to prosper."

U.S. Sen. Barry Goldwater, R-Ariz., offered a rebuttal, saying if Kennedy would "study the congressional record," he would see it was Democrats who abandoned U.S. Sen. Carl Hayden, D-Ariz., over CAP.

Nixon carried Arizona and, narrowly, his home state of California in 1960, but Kennedy and his aides thought California was winnable in 1964.

So, even though the U.S. Supreme Court in 1963 issued a ruling favorable to Arizona, the Kennedy administration, sought to implement a regional water solution for the Southwest. That put the administration at odds with Hayden, the powerful Senate Appropriations Committee chairman who for years had fought for CAP and was not inclined to make concessions to California.

California's political machinations within the Department of the Interior and Congress held up final passage of the CAP legislation, which President Lyndon B. Johnson signed in 1968, said Jack August Jr., an Arizona political historian whose books include "Vision in the Desert: Carl Hayden and Hydropolitics in the American Southwest." Johnson, a former Senate majority leader, had a long relationship with Hayden.

"From 1963 to 1968, after Kennedy had been assassinated, Lyndon Johnson was more favorably disposed toward Hayden," August said.

Both Kennedy and Johnson were at the Hotel Westward Ho 52 years ago today to celebrate Hayden's 50 years

in Congress. The banquet would mark Kennedy's final trip to Arizona.

Hayden, who became Arizona's first U.S. representative upon statehood in 1912, for years was the longest-serving member of Congress. His record of 20,773 days was not broken until 2009. As the most-veteran senator, Hayden was Senate president pro tempore from 1957 until he retired in 1969. The Senate president pro tempore usually is third in line to the presidential succession, but when Kennedy was killed in Dallas on Nov. 22, 1963, and Johnson became president, Hayden moved up a notch behind then-U.S. House Speaker John McCormack, D-Mass.

"He got closer (to becoming president) than any of us, without even seeking it," said U.S. Sen. John McCain, R-Ariz., the 2008 GOP presidential nominee who now holds Hayden's Senate seat.

Kennedy's death also effectively ended another Arizonan's White House ambitions. Goldwater and Kennedy were personal friends, and Goldwater had looked forward to a congenial 1964 presidential campaign. Though he would have been an underdog against Kennedy, Goldwater wrote in his 1988 autobiography that after the assassination, he was convinced the American people would not accept three presidents in such a short period of time.

Johnson trounced Goldwater in a 1964 landslide.

"I'm not saying he could have won, but it (the assassination) certainly doomed his chances," McCain said.

Nowicki is The Republic's national political reporter.