A Critical Look at Simon Wiesenthal: Examining the Legacy of the Nazi Hunter

published 16/09/2010 at 12:05 by Jan Friedmann

Until his death in 2005, Simon Wiesenthal was the world's best-known Nazi hunter. But a new biography finds fault with the way he pursued his quarry and asks whether his "soaring ego" and "tendency to fantasize" actually got in the way of his mission.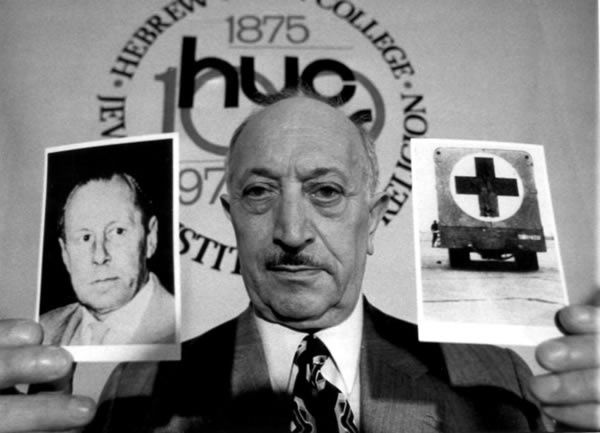 Simon Wiesenthal spent decades after the end of World War II hunting down senior Nazi functionaries who had escaped justice. He became world famous in the process -- not least because he went out of his way to gain publicity.
The Austrian police were searching for Adolf Eichmann. He was rumored to be hiding in a house at Fischerndorf 8 in the central Alpine village of Altaussee.

But the officers accidentally knocked on the wrong door, at Fischerndorf 38. Instead of finding the logistical genius behind the Holocaust at the door, as expected, they came upon Anton Burger, a former colleague of Eichmann who went on to become the commandant of the Theresienstadt concentration camp.

It was a mistake -- but one that turned out to be a stroke of luck.

Simon Wiesenthal, who had tipped off the police, was overjoyed by the inadvertent catch shortly after the end of the war. And of course he was there on the scene, Wiesenthal said in describing the incident, adding that he personally handed Burger over to the US Army after the capture.

The Nazi Hunter's Other Side

Drawing attention to himself and his successes was the Nazi hunter's modus operandi -- and he became world-famous in the process. Having survived the Holocaust himself, Wiesenthal spent the next 60 years ferreting out Nazi war criminals who had managed to disappear.

Indeed, Wiesenthal's tireless search turned him into a celebrity. He was portrayed as a hero in films, American presidents invited him to the White House, and dozens of universities awarded him honorary doctorates.

But there was also another side to the Nazi hunter: He used questionable methods. He took credit for the achievements of others. And, over the years, he succeeded in antagonizing many people who actually shared the same goals.

This side of Wiesenthal is presented in "Simon Wiesenthal: The Life and Legends," a new biography by Tom Segev, an Israeli historian and journalist. Although Segev describes Wiesenthal as a "brave man who launched some breathtaking ventures," he also writes that Wiesenthal had a "soaring ego" and a harmful "tendency to fantasize."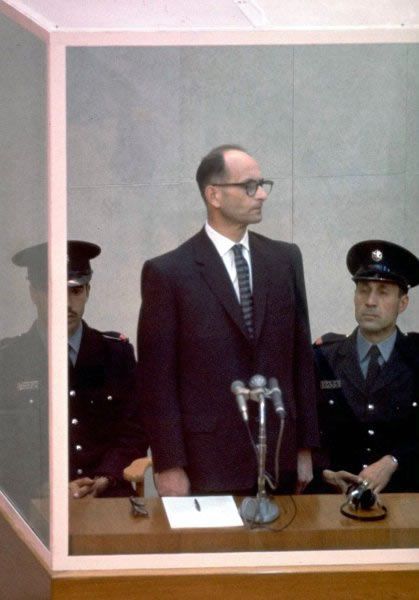 Wiesenthal claimed that he was instrumental in hunting down Nazi war criminal Adolph Eichmann, pictured here during his trial in Israel in 1961. Wiesenthal did provide the Israelis with an important tip as to Eichmann's whereabouts, but he often overstated his role in the arrest.
Wiesenthal's Roots

Wiesenthal's activities had a lot to do with the country he lived in. Austria was even more indulgent than the young Federal Republic of Germany in its treatment of Nazi functionaries who had slipped into ordinary civilian life. They were protected by right-wing sympathizers in positions of political leadership and in the judiciary, but also by a widespread desire to forget. To make himself heard, Wiesenthal had to be very loud.

Wiesenthal had a love-hate relationship with the Austrians. "I am their bad conscience," he once said, "because each one of them should have taken upon himself what I have done for Austrian society." In return, he received bushels of insulting and threatening letters, such as the one that found its way to him despite only being addressed to "The Jew Pig, Austria."

Wiesenthal was born in 1908 in Buchach, a city in what is now western Ukraine, into a family that supported the Habsburg monarchy. His father, a sales representative for a sugar refinery, died in World War I. Simon studied architecture in Prague and then moved to what was then the eastern-Polish city of Lvov (now the western Ukrainian city of Lviv). There, he married Cyla Müller, also Jewish, in 1936.

When German troops occupied Lvov in 1941, life became a living hell for its Jewish inhabitants. Only 3,400 of the Jewish community's 160,000 members survived. Wiesenthal was forced to work as a slave laborer in a railroad repair yard. He later escaped, was recaptured and then spent time in a series of concentration camps -- including Plaszow, Gross-Rosen, Buchenwald and Mauthausen -- before being liberated by American soldiers on May 5, 1945.

After the war, he discovered that his wife had survived, working as a forced laborer with a forged passport in the western German city of Solingen. When the couple was reunited in a refugee camp in Linz, Austria, they calculated that 89 of their relatives had been murdered.

The Birth of the Nazi Hunter

Wiesenthal then assumed a role that hardly anyone had envisioned at the time. Working for the US military administration, he interviewed Jewish survivors to document their memories of their tormentors.

The register that emerged would go on to become the cornerstone of the archive that Wiesenthal first set up in Linz and later moved to Vienna. He funded the effort with donations -- and regular payments from the Mossad, Israel's foreign intelligence agency. For Wiesenthal, emigrating to Israel wasn't an option. Instead, it was his duty, he once wrote, to serve as an "Austrian patriot" and to "provide a warning against future excesses."

Wiesenthal spent his days in a small office filled with files, cards and registration records. He had a secretary and a few volunteers, who addressed him as "Herr Engineer." But that was it. "Contrary to the myths he spun around himself," Segev writes, "he never operated a worldwide dragnet, but worked almost on his own from a small apartment, surrounded by high piles of old newspapers and yellowing index cards." The Nazi hunter made up for a lack of resources with a pronounced sense of mission. And he scuffled with the competition. He once, for example, denounced Nazi hunter Beate Klarsfeld by telling West German authorities that she was working for the Stasi, East Germany's secret police -- despite a lack of evidence for the claim.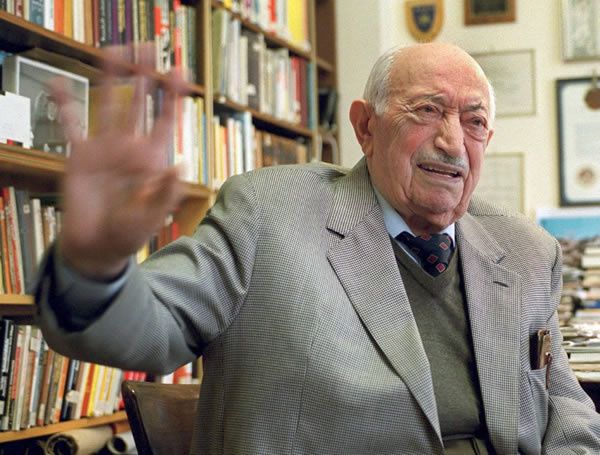 Wiesenthal died at the age of 96 in 2005. A new book does not paint a positive picture of the Nazi hunter -- but perhaps his most important service was that of looking to the past when most in Austria simply wanted to ignore it.
Concocting Stories

In 1960, after tracking down Eichmann in Buenos Aires, Mossad agents took him to Israel. When Eichmann's trial began in Jerusalem, Wiesenthal published a book entitled "Ich jagte Eichmann" ("I Hunted Eichmann"). Given the fact that it was an armada of researchers and intelligence agencies that hunted down the Nazi war criminal, rather than just Wiesenthal by himself, the title was a bit of a stretch. Still, Wiesenthal did play a key role: Several years earlier, in 1953, it was he who had alerted the Israelis that Eichmann was living in Argentina.

Nevertheless, much of the other information Wiesenthal provided was wrong, such as his conclusions on the whereabouts of the Nazi concentration camp doctor Josef Mengele. Information he provided once sent a reporter working for the German magazine Quick to the Greek island of Kythnos. When the journalist returned empty-handed, Wiesenthal claimed that Mengele had left the island only 12 hours earlier. In reality, though, Mengele was in Brazil -- one of the few countries Wiesenthal had never mentioned -- where he died in a swimming accident in 1979.

Wiesenthal also concocted legends surrounding the story of the Holocaust and his own suffering. It was years before he corrected a claim he made after the war that the Nazis had used the bodies of dead Jews to make soap. Similarly, the number of camps he was supposedly interned in grew over time -- until the list eventually included 12 camps, including Auschwitz.

In one of their memorandums, even the Israelis found that he was a "publicity hound" and complained that he often made assertions that couldn't be proven. The memo hinted that he was egomaniacal and was addicted to publicity.

Part 2: 'Sleazenthal'

Those words were written at the peak of Wiesenthal's feud with Bruno Kreisky, Austria's charismatic Social Democratic chancellor. Kreisky, who was Jewish, ironically came into power in 1970 with the help of the right-wing Austrian Freedom Party (FPÖ). Because he led a minority government, he was forced to bring several ministers with unappetizing pasts into his cabinet. The ministers of agriculture, construction, transportation and the interior were all former members of the Nazi Party.

By publicizing the histories of the new ministers, Wiesenthal provoked Kreisky, who saw himself as a man of the people and sensed that Austrians were not interested in rehashing the past. "I'm just waiting for Mr. Wiesenthal to come up with proof that I was in the SS, too" the chancellor once caustically quipped. He was quoted in the press as saying that Wiesenthal was a "Jewish fascist."

Kreisky even had his staff search for incriminating information about Wiesenthal. Although he was never able to prove the allegation, Kreisky told the press that Wiesenthal only survived the war by collaborating with the Nazis. In 1987, the two rivals ended up in court. In the end, Kreisky was found liable for defamation, but he died soon thereafter without having paid the court-ordered fine. Segev characterizes the conflict as a dispute between two Jews who desperately wanted to be a "part of Austrian society."

Wiesenthal's behavior in another Nazi affair underscored his yearning for approval. When it was revealed that Austrian President Kurt Waldheim had concealed certain aspects of his service in the German military during the war, Wiesenthal backed the politician, with whom he was in close contact.

Wiesenthal's reputation suffered as a result. In internal World Jewish Congress documents, he was dubbed "Sleazenthal." During an interview on German television for a 1996 documentary on Wiesenthal, Eli Rosenbaum, the US Justice Department's chief Nazi hunter at the time, described Wiesenthal as "incompetent," "an egomaniac," "a spreader of false information" and "a tragic figure." Rosenbaum's office once wrote to Wiesenthal's center that not a single one of its accusations had led to a trial.

Wiesenthal's Legacy

It is practically impossible to verify whether Wiesenthal truly brought 1,100 war criminals to justice, as he himself claimed. He was always more of a PR man than a serious investigator -- perhaps his primary service to a society determined to forget the past.

Today, the Simon Wiesenthal Center continues to perform this PR role. Derided by criminal prosecutors, the center issues a list of the most-wanted Nazi criminals as well as an annual assessment of the efforts of individual countries to track them down.

Wiesenthal died in September 2005, at 96, two years after his wife Cyla. Speaking about her life at the side of the famous Nazi hunter, she once said: "I am not married to a man I am married to thousands, maybe millions, of dead."

Translated from the German by Christopher Sultan