A war crimes case stirs France a new
PARIS, Oct. 19— A former Cabinet minister has been indicted for crimes against humanity in connection with the wartime deportation of 1,690 Jews, lawyers for relatives of the deportees said today.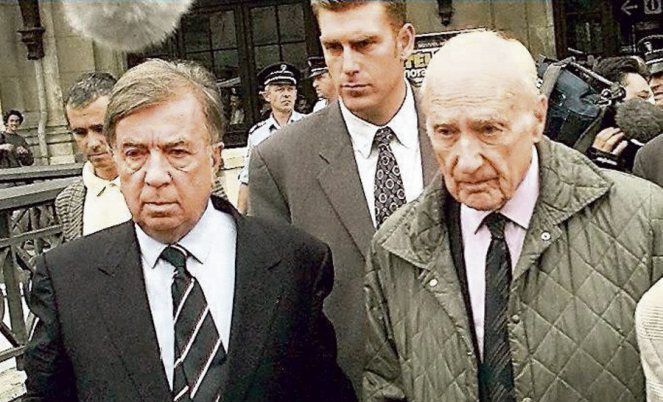 The lawyers said they learned last week that the former official, Maurice Papon, who was Budget Minister from 1978 to 1981 under President Valery Giscard d'Estaing, was indicted on July 27 and that the investigating magistrates had kept the indictment secret since then.
Mr. Papon, who was the Paris police chief for eight years after the war, was secretary general for the Bordeaux region from 1942 to 1944 and is accused of helping coordinate several roundups of Jews.
He was indicted for war crimes in 1983 and 1984, but a French appeals court threw out those indictments last year on technical grounds, ordering that a group of magistrates, rather than a single prosecutor, investigate his case. Role in Roundups Denied
Mr. Papon has steadfastly denied any role in rounding up French Jews, saying he was the target of left-wing opponents. Indeed, Mr. Papon has brought a defamation suit against the relatives of deportees who have accused him of war crimes.
Judicial officials in Bordeaux declined today to say whether the 78-year-old Mr. Papon had been indicted again. Christian Lassalle, president of the investigating magistrates in Bordeaux, said in a telephone interview, ''I can neither confirm nor deny it.''
But lawyers representing the deportees' families said they had spoken to justice officials in Bordeaux and were absolutely sure that Mr. Papon had been indicted.
''I think they have tried to keep the indictment secret out of consideration for Papon,'' said Michel Touzet, a lawyer for 15 relatives of Jews deported from Bordeaux, a city in southwest France. ''They don't want him to be bothered by demonstrations and the like.'' Barbie as a Comparison.
The lawyers said the secrecy in the case showed the reluctance of many French officials to come to grips with the collaboration of many French citizens with the Nazis in World War II.
In reporting the indictment in a television news interview, Gerard Boulanger, another lawyer for the relatives of the deportees, said: ''Klaus Barbie was indicted in the most public manner in Lyons. Why is a different treatment reserved for Maurice Papon?'' Mr. Barbie, who was the Gestapo chief in Lyons during the war, was sentenced to life imprisonment last year after being charged with crimes against humanity.
In an interview today, Mr. Boulanger said he was ''almost certain'' that Maurice Sabatier, 92, who was prefect of the Bordeaux region during World War II and thus Mr. Papon's superior, was indicted last Friday. Judicial officials also declined to discuss the Sabatier case.
Under French law, prosecutors are allowed to keep indictments secret, but in most cases, including the Barbie case, they are quick to announce indictments.
Two of Mr. Papon's lawyers, Francois Sarda and Monique Pelletier, declined today to comment on the case.
During World War II approximately 75,000 Jews, or about one-fourth of France's Jewish population, were deported to Nazi concentration camps. Most were arrested by the French police, rather than the Germans.